Clinical Dysphagia Series
Clinical Dysphagia Series
Titles in Series
Titles in Series
by Stephanie K. Daniels, Ph.D. and Maggie-Lee Huckabee, Ph.D.
This practical and easy-to-use handbook provides up-to-date coverage of the evaluation and treatment of swallowing disorders in the stroke population. The gap between academics and clinical practice is narrowed with the latest research packaged for clinical application. Particular focus is on the clinical and instrumental evaluation of swallowing, measurements of dysphagia, principles of care for patients with dysphagia following stroke, rehabilitation and risk management. Clinical examples are incorporated throughout the text to facilitate clinical integration and relevance.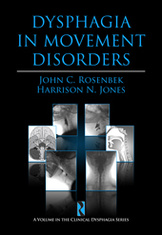 by John Rosenbek, Ph.D. and Harrison Jones, Ph.D.
A thoroughly practical and easy-to-use handbook for clinicians who evaluate and treat dysphagia in patients with movement disorders. The authors cover the depth and breadth of the state of the art and science of dysphagia management in these populations, examining conditions including Parkinson's disease, progressive supranuclear palsy, dystonia, Huntington's disease, and other movement disorders. Other critical components of the book include sections on normal swallowing, an overview of procedures to evaluate swallowing, medical and surgical management approaches to movement disorders, and special nutritional considerations.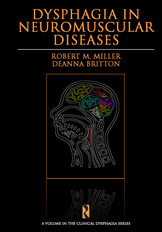 by Robert M. Miller, PhD and Deanna Britton, MS
Dysphagia in Neuromuscular Diseasesapproaches the subject in a unique manner, allowing clinicians to develop insights into diseases, syndromes, and neurological conditions that extend even beyond those specifically addressed in the text.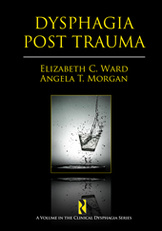 by Elizabeth C. Ward, Ph.D. and Angela T. Morgan, BSpAud(Hons), Ph.D.
Dysphagia Post Trauma is a premier book in the Clinical Dysphagia Series. The authors are world renown for their research and clinical insights into the often-challenging patterns of dysphagia caused by a variety of traumatic conditions. This book, like all the books in this series, is written with the practicing clinician in mind. Traumatic brain injury and all other traumatic injuries that influence swallowing are described. The emphasis on evaluation and treatment is described so clearly and thoroughly that a clinician can review relevant chapters and then confidently approach the bedside of even the most complicated patient. This is the one critical swallowing book for those clinicians with traumatically injured men, women, and children on their caseloads.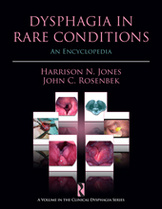 by Harrison Jones, Ph.D. and John Rosenbek, Ph.D.
This is the first book to concentrate on dysphagia in rare conditions " those that occur infrequently or those that may occur more frequently but are only sometimes associated with dysphagia. Covering a wide range of conditions " from progressive supranuclear palsy (PSP), through connective tissue disease, to conditions as diverse as West Nile virus " the editors and expert contributors efficiently synthesize the available information to provide the essentials needed to help clinicians to perform sophisticated assessments, based on their knowledge of both the conditions and the expected swallowing signs and treatments. Each entry covers the neurology of the given condition, including the signs and symptoms, neuropathology, epidemiology and genetics. Thereafter, coverage of swallowing in each condition examines the diagnostic signs and symptoms, etiology, swallowing neuropathology, associated cognitive, linguistic, and communicative signs and symptoms, special diagnostic considerations, treatment, nutrition, hydration, and medications.