Publication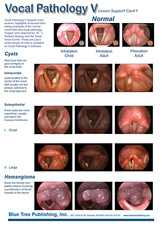 Vocal Pathology V
Details:

Color Illustrations (4 Color), CD-ROM
Release Date:

11/21/2010
$175
Overview
The fifth in the Vocal Pathology series, this software focuses on lesion case studies. Covering 12 categories and 10 sub categories, it includes 63 videos that are fully controllable, frame by frame. Roll over abducted and adducted stills to highlight views of each case. Large views are provided for every still view with rollover highlights of the diagnosis.
Available on Flash Drive/CD ROM
Minimum Requirements
For Microsoft Windows: An Intel Pentium IV 2.6 processor running Windows XP SP3, Vista SP3, Win 7; 1 GB of installed RAM, Color monitor, 1024 x 768 minimum screen size, Soundcard with MIDI, Free space on hard drive 1.7 GB
For Mac: OS X 10.2.8 or better, will not run in classic environment
QuickTime 7.0 or better (installed during setup in Windows version, Mac assumes prior install)
Still and Video Views

views of lesion case studies
12 types of pathology with 10 subcategories, plus normal voicing

Highlight View

63 case examples, each with a rollover highlight
audio clips of the "Rainbow" passage for all pathologies

Large View

cases include a large 640 x 480 abducted and adducted still view

Support Card
Two full-color, laminated cards that detail lesion pathology processes through endoscopic views
About The Authors
---
Founder, Blue Tree Publishing, Inc.