Publication
Vestibular Learning Manual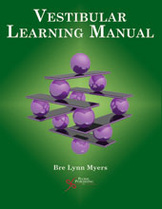 Desk Copy for Instructors
Vestibular Learning Manual
Details:

144 pages, Illustrated (B/W), Spiral Bound, 8.5 x 11"
ISBN13:

978-1-59756-411-3
Release Date:

04/01/2011
Overview
THE SECOND EDITION WILL BE AVAILABLE IN AUGUST 2018. CLICK HERE FOR MORE INFORMATION.

Part of the Core Clinical Concepts in Audiology Series, the Vestibular Learning Manual is designed to be a systematic, practical application of theoretical knowledge commonly taught in vestibular curriculum of Audiology Doctoral programs. Each assignment covers a specific area of vestibular assessment including: ENG/VNG techniques for ocular motor evaluations, positional evaluations, positioning evaluations and air/water caloric evaluations, bedside evaluations, sinusoidal harmonic acceleration, step acceleration and visual vestibular interaction rotational chair evaluations, basic computerized dynamic posturography evaluations(sensory organization test, motor control test and adaptation), tests of dynamic visual acuity, vestibular autorotation, off axis rotational chair evaluations, and various bedside evaluations used in vestibular rehabilitation programs. Case studies and retrospective questions accompany each assignment, bridging theory and practice.
Vestibular Learning Manual: Interview with Bre Lynn Myers, AuD
Douglas L. Beck, AuD, speaks with private practice co-owner and author, Bre Myers, about her new book that includes topics such as electronystagmography, videonystagmography, rotary chair testing, and more.
Read the interview here, or as PDF.
Interview republished with permission from the American Academy of Audiology. Copyright 2011
Review
Elizabeth M. Adams, Department of Speech Pathology & Audiology, University of South Alabama, International Journal of Audiology (2012):
"...The book is very well written and includes both technical terminology and professional language, but Dr. Myers has gone one step further with the inclusions of easy to understand real-world examples, such as her description of how the reader can position his or her hands near the head to conceptualize the position of the semicircular canals. The book is full of high-quality pictures of equipment, patient positioning, and outcome data that will also help the reader with the understanding of the text. The book is easy to digest and is sure to clarify abstract concepts that are difficult to understand with limited practice experience..."
Chapter 1: Introduction to the Vestibular Laboratory
Chapter 2: An Introduction to Videonystagmography (VNG) Test Protocols/VNG Demonstration
Chapter 3: ENG Demonstration
Chapter 4: Ocular Motor Examination
Chapter 5: Positional Examination
Chapter 6: Positioning Examination
Chapter 7: Air Caloric Examination
Chapter 8: Water Caloric Examination
Chapter 9: Performing Bedside Examinations
Chapter 10: Rotational Chair – Sinusoidal Harmonic Acceleration (SHA)
Chapter 11: Rotational Chair – Step Velocity Test (SVT)
Chapter 12: Rotational Chair - Visual Vestibular Interactions (VVI)
Chapter 13: Computerized Dynamic Posturography (CDP) –Sensory Organization Test (SOT)
Chapter 14: Computerized Dynamic Poturography – Motor Control Test/ Adaptation Test (MCT/ADT)
Chapter 15: Computerized Dynamic Posturography – Postural Evoked Response (PER)
Chapter 16: Computerized Dynamic Posturography – Dynamic Visual Acuity (DVA), Head Shake SOT
Chapter 17: Auto Head Rotation (AHR)
Chapter 18: Rotational Chair – Otolith Function Test Subjective Visual Vertical Measures (SVV)
Chapter 19: Vestibular Evoked Myogenic Potentials (VEMP)
Chapter 20: Case Studies
About The Author
Bre Lynn Myers, AuD, PhD, CH-AP completed her undergraduate and Master's degree in Audiology at Bloomsburg University in 2003. She completed her clinical doctorate in audiology (AuD) in 2006, and PhD in Biomedicine in 2013 at Salus University. She is currently Assistant Professor in the Osborne College of Audiology at Salus University. Her areas of teaching and research include vestibular diagnostics, best clinical practices, and inter-professional education. Dr. Myers has been an invited lecturer at several state and national conferences. When she is not lecturing or researching the vestibular system, she enjoys exercising her own vestibular system by being an active member of her local roller derby league.