Publication
Visual Examination of Voice Disorders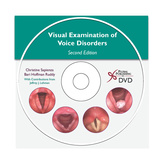 Visual Examination of Voice Disorders
Second Edition
Details:

DVD
Included Media:

DVD only
ISBN13:

978-1-59756-514-1
Release Date:

11/30/2012
$62.95
Overview
An excellent teaching tool, this DVD contains digital images of laryngoscopic, videostroboscopic, high speed imaging examinations, and phonosurgical procedures. It is an excellent source to be used in any graduate voice disorders class.
For the second edition, the authors have added 30 new laryngeal exams, new laryngeal image color plates, and new sections on vocal pathologies, including discussion of autoimmune diseases.
View a video clip sample.
DVD contents:
Chapter 5 Structural
Video Clips

Bilateral Varices
Bowing
Bowing: Hyperfunction with Increased Effort
Cancer
Candida and Hyperkeratonsis
Candida/ Hyperleratosis/ Reinke's
Generalized Edema with Prenodular
Generalized Edema with RTVF Subglottic Murucs
Generalized Edema, Bilateral Vocal Nodules
Excessive Mucous
Fungal Infection
Granuloma
Granuloma and Generalized Vocal Fold Edema
Granuloma and Hyperfunction
Granuloma and LPR
LTVF Posterior Lesion Granuloma
Healthy Female
Hemangioma
Heiangioma in Arytenoid Complex
LTVF Hemorrhage
VF Hemmorrhage
Hemorrhagic Polyp
Opera Singer with Hemorrhagic Polyp and Edema
LTVF Hemorrhagic Polyp with Generalized Ectasia
Hemorrhagic Polyp/ Aneterior Mirco Web/LPR
Hyperemia and Hypofunction
Hyperemia and LPR
Hyperkeratosis and Microweb
Hypofuncion
Laryngeal Ventricle Cyst
Laryngitis/Prenodular Swelling
Leukoplakia Small Vocal Fold Polyp
LPR
LPR and Ectasia in a Singer
LPR Increased Mucus VF Edema
Persistent Mucus, Generalized Edema
Generalized Edema, Posterior Erythemia
Microweb and Ectasia
Extensive Papilloma
Papilloma
Papilloma with Possible Fungal Infection
Pediatric Subglottic Stenosis
Generalized Edema, Bilateral Vocal Nodules
Multiobed Polyp
Pendunculated Polyp
Pin Point Nodules in a Singer
Polyp
Polyp: Adolescent Singer
Polyp and Excessive Mucus
Polyp/LPR
Polyp and Right Ventricular Fold Cancer
Polyp Reactive Nodule and Mircoweb
Polyp Varix LPR
Generalized Edema, LTVF Bilobed Polyp
LTVF Polyp and Bilateral Ectasia
Prenodular Swelling
Presbylaryngis
Persistent Standin Mucus
Reinke's Edema
Reinke's Edema and Leukoplakia
Reinke's Edema/Hyperkeratosis
Reinke's Edema; Polypoid Degeneration
Reinke's Edema Smokers Polyp
Rotated and Omega Shaped Epiglottis
RTVF Polyp
Severe Dysplasia
Severe Polypoid Degeneration in Adult Female
Subglottic Phonation
Varix; LPR
Varix LPR and LTVF Prominence
Ventricular Compression
Vocal Fold Polyp/Generalized Edema/LPR
Posterior Web
Web and Papilloma
Web Polyp and Leukoplakia
Web Post Multiple Sugrical Removal of Papilloma

Still Images

Chapter 6 Neurological
Video Clips

Bilateral Abductor Paralysis
Bowing and Hyprofunction in PD; LPR
Bowing and AP, Lateral Compresion
Bowing Small Pinpoint Polyp and Ectasia
LTVF Bowing and Paresis
Essential Tremor
Hypofunction due to PD and LPR
Laryngeal Tremor/Bowing
LTVF Adductor Paralysis
LTVF Adductor Paralysis
Post Thyroplasty, LTVF
Unilateral Abductor Paralysis/LPR
Unilateral Vocal Fold Paralysis
Vocal Fold Paralysis
Paresis
Tremor and Pre- Post- Granuloma

Chapter 8 Surgical
Video Clips

C02 Laser Excision of Bilateral Squamous Cell
Microlaryngoscopy Surgical Removal of Vocal Nodules
Reinke's Microflap Procedure
Post Op Laryngeal Exam Reikne's Edema
Surgical Removal of Papilloma

Pre and Post Thyroplasty Surgery
Phonosurgical Images

Head & Neck Cancer
Video Clips

Base of Tongue and Epiglottic Cancer
Head & Neck Cancer
Leukoplakia Hyperkeratosis
Post Cordotomy
Superaglottic Tumor

High Speed Video
Video Clips

B&W Video at 4000fps
Color High Speed Video with Onset and Offset Shown
Glissando Phonation
Glottal Fry
Loud Breathy Onset
Normal 4000fps
Rough Voice with Aperiodicity
About The Authors
Christine Sapienza, PhD, CCC-SLP, serves as the Dean of the Jacksonville University, Brooks Rehabilitation College of Healthcare Sciences. Previously, Dr. Sapienza was a longstanding tenured professor and chair of the Department of Communication Sciences and Disorders at the University of Florida, as well as a research career scientist at the Brain Rehabilitation Research Center at the Malcom Randall Veterans Administration Hospital. As a principal investigator of National Institutes of Health grants, VA Research Rehabilitation Research and Development Awards, and a M.J. Fox Foundation grant, Dr. Sapienza has provided extensive mentoring to 16 doctoral students, all of whom have contributed back to academics and clinical service. She has built a strong national and international reputation for expertise in the design and implementation of larger scale randomized clinical trials examining treatments as well as the careful reporting of peer-reviewed outcomes from these studies. Dr. Sapienza methodically disseminates this information to the scientific community at large in the form of invited presentations, workshops, and clinical teaching platforms. Through writing, she works to integrate research findings in journal articles, textbooks, and clinical manuals. As a frequent contributor to patient support groups she aspires to assist patients and caregivers as they navigate available treatments and emerging science. Most recently, Dr. Sapienza was selected as Jacksonville's Women of Influence.
---
Bari Hoffman Ruddy, PhD, CCC-SLP, is an Associate Professor in the Department of Communication Sciences and Disorders and jointly appointed as Associate Professor, Internal Medicine at the University of Central Florida. Dr. Hoffman Ruffy serves as research partner to the Florida Hospital Cancer Institute and Director of the Center for Voice Care and Swallowing Disorders at the Ear Nose Throat and Plastic Surgery Associates. She has worked clinically in this setting for more than 18 years treating individuals with voice and upper airway disorders specializing in pediatric, professional and neurogenic populations, along with individuals undergoing treatment for head and neck cancer. Dr. Hoffman Ruddy received her doctoral degree from the University of Florida in 2001. Her current research involves studying novel treatment technologies and biomechanical mechanisms for disorders of laryngeal function while defining the high impact on quality of life factors. She implements 3-D computer modeling of upper and lower airway function, coping strategies of individuals with dysphonia and respiratory muscle strength paradigms in a variety of patient groups. Dr. Hoffman Ruddy has a significant record of peer-reviewed publications, authorship of multiple textbooks, and actively lectures across the country on these topics. In recognition of her contributions to teaching, research, and service, she has received numerous awards within her University and state association.