Publication
Voice and Communication Therapy for the Transgender/Gender Diverse Client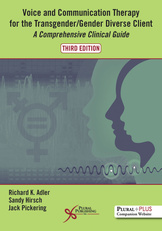 90-Day Exam Copy for Instructors
Voice and Communication Therapy for the Transgender/Gender Diverse Client
A Comprehensive Clinical Guide
Third Edition
Edited by: Richard K. Adler, Sandy Hirsch, Jack Pickering
Details:

412 pages, Illustrated (B/W), Softcover, 7 x 10" 1 lbs
Included Media:

Companion Website
ISBN13:

978-1-94488-330-0
Release Date:

12/06/2018
$109.95
Overview
Voice and Communication Therapy for the Transgender/Gender Diverse Client: A Comprehensive Clinical Guide, Third Edition remains a must-have resource for speech-language pathologists, voice clinicians and trainers who assist transgender/gender diverse clients in aligning their communication with their gender identity. Such goals for transfeminine, transmasculine and gender diverse people are far from insurmountable given appropriate training. This third edition builds on the work of the first two editions, and meets the clinical and training needs of an even larger and better-informed core of speech language pathologists and trainers.
Enhancements to this edition include significantly expanded chapters on counseling, psychotherapy, theater, non-verbal communication, singing, vocal health, medical considerations, and the historical perspectives on evidence-based research as well as a call to action to meet the needs of trans youth. Chapters cover each aspect of a communication training program, including case studies, summaries, appendices and an extensive bibliography, as well as an outline of therapy protocols and ideas for transmasculine, transfeminine and gender diverse clients.
New to this edition:
A PluralPlus companion website with access to numerous resources, paired with each chapter, that enhance the already extensive in-text references
A new co-editor, Jack Pickering, brings a fresh perspective from extensive experience in transgender voice and communication training
A comprehensive chapter addressing research and the voice and communication needs of transmasculine individuals
A chapter focusing on the needs of trans youth, future directions in this area, and the role of SLPs with this unique population
A practical chapter on psychotherapy and the relationship between the SLP and psychotherapist/social worker and how these professionals work in tandem to help in the entire transition process
A chapter on counseling for the transgender/gender diverse client, with step by step practical information that can also be used for counseling with all populations seen by SLPs
A practical chapter on theater giving the perspectives from two transgender actresses' personal experiences, a cisgender actress/voice clinician, and a cisgender voice/theater coach/teacher
An expanded medical chapter outlining foundational information on terminology, development, endocrinology and surgeries as well as the physician's role and best practice in the transition process for each client
Updated and expanded chapters on the role of multidisciplinary considerations for the transmasculine, transfeminine and gender diverse client, and assessment of these clients, in all aspects of pitch and inflection, the art and science of resonance, non-verbal communication, and group therapy and discharge

This seminal text guides clinicians and trainers who work with the transgender/gender diverse population, in designing and administering a mindful, focused, and appropriate treatment plan. Speech-language pathologists, voice coaches, ENT physicians, professors and anyone working in the areas of voice, singing, and the vocal performing arts, will find this text to be an essential resource.
Preface by Sandy Hirsch, MS, CCC-SLP
Foreword by Aaron H. Devor, PhD, FSSS, FSTLHE
Acknowledgments
Editors and Contributors
Chapter 1. A Multidisciplinary Approach to Transgender Health
Maria Södersten, Ulrika Nygren, Stellan Hertegård, and Cecilia Dhejne
Chapter 2. Psychotherapy and Support for Transgender Clients
Arlene Lev, Darren Cosgrove, and Timothy Crumley
Chapter 3. The Role of the SLP in Counseling
Richard K. Adler and Jack Pickering
Chapter 4. Medical Considerations
Linda Gromko and Kevin Hatfield
Chapter 5. Voice and Communication Modification: Historical Perspective
Jack Pickering and McKenzee Greene
Chapter 6. Evidence-Based Practice in Voice Training for Trans Women
Jennifer M. Oates
Chapter 7. Considerations for Intake and Assessment
Georgia Dacakis
Chapter 8. Vocal Health and Phonotrauma
Richard K. Adler and Christella Antoni
Chapter 9. Transmasculine Voice and Communication
Christie Block, Viktória G. Papp, and Richard K. Adler
Chapter 10. Pitch and Intonation
Marylou Pausewang Gelfer, Jack Pickering, and Michelle Mordaunt
Chapter 11. The Art and Science of Resonance, Articulation, and Volume
Sandy Hirsch, Marylou Pausewang Gelfer, and Joan Boonin
Chapter 12. Nonverbal Communication: Assessment and Training Considerations across the Gender and Cultural Spectrum
Sandy Hirsch and Joan Boonin
Chapter 13. Group Voice and Communication Training
Daniel M. Kayajian, Jack Pickering, and Michelle Mordaunt
Chapter 14. The Singing Voice
Anita L. Kozan and Sandra C. Hammond
Chapter 15. Meeting the Needs of Gender Diverse Actors: Personal, Clinical, and Artistic Perspectives
Christine Adaire, Delia Kropp, Sandy Hirsch, and Rebecca Root
Chapter 16. Considerations for Discharge and Maintenance
Leah B. Helou and Sandy Hirsch
Chapter 17. A Call to Action: Meeting the Unique Needs of Trans and Gender Diverse Young People
Sandy Hirsch, Richard K. Adler, and Jack Pickering
Index
About The Editors
Richard K. Adler, PhD, CCC-SLP, ASHA Fellow, is now retired and a Professor Emeritus from Minnesota State University Moorhead, Moorhead, MN. He has a BA in speech correction from Long Island University, Brooklyn, an MA in Speech/Linguistics from New York University, an MA in Speech-Language Pathology from the University of Akron, Ohio, and a PhD in Psycholinguistics and Communication from the Ohio University, Athens, Ohio. Dr. Adler's career has spanned nearly 50 years as an SLP in public schools, hospitals, private practice, university teaching, clinical supervision, research, mentoring, consulting, and writing. He has published many articles on such subjects as Teaching, Voice and Communication for Transgender individuals, Voice Disorders, Counseling, and TBI.
---
Sandy Hirsch, MS, CCC-SLP, is a private practitioner with Give Voice in Seattle, WA. She received her BA in French and Classics with a minor in music (singing) in 1981 from Lancaster University, UK. Following, she pursued a career in theatre and moved to the United States from London in 1982. Ms. Hirsch received her MS in Speech and Hearing Sciences from the University of Washington in 1989. She has been an ASHA-certified SLP since 1990, focusing on voice and neurological disorders. She has practiced in hospital and school settings. For over 25 years, Ms. Hirsch has made voice and communication modification with gender diverse people the focus of her private practice. She is a member of the Ingersoll Transgender Professional Consult Group in Seattle, WA, WPATH, CPATH, the Voice Foundation, the Northwest Chapter of the Voice Foundation, VASTA and WSHLA.
---
Jack Pickering, PhD, CCC-SLP, is a Professor of Communication Sciences and Disorders at The College of Saint Rose in Albany, New York and speech-language pathologist for Capital Region ENT. For over 10 years, he has directed the college's Voice and Communication Program for People in the Transgender Community with Dan Kayajian, MS, CCC-SLP. Jack has been an ASHA-certified SLP since 1984, focusing on the assessment and treatment of voice disorders. He received his BA and MA from the University of Maine, and his doctoral degree in Speech and Hearing Sciences at Ohio University in 1990. His teaching interests include voice disorders, transgender voice and communication, motor speech disorders, and counseling for communication disorders.

Purchasers of this book receive complimentary access to supplementary materials hosted on a PluralPlus companion website.

To access the materials, log in to the website using the URL and Access Code located inside the front cover of your copy of Voice and Communication Therapy, Third Edition.