Publication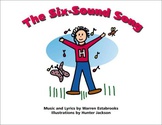 The Six-Sound Song
Details:

32 pages, Color Illustrations (4 Color), Hardcover, 8.8 x 10.9
Included Media:

CD
ISBN13:

978-0-88200-215-6
Release Date:

2003
$39.95
Overview
The inspiration for The Six-Sound Song came from the Ling Six-Sound Test, developed by Daniel Ling, PhD. The Ling Six Sounds (ah, oo, ee, sh, s, and m) are used with children who are deaf or hard of hearing. This test helps parents and professionals determine how effectively the child is able to hear all the sounds of speech through hearing aids, a cochlear implant, or both.
When very young children are learning to listen, sounds from the Ling Six-Sound Test can be used in various ways as Learning-to-Listen sounds. Each of these sounds can be associated with a variety of objects, events, actions, or situations in order to encourage the development of spoken language primarily through listening.
The Six-Sound Song expresses my personal joy in working with children all over the world who are deaf or hard of hearing, their families, and the professionals who guide them.
I extend my thanks to Hunter Jackson, of Toronto, Canada, and to his family for the gift of bringing the song to life through the ears, eyes, and the heart of a seven-year-old.
-Warren Estabrooks
January 2003
About The Author
Warren Estabrooks, M.Ed., Dip. Ed. Deaf, LSLS Cert. AVT, is President and CEO of WE Listen International Inc., a global consulting company in Toronto, Canada. He and his team provide professional education, training, and development in Auditory-Verbal Therapy for practitioners who work with children with hearing loss and their families around the world.
Related Title