Publication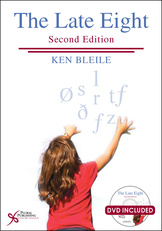 Desk Copy for Instructors
The Late Eight
Second Edition
Details:

360 pages, Illustrated (B/W), Softcover, 7 x 10"
Included Media:

DVD
ISBN13:

978-1-59756-559-2
Release Date:

10/31/2013
$94.95
Overview
The Late Eight, now in its second edition, is a popular resource for clinicians, students, and academics working with students whose speech contains errors affecting [th] (voiced theta), [th] (unvoiced theta), [s], [z], [l], [r], [sh], or [ts]. Additionally, vocalic [r] is included because it often serves as a step to reaching consonantal [r]. The late eight are typically the last acquired by English-speaking children, and they are the sounds most likely to challenge school-aged students and non-native English speakers, both children and adults.
For the second edition, a new chapter, written by Carlin Hageman, offers a motor learning perspective on assessing and treating the late eight. In addition, the companion DVD includes a motor learning guided (MLG) demonstration video to supplement Chapter 12, "Motor Learning Guided Therapy," which shows several applications of the principles of MLG therapy. This video is not intended to be a prescription for using MLG therapies; rather, a place to begin the development of individual strategies for each client.
Resources for each late-acquired sound include:

Technical and non-technical definitions
Age of acquisition
Common errors
Key phonetic environments
Useful metaphors
Touch cues
Initial screening tests
Stimulability tests
Demonstrations of place, manner, and voicing
Phonetic placement and shaping techniques
Speech exercises
Language awareness and speech activities
List of words divided by phonetic and word environments
Minimal pairs

A companion DVD contains reproducible "cheat sheets," exercises, and word lists for clinical use. Included in these materials are:
24 different demonstrations of place, manner, and voicing
More than 70 phonetic placement and shaping techniques
35 language awareness and speech activities
More than 4,000 words divided by phonetic and word environments
More than 2,200 minimal pairs.

With its updated content and expanded features, The Late Eight, Second Edition is sure to remain a favorite resource for speech-language pathologists working with school-age children.
Preface
Contributors

Chapter One - Overview
Chapter Two - [θ]
Chapter Three - [ð]
Chapter Four - [s]
Chapter Five - [z]
Chapter Six - [l]
Chapter Seven - Vocalic [r]
Chapter Eight - Consonantal [r]
Chapter Nine - [ʃ]
Chapter Ten - [tʃ]
Chapter Eleven - Language Therapy for Speech Disorders
Chapter Twelve - Motor Learning Guided Therapy
Carlin Hageman
Appendix A - Language Activities
Appendix B - Tips for Students

Index
About The Author
Ken M. Bleile, PhD, is a professor in the Department of Communication Sciences and Disorders at the University of Northern Iowa. Throughout the past several years, Dr. Bleile has also served as a visiting scholar at universities in Turkey, Singapore, Russia, and New Zealand. During the summers, he often leads study abroad groups that provide speech and language services to children in orphanages and schools in developing countries—most recently in Nicaragua. Dr. Bleile is a recipient of Iowa's Regent's Scholar Award and the Multicultural Board's Diversity Champion Award, and is a Fellow of the American Speech-Language-Hearing Association (ASHA). He serves as an associate editor of the American Journal of Speech-Language Pathology and is the former chair of ASHA's International Issues Board. Dr. Bleile publishes widely on speech development, international issues, as well as communication disorders in children with medical needs and developmental disabilities.