Publication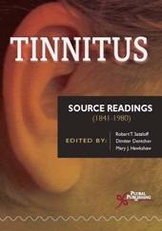 Tinnitus
Source Readings (1841-1980)
Details:

372 pages, Color Illustrations (2 Color), Softcover, 7 x 10"
ISBN13:

978-1-59756-116-7
Release Date:

04/01/2007
$64.95
Overview
In this unique book on tinnitus, the authors present germinal papers and abstracts published from 1841 to 1980. The purpose of this book is to create a link between the print literature that is available as part of the tinnitus legacy and the more accessible data available from 1980 to the present. With this book the historical writings become easily accessible for anyone looking for information on tinnitus. The abstracts will prove interesting not only as historical curiosities that help in the understanding of findings and treatment practices over the years, but also as inspirations for future research and lessons for ongoing practices in the management of tinnitus.
Preface
Acknowledgments
Tinnitus: An Overview.
Receptors in the Auditory Nuclei.
1841-1900.
1901-1920.
1921-1940.
1941-1960.
1961-1980.
Index.
About The Authors
Robert T. Sataloff, MD, DMA, FACS, is professor and chairman in the Department of Otolaryngology-Head and Neck Surgery and senior associate dean for Clinical Academic Specialties at Drexel University College of Medicine. He is also adjunct professor in the Department of Otolaryngology-Head and Neck Surgery at Thomas Jefferson University, the University of Pennsylvania, and Temple University; as well as on the faculty of the Academy of Vocal Arts. Dr. Sataloff is a professional singer and singing teacher and served as conductor of the Thomas Jefferson University Choir for nearly four decades. He holds an undergraduate degree in Music Theory and Composition from Haverford College, medical degree from Jefferson Medical College–Thomas Jefferson University, and doctor of musical arts in voice performance from Combs College of Music. He completed his residency in otolaryngology-head and neck surgery and fellowship in otology, neurotology and skull base surgery at the University of Michigan. Dr. Sataloff is chairman of the boards of directors of the Voice Foundation and the American Institute for Voice and Ear Research. He is editor-in-chief of the Journal of Voice and Ear, Nose and Throat Journal, associate editor of the Journal of Singing, and on the editorial boards of numerous otolaryngology journals. He has written more than 700 publications, including 40 books. His medical practice is limited to care of the professional voice and otology/neurotology/skull base surgery.
---
Dimiter I. Dentchev, MD, PhD is Assistant Professor of Otolaryngology-Head and Neck Surgery in the Department of Otolaryngology-Head and Neck Surgery, Drexel University College of Medicine.
---
Mary J. Hawkshaw, BSN is Research Associate Professor, Department of Otolaryngology - Head and Neck Surgery, Drexel University College of Medicine.