Publication
Training and Interpretation of FEES in Adults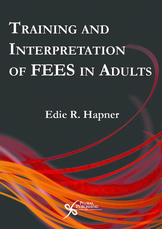 Training and Interpretation of FEES in Adults
Details:

DVD
Included Media:

3 DVDs, 1 CD
ISBN13:

978-1-59756-388-8
Release Date:

09/01/2010
$250
Overview
---ATTENTION: ASHA CEUs are no longer available for this product.---

Training and Interpretation of FEES in Adults emanates from the author's self-developed and proven program for training Speech-Language Pathologists in the use of FEES. Comprehensive and eminently clear and concise, it comprises three DVDs of video lectures that give practicing clinicians a solid foundation on the use of flexible endoscopic evaluation of swallowing.
Clinicians are guided through didactic lectures and actual FEES exams to aid in the diagnosis of swallowing problems as seen through endoscopy. A review of laryngeal anomalies that may be encountered during the endoscopic examination rounds out this comprehensive program. Throughout, the multidisciplinary management of swallowing is highlighted.
The package includes a CD with a FEES documentation template, completed FEES documentation forms for exams featured on the DVDs, a scope passing and FEES competency checklist, and additional resources in addition to the three training DVDs.
Ideally suited to training and competency development for medical Speech-Language Pathologists, this product can also be easily integrated into graduate teaching in dysphagia courses and for training Otolaryngology residents interested in learning how to perform and interpret FEES exams.
Dr. Hapner, author of Training and Interpretation of Fees in Adults, is employed by the Emory University School of Medicine Department of Otolaryngology Head and Neck Surgery.

Conflict of Interest Disclosure:
Edie Hapner discloses that she receives royalties from Plural Publishing, Inc. for the sale of this DVD. She has no non-financial disclosures.
Reviews
Martin Brodsky, PhD, CCC-SLP, Assistant Professor, Johns Hopkins University (2012):
"It is evident from Dr. Hapner's narratives, slides, videos, and the supplementary information that this educational program has much to offer, even an experienced clinician."

SLP Telepractice Blog, http://SLPtelepractice.com (November 8, 2013):
""Rated 5 out 5.""
DVDs
Section One: Anatomy of the Laryngeal Mechanism (60 min.)
Section Two: Physiology of the Laryngeal Mechanism (60 min.)
Section Three: Flexible Endoscopic Evaluation of the Swallow (90 min.)
Section Four: Infection Control and Scope Processing (20 min.)
Section Five: Topical Anesthetic Use by the SLP (30 min.)

CD
FEES Documentation Template
Completed FEES Documentation Templates for Featured Exams
Scope Passing and FEES Competency Checklist
A Speech-Language Pathologist's Guide to Describing Vocal Lesions
References
About The Author
Edie R. Hapner, PhD, is a speech-language pathologist with more than 30 years of experience in the treatment of speech, voice, and swallowing disorders.
Related Titles