Publication
The Healthcare Professional's Guide to Human Research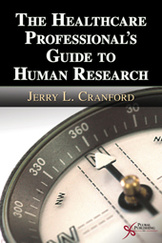 The Healthcare Professional's Guide to Human Research
Details:

126 pages, Illustrated (B/W), Softcover, 6 x 9"
ISBN13:

978-1-59756-200-3
Release Date:

07/01/2007
Overview
This book is designed for healthcare professionals who desire to become critical and intelligent consumers of research literature in their chosen fields. It provides general guidelines, in highly specific terms, to students to critically evaluate whether particular research is valuable, based on the appropriateness of research design, methodology, and statistics. This book offers a clear road map for healthcare professionals to apply knowledge obtained from good research in appropriate publications and also to apply that knowledge in everyday practice. Plainly speaking, this book enables healthcare professionals to use this newly gained, critical acumen in their practice.
Review
Linda Jacobs-Condit, AuD, CCC-A, George Washington University, Doody's Review Service:
"...The book includes an overview of the principles of human research; differentiation between basic and applied research; steps involved in developing and formulating the research question(s); process of designing the research study; data collection process; how to combine research with clinical practice; and statistical analysis. One chapter is a guide to developing each section of the research article (title, abstract, introduction, methodology, results, discussion). Chapter 8 reviews some common myths regarding the nature of science, as well as pitfalls to avoid in human research. Lastly, chapter 9 reviews issues related to obtaining funding to support research activities. This is a basic overview and introduction to the research process, written for readers of research articles rather than as a guide for researchers themselves."
What Is research? A Brief Overview
Getting Started
Developing a Plan of Action
How to Survive the Tedious Data Collection Process
Some Tips on How to Combine Research with a Busy Clinical Practice
What Did I Find? Is It Real?
Writing Up and Publishing the Findings
Pitfalls to Avoid in Research in Humans
Finding Monies to Help Pay the Bills
References and Suggested Readings
Index
About The Author
Jerry L. Cranford, PhD Professor of Audiology/Hearing Science, Department of Communication Disorders and Sciences, Louisiana State University Health Services Center, School of Allied Health Professions.