Publication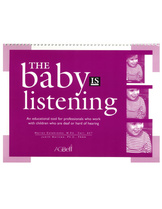 The Baby Is Listening
An Educational Tool for Professionals Who Work with Children Who Are Deaf or Hard of Hearing
Details:

78 pages, Illustrated (B/W), Spiral Bound, 8.5 x 11"
Included Media:

DVD
ISBN13:

978-0-88200-211-8
Release Date:

2000
$89.95
Foreword
The Authors
Acknowledgments
Part I
The Baby Is Listening
Appendix A
Appendix B
Appendix C
Appendix D
Appendix E
Part II
Following the Guide
Legend of the Guide
Episodes 1-20
Part III
Audiograms
References
DVD included.
About The Authors
Warren Estabrooks, M.Ed., Dip. Ed. Deaf, LSLS Cert. AVT, is President and CEO of WE Listen International Inc., a global consulting company in Toronto, Canada. He and his team provide professional education, training, and development in Auditory-Verbal Therapy for practitioners who work with children with hearing loss and their families around the world.
---
-