Publication
Temporal Bone Histology and Radiology Atlas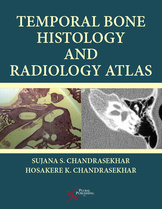 Temporal Bone Histology and Radiology Atlas
Details:

242 pages, Color Illustrations (4 Color), Hardcover, 8.5 x 11" 1 lbs
ISBN13:

978-1-59756-716-9
Release Date:

01/31/2018
$149.95
Overview
Temporal Bone Histology and Radiology Atlas provides a user-friendly approach to understanding both microscopic and radiographic anatomy of the temporal bone. It examines horizontal and vertical histologic sections and correlates them to the more commonly seen radiographic images, primarily on CT and also on MR. This enables the reader to "see" (by visualizing) much more when they look at radiographs than they otherwise would. This text is easy to use and can be referred to in detail as well as briefly and frequently in the course of otolaryngology or radiology practice, and can be digested comfortably for maintenance of certification (MOC) and Boards preparation.
Key Topics:
Anatomical relationships
Fetal and postnatal development
Concerns doctors should have regarding radiographic images
Special preparation techniques for electron microscopy and DNA extraction
Special histology techniques

The images in the book are available on a companion site allowing the reader to zoom in for more detail.
Temporal Bone Histology and Radiology Atlas is designed for otolaryngologists and radiologists in all phases of their careers, from medical school to residency and fellowship training to Boards to MOC and in ongoing practice. Neuro-otologists and neuroradiologists will benefit from this centralized compilation of information as well.
Review
Isaac Eberle, MD, Otology, Neurotology, and Skull Base Surgery, Louisiana State University Health Science Center, Otology & Neurotology, Vol 39, Issue 10 (December 2018):
"An easy read with beautiful illustrations, this title is an excellent addition to the otolaryngology resident, medical student, general radiologist, and early researchers hoping to get an introduction to temporal bone histology and radiology. It evinces a passion for the material that the authors clearly want to share with the next generation of otologists."
Foreword
Contributors
Chapter 1. Temporal Bone Preparation for Routine Histologic Analysis
Hosakere K. Chandrasekhar
Chapter 2. Special Temporal Bone Histology Techniques for Both Preparation and Analysis
Alicia M. Quesnel, Reuven H. Ishai, and Michael J. McKenna
Chapter 3. Radiology Techniques for Optimal Compound Tomography and Magnetic Resonance Images
Sujana S. Chandrasekhar
Chapter 4. Temporal Bone Osteology
Hosakere K. Chandrasekhar
Chapter 5. The Facial Nerve
Hosakere K. Chandrasekhar and Sujana S. Chandrasekhar
Chapter 6. Horizontal Temporal Bone Sections with Corresponding Computed Tomography Images
Hosakere K. Chandrasekhar and Sujana S. Chandrasekhar
Chapter 7. The Cochlea, Vestibule and Central Connections
Hosakere K. Chandrasekhar
Chapter 8. Vertical Temporal Bone Sections with Corresponding Radiographic Images
Hosakere K. Chandrasekhar and Sujana S. Chandrasekhar
Chapter 9. Complete Temporal Bone Study
Sebahattin Cureoglu, Sujana S. Chandrasekhar, and Michael M. Paparella
Chapter 10. Future of Temporal Bone Studies
Sebahattin Cureoglu and Michael M. Paparella
Index
About The Authors
Dr. Chandrasekhar attended medical school at Mount Sinai School of Medicine in New York City, graduated at the age of 22, and completed her residency in Otolaryngology-Head and Neck Surgery at New York University Medical Center in New York and fellowship in Otology and Neurotology at the House Ear Clinic and Institute in Los Angeles, California. She served on the full-time academic faculty of both UMDNJ-New Jersey Medical School and Mount Sinai School of Medicine before entering private practice in New York City in October 2004. She is currently Director of New York Otology, Director of Neurotology at the James J. Peters Veterans Administration Medical Center, Otologist/Neurotologist at the New York Head and Neck Institute, and Clinical Professor at Hofstra-Northwell School of Medicine. Her clinical interests include management of disorders of hearing, balance, tinnitus, facial nerve, and lateral skull base, as well as cochlear and Baha implants.
Dr. Chandrasekhar's research interests include hearing loss, tinnitus, vertigo, skull base tumors and temporal bone histopathology. She has published several papers, monographs, and book chapters in otology/ neurotology and otolaryngology including a landmark paper on sudden hearing loss and four Clinical Practice Guidelines. She has also written on, and is funded for, gender research in otolaryngology.
Dr. Chandrasekhar was honored with the AAO-HNS's Distinguished Service Award in September 2006 and 2012, with the Helen Krause Trailblazer Award from the AAO-HNS Women in Otolaryngology Section in 2012, and with the Physician Mentor Recognition Award, American Medical Association Women Physicians Section in 2013.
Dr. Chandrasekhar served as President of the American Academy of Otolaryngology-Head and Neck Surgery 2015-2106. She is the third woman and the first person of Indian descent to hold that office. She has a husband, Kris Ramanathan, and four children, ranging in age from 21 to 12.
---
Dr. Chandrasekhar did his medical school and residency in South India, and his postgraduate work in ENT in England. He taught ENT and Anatomy in Bangalore until moving to the US in 1969. He did a rotating internship in DC and then residency in Otolaryngology at NYU Medical Center with John Daly, MD as Chair. He stayed on at NYU as Associate Professor. With him at the helm, the NYU temporal bone laboratory was developed into one of the pre-eminent laboratories in the country, and its specimens are catalogued in the National Temporal Bone Registry. He published the landmark papers on temporal bone findings in rubella, and, 20 years later, in HIV disease. He has taught an instructional course at the American Academy of Otolaryngology-Head and Neck Surgery Foundation Annual Meeting on temporal bone histology and histopathology for over 2 decades straight. He received the Jerome Goldstein Public Service Award from the AAO-HNSF.

Dr. Chandrasekhar has been a leader in the Indian-American community since his arrival in the US in 1969. He founded his native language organization, Kannada Koota of New York, in 1971 and it is still going strong today. He was instrumental in establishing the Hindu Temple Society of New York with its beautiful temple in Flushing, Queens. He was president of the Federation of Indian Associations. He served as Ethnic Advisor for Indian Affairs under New York City Mayors Koch and Dinkins, and New York State Governor Cuomo, and was honored as so by NYC's Mayor Bloomberg. His strong interest in the arts led him to perform and direct dramas in Kannada throughout the US and host extraordinary music chamber concerts in his home and in conjunction with the Carnatic Music Society of North America. He sought means for brotherhood and promotion of younger physicians with his longstanding work for the Karnataka State Medical and Dental Alumni Association.

It was Dr. Chandrasekhar's drive that led to the placement of the statue of Mahatma Gandhi in New York's Union Square Park. He has received the Hind Rattan Award, the highest honor that India confers to her children living outside the country. Dr. Chandrasekhar is a published author of historical fiction, with his most recent Kannada language book, The Hedge, being converted into a play. His literary area of particular interest is the time of Gandhi and Indian independence.

He is married to Dr. Sree Devi Chandrasekhar, who is a board-certified Pediatrician, Internist, and Family Physician. They have 3 daughters, an otolaryngologist and two lawyers, 3 sons-in-law, and 10 grandchildren.

Purchasers of this book receive complimentary access to supplementary materials hosted on a PluralPlus companion website.

To access the materials, log in to the website using the URL and Access Code located inside the front cover of your copy of Temporal Bone Histology and Radiology Atlas.