Publication
Bassini's The Art of Singing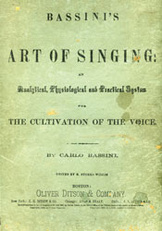 Bassini's The Art of Singing
Details:

168 pages, Illustrated (B/W), Hardcover, 8.5 x 11"
ISBN13:

978-1-59756-192-1
Release Date:

02/01/2008
$49.95
Overview
Even though exactly 150 years have passed since The Art of Singing was first published, Bassini's method is just as valid today as it was when it was written. The book is not just an historically interesting document, it defines a method of bel canto. It contains the vocal wisdom of the 18th and 19th centuries. The principles illuminated here were those used to train the great singers who were the first to sing the operas of Donizetti, Bellini, Rossini, and many others.
About The Author
Stephen F. Austin, M.M., Ph.D.


Stephen F. Austin, PhD is associate professor of voice. Dr. Austin joined the faculty of UNT in 2001 after several years of teaching at Louisiana State University. He teaches applied voice and vocal pedagogy. Dr. Austin received a masters degree in vocal performance from UNT and continued his studies at the University of Iowa where he earned the PhD in voice science from the Department of Communication Disorders under the direction of Dr. Ingo Titze. His unique training in performance and voice science has placed Dr. Austin at the forefront of interdisciplinary work in vocal pedagogy.