Publication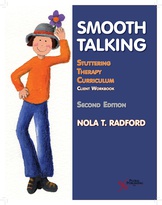 Smooth Talking
A Curriculum for School-Age Children Who Stutter - Workbook Bundle
Details:

224 pages, Illustrated (B/W), Softcover, 8.5 x 11"
ISBN13:

978-1-59756-373-4
Release Date:

09/01/2009
$73.95
Overview
Bundle price cannot be combined with other discounts.
Smooth Talking is a comprehensive curriculum developed for speech-language pathologists who serve school-age children (7 to 14 years) who stutter. The curriculum incorporates mediated learning-cognitive strategies with behavioral techniques to promote effective management of stuttering. The student workbook is available in bundles of five and includes eye-catching illustrations, games, stories and poems.
About The Author
Dr. Nola T. Radford, CCC-SLP has been a speech-language pathologist for more than 30 years. She has worked in a variety of employment settings, including public schools, private practice, and a pediatric rehabilitation clinic.