Publication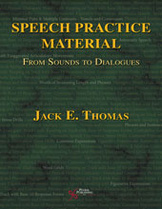 Speech Practice Material
From Sounds to Dialogues
Details:

349 pages, Illustrated (B/W), Softcover, 8.5 x 11"
Included Media:

no
ISBN13:

978-1-59756-287-4
Release Date:

07/01/2008
Overview
Speech Practice Material: From Sounds to Dialogues features materials that are not based on or related to any particular treatment program. They are intended to be versatile, flexible, and used in many ways for many populations. Some of the stimuli are tried-and-true with some new variations. Some particular therapy techniques and variations on how to use and alter the material are suggested in this book, but no particular theory or step-by-step approach is recommended or supported. Decisions about whom to use it with, how, and why, are in the hands, judgment, and creativity of the clinician. This book invites therapists to think critically and study and apply the best evidence and practice guidelines from the current professional literature.
"Jack Thomas provides the materials for building treatment or clinical research tasks for a wide variety of speech problems. There is a wealth of materials here—more than needed for any single patient or speech disorder. They range from nuts and bolts (sounds and words) to major arches and frames (common expressions, figurative language, dialogues). Users of this manual should know that it has been developed by an outstanding, expert clinician who has treated a wide variety of communication disorders long enough to know what stands the test of time. This manual is a well-stocked toolbox, one assembled by a clinician for clinicians and clinical researchers. Keep it handy. Use it wisely."
--From the Foreword by Joseph R. Duffy, Ph.D
Review
Linda Siegfriedt, MEd, CCC-SLP (George Washington University), Doody's Review Service (2009):
"The author covers stimuli presentation from the most basic reflexive level to the higher levels of more functional and abstract communication. The best feature of the book is the fact that it is useful in a variety of contexts. ... This book has made my job as a clinical instructor so much easier, as much of what we in the clinic need to provide clients is available in one place."
Foreword by Joseph R. Duffy
Automatic Speech Tasks
Consonants
Vowels and Diphthongs
Word Grids
Common Expressions
Figurative Expressions
Speaking with Exaggerated Articulatory Movements
Dialogues
Contrastive Stress Drills
Keeping on Track in Therapy with Base-10 Response Forms
References
Index
About The Author
Jack Thomas received his BS in Speech Pathology and Audiology at the University of Oregon and Masters of Science degree in Speech Pathology at Portland State University. He worked on Native American Reservations and had a private practice in acute care hospitals and skilled nursing facilities in Montana before working at Mayo Clinic in Rochester, Minnesota, where he has practiced since 1982. He treats patients with neurogenic speech and language disorders and those with head and neck based speech and swallowing disorders, and he serves as supervisor/manager of the Division of Speech Pathology at Mayo Clinic-Rochester. Thomas has received the Honors of the Minnesota Speech-Language-Hearing Association and the Mayo Individual Award of Excellence. He is co-author of Looking Forward . . . The Speech and Swallowing Guidebook for People with Cancer of the Larynx and Tongue, Handbook for the Laryngectomee, and journal articles on motor speech disorders. He is certified by the American Speech-Language-Hearing Association and board certified by the Academy of Neurologic Communication Disorders and Sciences.