Publication
Songs for Listening! Songs for Life!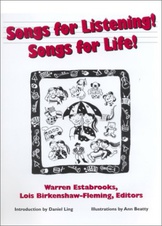 Songs for Listening! Songs for Life!
Edited by: Warren Estabrooks, Lois Berkshaw-Fleming
Details:

238 pages, Color Illustrations (2 Color), Spiral Bound, 8.5 x 11"
Included Media:

CD
ISBN13:

978-0-88200-214-9
Release Date:

2003
$89.95
Preface
Acknowledgements
Introduction
I. Songs for Listening
Welcome, Come On In & Goodbye, Goodbye
Time to Listen
This Is the Way We Listen
Hello Everybody & Good Morning Today
Ears to Hear
What Sound Do You Hear?
This Is the Sound
Neighborhood Noises
II. Songs for Moving
I'm Going to Sing
Clap to the Music
Join in the Game
If You're Happy and You Know It
Hokey Pokey
Going Over the Sea
Rig-a-Jig-Jig
Looby Loo
Shoo Fly
Teddy Bear, Teddy Bear
She'll Be Coming Round the Mountain
One Finger, One Thumb Keep Moving
Eensy-Weensy Spider
III. Songs for Learning
Tell Us Your Name
My Clothes
Row, Row, Row Your Boat
Weather Sounds
Raindrops, Raindrops
Sunscreen Baby Blues
Rover
The Farmer in the Dell
This Old Man
Aiken Drum
Alice the Camel
Wheels on the Bus
Farmer Brown's Cow
Old MacDonald Had a Farm
IV. Songs for Life
I'm Me
Sing, Sing Along
Equality
When I Get Up in the Morning
When I Get Mad
Love Somebody
I Like Ice Cream
Ten Little Jelly Beans
I Am a Fine Musician
Those Rumbling, Tumbling, Down-in-the-Stomach Junk Food Blues
Fire's Burning
Canoe Song & Land of the Silver Birch
The Bear Went Over the Mountain
Down by the Bay
Appendices
Appendix 1: What is Auditory-Verbal Therapy?
Appendix 2: The Six-Sound Test
Contributors
Alphabetical Listing of Songs
About The Editors
Warren Estabrooks, M.Ed., Dip. Ed. Deaf, LSLS Cert. AVT, is President and CEO of WE Listen International Inc., a global consulting company in Toronto, Canada. He and his team provide professional education, training, and development in Auditory-Verbal Therapy for practitioners who work with children with hearing loss and their families around the world.
---
-