Publication
Speech-Language Pathology Assistants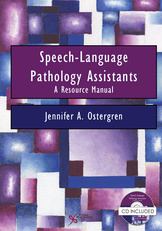 Desk Copy for Instructors
Speech-Language Pathology Assistants
A Resource Manual
Details:

464 pages, Illustrated (B/W), Softcover, 7 x 10"
Included Media:

CD
ISBN13:

978-1-59756-500-4
Release Date:

01/15/2014
Overview
THE SECOND EDITION WILL BE AVAILABLE IN JANUARY 2019. CLICK HERE FOR MORE INFORMATION.

Speech-Language Pathology Assistants: A Resource Manual, is a practical, easy-to-use manual that can be used by both SLPAs and SLPA educators.
The text defines the roles of SLPAs and their supervisors--offering additional insight into the scope of practice of an SLPA per current American Speech-Language and Hearing Association (ASHA) recommendations--and includes discussions, strategies, and examples of real-world issues, such as using augmentative and alternative communication (AAC) and working with individuals with autism spectrum disorders (ASD). Also included within the chapters are "Things to Consider" sections, which address important factors and modifications that can enhance the effectiveness of treatment activities. For example, incorporating play, literacy, and speech sound remediation into treatment or modifying the clinical interface to enhance group therapy dynamics for children and adults.
Within the text are chapters devoted to specific aspects of an SLPA's development. Chapters on clinical service enhance SLPAs understanding of goals, lesson plans, data collection, and note-writing. Likewise, chapters on professional practice offer insight into ethical problem-solving, presenting a professional image, developing mentoring relationships, working with culturally and linguistically diverse populations, and the use of self-reflection for self-improvement.
Another notable feature of this text is the appendices, which include checklists, exercises, forms, and clinical tools and resources for SLPAs.
As a key resource for enhancing skills and highlighting professional practice issues, for clinical practicum training or future employment, this is a text both SLPAs and SLPA educators will want to have on their bookshelves.
Review
Kristan Culbertson, MS, CCC-SLP, Speech-Language Sciences and Technology Program, Northern Arizona University (2014):
"Dr. Ostergren's textbook includes ALL of the information my SLPA students have been asking for! Great examples of understanding the different aspects of goals/objectives, picture representations of augmentative communication devices, and various treatment methodologies."
List of Appendices
Preface
Introduction
Acknowledgement
Contributors
Part 1: Defining Roles: Speech-Language Pathology Assistants (SLPAs)

Chapter 1. Defining Roles: SLPAs
Chapter 2. Defining Roles: Supervision and Mentoring
Chapter 3. Ethical Conduct
Chapter 4. Professional Conduct
Chapter 5. Cultural and Linguistic Diversity
Carolyn Conway Madding
Chapter 6. Health and Safety
PeiFang Hung

Part II: Skills Development

Chapter 7. Deciphering Lesson Plans and Goals
Chapter 8. Data Collection
Chapter 9. Note Writing
Chapter 10. Implementing Treatment
Chapter 11. Group Therapy
Jennifer A. Ostergren and Sarah Guzzino
Chapter 12. Incorporating Play and Literacy in Treatment
Sara M. Aguilar
Chapter 13. Speech Sound Remediation
Lei Sun
Chapter 14. Augmentative and Alternative Communication
Margaret Vento-Wilson
Chapter 15. Autism Spectrum Disorder (ASD)
Jodi Robledo

Index
About The Author
Jennifer A. Ostergren, PhD, CCC-SLP, is Associate Dean of the College of Health and Human Services at California State University, Long Beach (CSULB). She is a licensed and nationally certified speech-language pathologist (CCC-SLP) with more than 19 years of clinical experience working as an SLP in clinical settings with adults. Dr. Ostergren has published and presented nationally in the area of supervision and the training of speech-language pathology assistants (SLPAs). She has supervised SLPAs throughout her career and has developed curriculum on the topic for the Department of Speech-Language Pathology at CSULB. Dr. Ostergren is the recipient of the CSULB Distinguished Faculty Teaching Award (2017), the California Speech and Hearing Association (CSHA) Outstanding Achievement Award (2016), and the Soroptimist International of Long Beach Women of Distinction in Education Award (2015).