Publication
Supporting Family Caregivers of Adults With Communication Disorders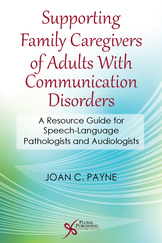 90-Day Exam Copy for Instructors
Supporting Family Caregivers of Adults With Communication Disorders
A Resource Guide for Speech-Language Pathologists and Audiologists
Details:

304 pages, Illustrated (B/W), Softcover, 6 x 9"
ISBN13:

978-1-59756-502-8
Release Date:

05/26/2015
Overview
Supporting Family Caregivers of Adults With Communication Disorders: A Resource Guide for Speech-Language Pathologists and Audiologists provides professionals in speech-language pathology and audiology with tools to assist and support family caregivers of persons with chronic or disabling communication disorders.
Family caregivers are those who provide continuous, unpaid care to family members and friends who are unable to care for themselves. Caregivers can be trained by speech-language pathologists and audiologist to augment treatment goals and can be instrumental in motivating clients to complete treatment or therapy. However, family caregivers are vulnerable to a number of debilitating conditions as a result of the physical and emotional toll of daily caregiving; these can include development of chronic diseases, fatigue, depression, and premature death.
Key features of this text include:

Detailed descriptions of stressors that can affect family caregivers and the various coping styles and cultural expectations of caregivers
Questionnaires and survey instruments to aid clinicians in recognizing the signs of caregiver fatigue and distress
Tools to engage caregivers in the goals and objectives of treatment
Caregiver support resources that focus on transportation (to and from appointments), financial literacy, respite care, meals, end-of-life care, advance directives, and home health services

Caregivers are invaluable to the overall quality of life of persons with communication disorders, ensuring they receive effective treatment and assisting with managing their care. This text will help speech-language pathologists and audiologists better assist family caregivers in this crucial role.
Pre-Publication Reviews:
"The chapters I reviewed are a great resource for speech-language pathologists and audiologists. I am not aware of any texts in this area for such an audience. This is a welcome addition."
- Andrew Stuart, PhD, Professor, Department of Communication Sciences and Disorders, East Carolina University
"Great material, lots of detail about different disorders. And options for referral - anything from the counseling perspective regarding what clinicians can do to support these caregivers."
- Anu Subramanian, PhD, CCC-SLP, Clinical Associate Professor, Department of Speech, Language, and Hearing Sciences, Purdue University
"All-in-all, it is well written with relevant and current information. Very good supporting statistics. It also seems to be an area rarely addressed in the literature."
- Dennis C. Tanner, PhD, Professor of Health Sciences, Program in Speech-Language Sciences and Technology, Northern Arizona University
Chapter 1. Introduction
Joan C. Payne
Chapter 2. The Dynamics of Family Caregiving
Joan C. Payne
Chapter 3. Diversity Among Caregivers
Joan C. Payne
Chapter 4. What Speech-Language Pathologists Should Know
Joan C. Payne
Chapter 5. What Audiologists Should Know
Jay R. Lucker, Ronald C. Pearlman, and Joan C. Payne
Chapter 6. Identifying and Assessing the Impact of Caregiving
Joan C. Payne
Chapter 7. Educating and Counseling Caregivers Within the Clinical Setting
Joan C. Payne
Chapter 8. When and Where to Refer Family Caregivers
Wilhelmina Wright-Harp
Chapter 9. Epilogue: Case Study
Joan C. Payne
Appendix A
About The Author
Joan C. Payne, PhD, is a Fellow of the American Speech-Language-Hearing Association (ASHA) and is a professor of communication disorders at Howard University in Washington, DC, where she has been a member of the faculty for more than 40 years. She is nationally and internationally recognized for her work in neurogenic language disorders from an ethnobiological perspective and is the 2014 recipient of the Scholar-Mentor Award from the National Black Association for Speech-Language and Hearing.