Publication
Self-Assessment of Hearing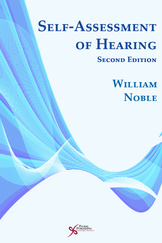 Self-Assessment of Hearing
Second Edition
Details:

300 pages, Illustrated (B/W), Softcover, 6 x 9"
ISBN13:

978-1-59756-531-8
Release Date:

03/01/2013
Overview
Self-Assessment of Hearing, Second Edition is about self-assessment of hearing loss and related dysfunctions in the various circumstances of clinical and research activity addressed to this aspect of human functioning. The author aims to display the place of self-assessment in the patchwork of audiological appraisal, argue certain positions with respect to the status and significance of self-assessment in research and clinical investigation, and challenge received positions on conceptual and nomenclatural matters.
In the opening chapter, the author discusses matters of theoretical debate relevant to the self-assessment approach overall, as well as to technical points from the world of psychometrics, then considers the motive for using self-assessment -- in effect, expanding on the above claim about measurement of disability. Chapter 2 focuses on the current WHO scheme and the one it superseded. The related discussion then follows about identifying communication disability, and the limits of normal hearing function. Chapter 3 records the known principal self-assessment measures concerning hearing loss that have emerged to date, plus subsequent published work developing or applying one or more of these scales. Chapter 4 solely focuses on an analysis of one measure, the Speech, Spatial and Qualities of Hearing scale. Chapter 6 covers studies in adults that have included self-assessment measures applied in the case of cochlear implants and in the case of middle-ear implants. In Chapter 7 the author reviews work that has involved one or another self-assessment approach to tinnitus in the context of research inquiry and/or clinical management. The final chapter addresses other areas of audiological and related practice and research where self-assessment has emerged.
Reviews
Elisabet S. Thorén, Eriksholm Research Centre, Denmark, Department of Clinical and Experimental Medicine, Division of Technical Audiology, Link ö ping University, Sweden, International Journal of Audiology (2014):
"After the first version of the book Self-assessment of hearing was published in 1998, the World Health Organization (WHO) redefined the term 'handicap'. This affected questionnaires designed to capture how a person perceives his or her handicap. In light of the above, it was natural to draft a new edition of the book to include the latest work with SSQ and also to demonstrate how the edited WHO-definitions affect outcome measures in the different subjective tools. The book Self-Assessment of Hearing is divided into two parts. The first part presents basic theories, concepts and definitions relevant to the subject of self-assessment. The second part presents more than 300 references divided into categories, e.g. hearing aids, CI, and tinnitus... The book is written so that regardless of background or previous experience with the questionnaires, you are clearly guided through theoretical psychometrics, definitions, and practical applications. Moreover, the book demonstrates how to apply the questionnaires in clinical work and research and the book thereby plays an important role in the audiology literature. I believe, and so does the author, that in the future self-assessments will play an important role within the field of audiology."

Darreb Cordon, Chief Audiologist, University Hospitals of Leicester NHS Trust, UK, ENT & Audiology News (Jan/Feb 207):
"The second edition by William Noble is aimed at all audiological and research professionals in the fields of hearing evaluation and related dysfunctions such as balance, tinnitus, cochlear and middle ear implants in adults. This edition updates and expands the original edition of the book to take into account new self-assessment measures and the World Health Organisation's (WHO) reclassification of disability. Noble provides a wide-ranging review of the theoretical issues surrounding the areas of disability/normality and puts forward an argument for the merit and routine use of self-assessment tools. The book is divided up into chapters relating to each dysfunction, with tables of relevant studies. One chapter covers in detail the Speech, Spatial and Qualities of Hearing Scale (SSQHS), which Noble was involved in designing. In summary, this book is highly informative and comprehensive introduction to the numerous self-assessment tools available, and is an important reference for all hearing-related professionals who wish to evidence, quantify and validate individuals' hearing and related dysfunctions and experiences."
Preface
Chapter 1 Self-ssessment: Relevant theoretical issues
Chapter 2 The Concepts of Disability and of Normality
Chapter 3 Self-assessment-based Measures of Hearing
Chapter 4 The Speech, Spatial and Qualities of Hearing Scale
Chapter 5 Amplification
Chapter 6 Implantation
Chapter 7 Tinnitus
Chapter 8 Other Arenas Involving Self-assessment
Closing Remarks
References
Index
About The Author
William Noble is a psychologist who was raised and educated in Glasgow and completed University qualifications in Manchester. He moved to Australia where has lived and worked for many years, but with periods of extended service elsewhere, notably at the University of Montreal and the University of Iowa. His interest is particularly focused on the personal and interpersonal experience of hearing impairment and the phenomenology of auditory life. Communication in all its forms has been a guiding force in his work, extending to a fascination with the evolutionary emergence of various kinds of communication, including language.