Publication
Respiratory Muscle Strength Training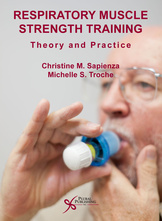 Respiratory Muscle Strength Training
Theory and Practice
Details:

87 pages, Illustrated (B/W), Softcover, 5.5 x 7.5"
ISBN13:

978-1-59756-428-1
Release Date:

10/01/2011
Overview
Respiratory muscle training (RMST) programs are of great interest to the community of speech language pathologists since they function as rehabilitative strategies in many individuals. It is imperative that clinicians be taught the specific parameters that can be manipulated to change training effects, as well as studying issues of training length and the consequences of detraining, which occurs when therapy has terminated. Critics will agree that there are no other materials like this one on the market; something pocket-sized and easily accessible so that clinicians can refer to it daily. The book will also be full of useful illustrations, demonstrating step-by-step processes on how to manipulate the device and finish training.
Preface
About the Authors

Chapter 1: Respiratory Anatomy and Physiology
Chapter 2: Neuroanatomy and Neurophysiology of the Respiratory System
Chapter 3: Devices for Respiratory Muscle Training
Chapter 4: Case Studies in Respiratory Training
Chapter 5: Frequently Asked Questions

Appendix A: Representative Sample of Devices Used for Respiratory Training
Appendix B: Instructions for Using Respiratory Training Devices
Index
About The Authors
Christine Sapienza, PhD, CCC-SLP, serves as the Dean of the Jacksonville University, Brooks Rehabilitation College of Healthcare Sciences. Previously, Dr. Sapienza was a longstanding tenured professor and chair of the Department of Communication Sciences and Disorders at the University of Florida, as well as a research career scientist at the Brain Rehabilitation Research Center at the Malcom Randall Veterans Administration Hospital. As a principal investigator of National Institutes of Health grants, VA Research Rehabilitation Research and Development Awards, and a M.J. Fox Foundation grant, Dr. Sapienza has provided extensive mentoring to 16 doctoral students, all of whom have contributed back to academics and clinical service. She has built a strong national and international reputation for expertise in the design and implementation of larger scale randomized clinical trials examining treatments as well as the careful reporting of peer-reviewed outcomes from these studies. Dr. Sapienza methodically disseminates this information to the scientific community at large in the form of invited presentations, workshops, and clinical teaching platforms. Through writing, she works to integrate research findings in journal articles, textbooks, and clinical manuals. As a frequent contributor to patient support groups she aspires to assist patients and caregivers as they navigate available treatments and emerging science. Most recently, Dr. Sapienza was selected as Jacksonville's Women of Influence.
---
Dr. Michelle S. Troche is clinical faculty in the Department of Communicative Disorders, College of Public Health and Health Professions at the University of Florida.

The goal of her line of research is to develop treatment paradigms to improve swallowing and speech-related outcomes in persons with neurodegenerative disease. Her current research interests include the effects of cognitive factors on motor speech and swallow function. Having completed much of her training as a student within the MDC, she has participated as sub-investigator and/or research coordinator for several MDC-related studies including a large randomized clinical trial investigating the effects of EMST on swallow function in PD.

A large portion of her speech-language pathology clinical practice includes the evaluation and treatment of speech-language- voice and swallowing disorders in persons with movement disorders. She has provided clinical services within the MDC and participates in monthly education to newly diagnosed patients with Parkinson's disease and dystonia.

Dr. Troche is also a member of the oral motor initiative at the Brain Rehabilitation Research Center (BRRC), Malcom Randall VAMC.