Publication
Reflux Laryngitis and Related Disorders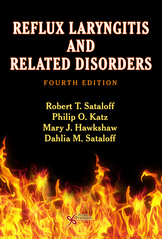 Reflux Laryngitis and Related Disorders
Fourth Edition
Details:

248 pages, Illustrated (B/W), Hardcover, 6 x 9"
ISBN13:

978-1-59756-538-7
Release Date:

05/22/2013
Overview
Reflux Laryngitis and Related Disorders, Fourth Edition, provides a practical overview of reflux laryngitis and other manifestations of laryngopharyngeal reflux. It is designed for use by otolaryngologists, primary care physicians, internists, gastroenterologists, general surgeons, speech-language pathologists, voice teachers, and patients.
Since the first edition was published, there has been a great deal of interest in laryngopharyngeal reflux. Research has revealed new information; diagnostic and treatment paradigms have changed; and new medical and surgical therapies have been developed. This latest edition highlights these new developments and cites many articles that were not referenced in the third edition.
Chapter 1 introduces laryngopharyngeal reflux as a multisystem disorder and defines its importance in otolaryngologic and pulmonary conditions. Chapter 2 summarizes the complex structure and function of the human voice, laying the scientific groundwork necessary to understand the ways in which reflux can impair voice use. Chapter 3 defines esophageal structures and function, providing a comprehensive review of the mechanisms of swallowing and a concise discussion of the physiology of the lower esophageal sphincter. Chapter 4 reviews the symptoms associated with not only typical gastroesophageal reflux disease but also atypical (extraesophageal) reflux including laryngopharyngeal reflux complaints, and other symptoms such as chest pain. This chapter also reviews complications of reflux such as Barrett's esophagus and includes new information on diagnostic technology. Chapter 5 provides a comprehensive discussion of laryngopharyngeal reflux and the symptoms and signs associated with peptic mucositis of the larynx and related structures. This chapter also updates much of the literature on laryngopharyngeal reflux and stresses some particularly important reflux-related conditions such as laryngeal granuloma. Chapter 6 reviews the diagnostic tests available for patients with suspected reflux and the uses, strengths, and shortcomings of each procedure. It includes an extensive review of recent publications on this topic. Chapter 7 reviews the latest concepts in and literature on medical and behavioral management of reflux disease. Chapter 8 describes surgery for reflux, including an in-depth explanation of laparoscopic antireflux surgery as well as a discussion of endoscopic approaches to reflux management.
Table of Contents
Preface
About the Authors
1 Introduction
2 Anatomy and Physiology of the Voice
3 Anatomy and Physiology of the Esophagus and Its Sphincters
4 New Concepts in the Anatomy and Physiology of the Anti-Reflux Barrier
Larry Miller, Kian Makipour, Pathikonda Murali, Anil Vegesna
5 Gastroesophageal Reflux Disease: An Overview of Clinical Presentation and Epidemiology
6 Reflux Laryngitis and Other Otolaryngologic Manifestations of Laryngopharyngeal Reflux
7 Diagnostic Tests for Gastroesophageal Reflux
8 Behavioral and Medical Management of Gastroesophageal Reflux Disease
9 Surgical Therapy for Gastroesophageal Reflux Disease
Index
About The Authors
Robert T. Sataloff, MD, DMA, FACS, is professor and chairman in the Department of Otolaryngology-Head and Neck Surgery and senior associate dean for Clinical Academic Specialties at Drexel University College of Medicine. He is also adjunct professor in the Department of Otolaryngology-Head and Neck Surgery at Thomas Jefferson University, the University of Pennsylvania, and Temple University; as well as on the faculty of the Academy of Vocal Arts. Dr. Sataloff is a professional singer and singing teacher and served as conductor of the Thomas Jefferson University Choir for nearly four decades. He holds an undergraduate degree in Music Theory and Composition from Haverford College, medical degree from Jefferson Medical College–Thomas Jefferson University, and doctor of musical arts in voice performance from Combs College of Music. He completed his residency in otolaryngology-head and neck surgery and fellowship in otology, neurotology and skull base surgery at the University of Michigan. Dr. Sataloff is chairman of the boards of directors of the Voice Foundation and the American Institute for Voice and Ear Research. He is editor-in-chief of the Journal of Voice and Ear, Nose and Throat Journal, associate editor of the Journal of Singing, and on the editorial boards of numerous otolaryngology journals. He has written more than 700 publications, including 40 books. His medical practice is limited to care of the professional voice and otology/neurotology/skull base surgery.
---
Philip O. Katz is Chairman of the Division of Gastroenterology at Albert Einstein Medical Center in Philadelphia, Pennsylvania and a recognized national authority on esophageal disease. Board certified in internal medicine and gastroenterology, his research interests include all aspects of gastro-esophageal reflux disease. A practicing clinician with active teaching and editorial positions, he is also widely published and is an editorial reviewer for the Annals of Internal Medicine, American Journal of Gastroenterology, Gastroenterology, Journal of the American Geriatric Association, and Digestive Diseases and Sciences.
---
Mary J. Hawkshaw, BSN is Research Associate Professor, Department of Otolaryngology - Head and Neck Surgery, Drexel University College of Medicine.
---
Dahlia M. Sataloff is Chairman of the Department of Surgery at the Graduate Hospital and has been a member of the Department of Surgery since 1985. She has served as co-director of the Breast Panel of the Joan Karnell Comprehensive Cancer Center at Pennsylvania Hospital and also as Vice Chairman of the Department of Surgery. Her practice is devoted exclusively to breast surgery for benign and cancerous conditions and she has lectured extensively on breast cancer detection, treatment and management. A recipient of a number of prestigious awards, she has also published papers on a variety of surgical subjects and has co-authored a textbook.