Publication
Professional Writing in Speech-Language Pathology and Audiology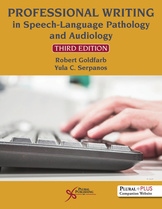 Desk Copy for Instructors
Professional Writing in Speech-Language Pathology and Audiology
Third Edition
Details:

397 pages, Illustrated (B/W), Softcover, 8.5 x 11" 1 lbs
Included Media:

Companion Website
ISBN13:

978-1-63550-013-4
Release Date:

12/11/2018
Overview
Professional Writing in Speech-Language Pathology and Audiology, Third Edition is an excellent resource for students of communication sciences and disorders. It is often used as a textbook for courses in professional writing, clinical methods, and professional issues. Throughout the text, the authors use anecdotal material, self-help questions, and humor to illustrate that learning to be a better professional writer does not require drudgery.
The authors cover a spectrum of subjects related to professional writing, including:
rules of writing
evidence-based writing
ethics of professional writing
citing references
use and abuse of the Internet
writing for oral presentations
writing diagnostic reports
writing clinical reports
writing for professional advancement

The third edition is responsive to requests from instructors to provide more examples from communication sciences and disorders and increase the amount of practice material. The authors have added content in grammar and rules of writing and increased the number of practice questions and writing exercises in all chapters. They also included new information to reflect changes in the most recent ASHA Code of Ethics as well as changes in the Graduate Record Exam and Praxis Exam. The user-friendly PluralPlus companion website includes materials for students and instructors.
Highlights of the Third Edition:
More detailed coverage of grammar and rules of writing
More examples for student practice in all chapters
More examples related to speech-language pathology and audiology
New information about ASHA's Revised Code of Ethics
New information about the Praxis II Examination in speech-language pathology and audiology
Website resources for students including electronic versions of writing exercises
Website resources for instructors including answer keys for practice questions and writing exercises
Introduction
Chapter 1. Getting Started
Beginnings of Speech-Language Pathology
Beginnings of Audiology
Current Issues
English Mechanics
Exercises
References
Chapter 2. Writing Rules
Errors in Form
Writing Form (punctuation, spelling, grammatical morphemes)
Writing Content and Composition (Semantics, Sentence Structure)
Exercises
Final Note
References
Chapter 3. Evidence-Based Writing
Writing a Professional Paper/Journal Article
Exercises
References
Chapter 4. Ethics of Professional Writing
The ASHA Code of Ethics
Health Insurance Portability and Accountability Act of 1996 (HIPAA)
The Institutional Review Board
Conclusion
Exercises
References
Appendix 4-A. Sample Institutional Review Board Research Review Form
Chapter 5. Referencing Resources
History of the Library
Collections
Services
Copyright Material
Plagiarism
Citing References From Print Books and Journals
Exercises
References
Chapter 6. Internet Resources
What is the Internet?
Syntax, Semantics, and Jargon
Uses and Abuses
Citing References from the Internet
Evaluating Internet Sources for Professional Writing
Peer-Reviewed Journals
Which Internet Resources Should We Use (And Which Should We Avoid)?
Final Note
Exercises
References
Chapter 7. Writing for Oral Presentation
Preparing the Oral Presentation
Delivering the Oral Presentation
Sample Computer-Generated Presentation
Professional Presentations
Exercises
References
Chapter 8. The Diagnostic Report
Diagnostic Labeling
Threats to Accurate Diagnosis
Rules for Diagnosis
Writing the Diagnostic Report
Guidelines for Writing Diagnostic Reports in Speech-Language Pathology and Audiology
Diagnostic Report Format-Speech and Language
Diagnostic Protocol Worksheet-Speech and Language
Sample of Diagnostic Report Writing in Speech-Language Pathology
Diagnostic Report Format-Audiology
Diagnostic Protocol Worksheet-Audiology
Sample of Diagnostic Report Writing in Audiology
Exercises
References
Chapter 9. Clinical Goals, Reports, and Referrals
Informed Consent and Permission
Writing Clinical Observations
Writing Goals for Therapy
Types of Professional Reports
Guidelines for Writing Progress Reports in Speech-Language Pathology
Progress Report: Writing Style Worksheet
Edited Progress Report in Speech-Language Pathology
Professional Correspondence
Exercises
References
Chapter 10. Writing for Professional Advancement
Writing for Professional Advancement
I. Resumes
II. Cover Letters for Resumes
III. Portfolios
IV. Professional Correspondence Via Electronic Media
Multiple-Choice Tests
Exercises
References

Index
About The Authors
Robert Goldfarb, PhD, FASHA, is Professor (with the Professor Recognition Award) of Communication Sciences and Disorders at Adelphi University and Emeritus Professor of Speech-Language-Hearing Sciences at Lehman College and The Graduate Center, CUNY, where he was also Executive Officer. He was a Fulbright Specialist in Applied Linguistics/TEFL in Bogotá, Colombia in 2013. He has published in the areas of adult aphasia, the language of dementia, and the language of schizophrenia, and is also co-author of two tests: The Stocker Probe for Fluency and Language (1995) and Time-Altered Word Association Tests (TAWAT, 2013). He edited and contributed chapters to two books and co-authored six others. He is the recipient of major awards and highest honors from New York City and New York State professional associations.
---
Yula C. Serpanos, PhD, is a Professor of Audiology in the Communication Sciences and Disorders program at Adelphi University and the Program Coordinator of the Long Island Doctor of Audiology (AuD) Consortium. She has many years of clinical experience and university teaching at the undergraduate, graduate, and doctoral levels. Dr. Serpanos was the 2016 President of the New York State Speech-Language-Hearing Association (NYSSLHA). She is the recipient of the 2009 NYSSLHA Distinguished Achievement Award. Dr. Serpanos has numerous publications in the areas of loudness perception, noise induced hearing loss, and audiologic screening.

Purchasers of this book receive complimentary access to supplementary materials hosted on a PluralPlus companion website.

To access the materials, log in to the website using the URL located inside the front cover of your copy of Professional Writing in Speech-Language Pathology and Audiology, Third Edition.

STUDENTS:
To access the student materials, you must register on the companion website and log in using the access code located inside the front cover of your textbook.

INSTRUCTORS:
To access the instructor materials, you must contact Plural Publishing, Inc. to be verified as an instructor and receive your access code.

Email: information@pluralpublishing.com
Tel: 866-758-7251 (toll free) or 858-492-1555