Publication
Professional Writing in Speech-Language Pathology and Audiology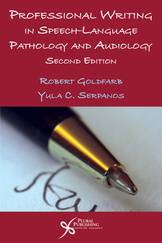 Desk Copy for Instructors
Professional Writing in Speech-Language Pathology and Audiology
Second Edition
Details:

384 pages, Illustrated (B/W), Softcover, 8.5 x 11"
Included Media:

Companion Website
ISBN13:

978-1-59756-554-7
Release Date:

09/07/2013
$89.95
Overview
THE THIRD EDITION WILL BE AVAILABLE IN DECEMBER 2018. CLICK HERE FOR MORE INFORMATION.
Professional Writing in Speech-Language Pathology and Audiology, now in its second edition, is an excellent resource for students of communication sciences and disorders. It is often used as a textbook for courses in clinical methods, introduction to research methods, and professional issues. Throughout the text, the authors use anecdotal material, self-help questions, and humor to illustrate that learning to be a better professional writer does not require drudgery.
For the new edition, the authors have updated the content to reflect changes in the most recent edition of the Publication Manual of the American Psychological Association, Sixth Edition, as well as changes in the Graduate Record Exam and Praxis Exam. They also added a new chapter on English grammar.
The authors cover a spectrum of subjects related to professional writing, including

rules of writing
evidence-based writing
ethics of professional writing
use of the library
use and abuse of the Internet
writing for oral presentations
writing diagnostic reports
writing clinical reports; and
writing for professional advancement

With its updates and new features, Professional Writing in Speech-Language Pathology and Audiology, Second Edition, is destined to remain a favorite of instructors and students striving to improve their professional writing skills.
Reviews
Jean Sawyer, Illinois State University (2013):
"The second edition is quite an improvement over the first. I love the exercises and the focus on the mechanics of writing."

Sheila Bernstein, Hofstra University (2013):
"A wonderful improvement in this edition is the inclusion of the workbook into this one text."

Terry Gozdziewski Hausner, Adelphi Univ/LIU Post (2013):
"There is nothing else 'out there' even close to it; so I am very pleased to use it."

Lorraine Mahan, University of Maine (2013):
"I found this textbook to be very helpful and practical."

Claudia Mornout, Purdue University (2013):
"I enjoyed reviewing the book and think it has great value for our graduate students."

Caroline Hattee, Specialist SLT Cleft Net East Addenbrookes Hospital, Royal College of Speech & Language Therapists (2014):
"Now in its second edition, this book combines the 2009 textbook and 2011 workbook, and substitutes the previous CD with website access to resources....

The authors include chapters covering evidence-based writing, oral and poster presentation, diagnostic report writing and goal setting, and suggest pointers on writing curriculum vitae. The book is easy to read and has many practical ideas, such as citing references correctly and the use of detailed observation schedules....Although based on US standards, most of the ideas are transferable. Overall, a useful resource for speech and language therapy and audiology students."
1: Getting Started
Introduction
Beginnings of Speech-Language Pathology
Beginnings of Audiology

About the Deaf Community and "Hearing Impairment"

Current Issues
English Mechanics

Parts of Speech
Grammatical Morphemes
Phrase Structure Rules

Exercises
References

2: Writing Rules
Errors in Form
Writing Form (Punctuation, Spelling, Grammatical Morphemes)

Punctuation
Spelling
Grammatical Morphemes and Common Confusions

Writing Content and Composition (Semantics, Sentence, Structure)
Exercises
Final Note
References

3: Evidence-Based Writing
Part One: Concepts and Controversies
The Scientific Method

Empirical Verification
Operational Definition
Controlled Observation
Statistical Generalization
Empirical Confirmation

The Scientific Method Versus "Common Sense"

Psychological Verification
Verbal Definition
Uncontrolled Observation
Overgeneralization
Psychological Confirmation

The Scientific Method and Pseudoscience

Untestable
Unchanged
Confirming Evidence
Anecdotal Evidence
Inadequate Evidence
Avoiding Peer Review

Part Two: Writing a Professional Paper/Journal Article

A. Title
B. Abstract
C. Introduction
D. Methods
E. Results
F. Conclusion and Discussion
G. References

Exercises
References

4: Ethics of Professional Writing
The ASHA Code of Ethics

Principle of Ethics I
Principle of Ethics II
Principle of Ethics III
Principle of Ethics IV

Health Insurance Portability and Accountability Act of 1996 (HIPAA)
The Institutional Review Board

The Belmont Report
National Institutes of Health (NIH) Training Course

Conclusion
Exercises
References
Appendix 4-A. Sample Institutional Review Board Research Review Form

5: Using Library Resources
History of the Library
Collections

Books
Scholarly Journals
Audio-Visual Materials
Microforms

Services

The Organization of Information: Catalogs and Databases
Conducting a Search
Interlibrary Loans/Reciprocal Library Privileges
Reference Services
Reserve Items
Course Packs

Copyright Material
Plagiarism
Citing References from Print Books and Journals

Writing References in APA Style: Review of Selected APA-Style (2010)
:Reference List and In-Text Citation Formats

Exercises
References

6: Using Internet Resources
What Is the Internet?
Syntax, Semantics, and Jargon

Internet Glossary: An Exercise in Futility

Uses and Abuses
Citing References from the Internet

Electronic Article
Electronic Article (where the format is modified from the print version)
Specific Internet Document
Article in an Internet-Only Journal

Evaluating Internet Sources for Professional Writing
Peer-Reviewed Journals

Peer-Review Process
The Journal of Speech-Language Pathology and Applied Behavior Analysis

Which Internet Resources Should We Use (And Which Should We Avoid)?

Do Use
Don't Use
Should We Use These Internet Resources? Why or why not?

Final Note
Exercises
References

7: Writing for Oral Presentation
Preparing the Oral Presentation

Developing the Speech
Outlining the Presentation

Delivering the Oral Presentation

Computer-Generated Presentations
Factors in Effective Speech Delivery
Tips for Delivering the Speech

Sample Computer-Generated Presentation
Professional Presentations

The Poster Presentation
The Platform Presentation
The Short Course

Exercises
References

8: Diagnostic Report
Diagnostic Labeling
Threats to Accurate Diagnosis
Rules for Diagnosis

Rule 1
Rule 2
Rule 3
Rule 4
Rule 5

Writing the Diagnostic Report

The Logic of Report Writing
The Diagnostic Report Format

Guidelines for Writing Diagnostic Reports in Speech-Language Pathology
and Audiology

Writing Aspects
Format
Sections of the Diagnostic Report
Report Drafts
Writing the History

Diagnostic Report Format- Speech and Language

Referral Information
Background Information
Assessment Information
Clinical Information
Recommendations

Diagnostic Protocol Worksheet- Speech and Language

Referral Information
Background Information
Assessment Information

Sample of Diagnostic Report Writing in Speech-Language Pathology

Speech-Language Evaluation Report - Original
Speech-Language Evaluation Report - Revised Version

Diagnostic Report - Audiology

History
Assessment Information
Clinical Impressions
Recommendations

Diagnostic Protocol Worksheet - Audiology

History
Assessment Information

Sample of Diagnostic Report Writing in Audiology

Audiologic Evaluation Report - Original
Audiology Evaluation Report - Edited

Exercises
References

9: Clinical Goals, Reports, and Referrals
Informed Consent and Permission

Justification
Informed Consent Form
Permission Form

Writing Goals for Therapy
Types of Professional Reports

I. Treatment (Therapy Session) Format Plan in Speech-Language Pathology
II. Progress Report

Guidelines for Writing Progress Reports in Speech-Language Pathology
Progress Report: Writing Style Worksheet
Edited Progress Report in Speech-Language Pathology

III. Audiogram Form Report
IV. Medical Chart Logs/Reports

Professional Correspondence

Professional Referrals/Sending Reports
Sample Authorization of Release of Information Review
Correspondence via Electronic Web
Letters to Professionals
Cover Letters as professional Reports
Letters as Reports

Exercises
References

10: Writing for Professional Advancement
Writing for Professional Advancement

I. Resume
Do's
Don'ts
Letterhead
Education
Certifications/Licenses
Professional Experience
Awards/Honors
Publications
Professional Presentations
Research
Professional Affiliations/Activities
Skills
References
Sample Students Resume Format
II. Cover Letters for Resumes
Resume Cover Letter Format
Sample Resume Cover Letter
III. Portfolios
Sample Portfolio Checklist of Clinical Work in Audiology
Sample Portfolio Checklist of Clinical Work in Speech-Language Pathology
:(Adelphi University)
IV. Professional Correspondence Via Electronic Media
Sections of Formal Correspondence
Sample E-Mail Correspondence

Multiple-Choice Tests

The Stem
The Options
Graduate Record Examination (GRE)
Praxis Examination in Speech-Language Pathology and Audiology

Exercises
References
About The Authors
Robert Goldfarb, PhD, FASHA, is Professor (with the Professor Recognition Award) of Communication Sciences and Disorders at Adelphi University and Emeritus Professor of Speech-Language-Hearing Sciences at Lehman College and The Graduate Center, CUNY, where he was also Executive Officer. He was a Fulbright Specialist in Applied Linguistics/TEFL in Bogotá, Colombia in 2013. He has published in the areas of adult aphasia, the language of dementia, and the language of schizophrenia, and is also co-author of two tests: The Stocker Probe for Fluency and Language (1995) and Time-Altered Word Association Tests (TAWAT, 2013). He edited and contributed chapters to two books and co-authored six others. He is the recipient of major awards and highest honors from New York City and New York State professional associations.
---
Yula C. Serpanos, PhD, is a Professor of Audiology in the Communication Sciences and Disorders program at Adelphi University and the Program Coordinator of the Long Island Doctor of Audiology (AuD) Consortium. She has many years of clinical experience and university teaching at the undergraduate, graduate, and doctoral levels. Dr. Serpanos was the 2016 President of the New York State Speech-Language-Hearing Association (NYSSLHA). She is the recipient of the 2009 NYSSLHA Distinguished Achievement Award. Dr. Serpanos has numerous publications in the areas of loudness perception, noise induced hearing loss, and audiologic screening.

A PluralPlus companion website with additional materials is at www.pluralpublishing.com/publication/pwslpa2/

Instructors: If you do not have your password to the Instructor's area of the website, please contact us at information@pluralpublishing.com.

Students/Others: Your passcode is listed in the front of the printed book.