Publication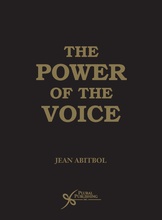 The Power of the Voice
Details:

169 pages, Illustrated (B/W), Softcover, 6 x 9"
ISBN13:

978-1-63550-054-7
Release Date:

03/30/2018
$24.95
Overview
The secrets of the human voice by leading world expert, Dr. Jean Abitbol!

We possess a priceless and powerful treasure: our voice. The Power of the Voice is a scientific and personal voyage of exploration into the vocal instrument that each of us possesses without necessarily understanding it or knowing the true measure of its power.
An alchemy between body and mind, instrument of persuasion and charm, our voice is the reflection of our personality. It can bring us fortune or cause our loss. It fascinates scientists, philosophers, doctors, and those interested in caring for the voice. From the voices that seduce us to the voices that lead us, the author unveils the secrets of the voice and its power of attraction. How is the human voice formed? How does our voice change according to our emotions, situations, and conversations? How do politicians, performers, teachers, or seducers develop the power of their voices?
Enriched with numerous delightful anecdotes, including some about celebrities and politicians, the reader will better understand how the voice can inspire attraction and even repulsion.
This fascinating read will be of interest to people who use their voice often, including singers, actors, teachers, comedians, journalists, politicians, lawyers, and anyone with an interest in the human voice.
Review
Liam M. Flood, FRCS FRCSI Middlesbrough UK, Journal of Laryngology & Otology (May 2018):
"In this book you will read why Lauren Bacall's voice was so alluring, why Orson Welles' report of Martian Invasion was so convincing or, in a televised debate, how the quality of the voice and delivery can prove more decisive than the content of the speech. . . . The preface tells us this will appeal to anyone who is a regular voice user, whether singer, actor, teacher, politician, lawyer etc. Certainly its appeal goes way beyond those who practice laryngology and it deserves to be very successful and appeal to a general readership."
Foreword
Introduction
Acknowledgments
Chapter 1. The Voice as an Instrument
Chapter 2. The Voices in Power
Chapter 3. The Essential Is Invisible
Chapter 4. The Voice Must Go On
Chapter 5. The Voices of Silence
Conclusion
About The Author
Jean Abitbol, MD is Ancien Chef de Clinique at the Faculty of Medicine of Paris. An otorhinolaryngologist, he specializes in phoniatrics and voice surgery. Based on his clinical experience and research, he has published extensively on voice medicine and is recognized internationally for his contributions to voice surgery and care of the professional voice.

A lifelong student of the intricacies of the human voice, Dr. Abitbol practices otolaryngology, phoniatry, and laser voice surgery in Paris, where he is Ancien Chef de Clinique at the University of Paris. His interest in the human voice led him to develop innovative diagnostic and therapeutic techniques, including vocal dynamic exploration, a method that allows physicians to look at the vocal folds speaking or singing and, more recently, the use of three-dimensional imaging of the larynx. His research has centered on the effects of hormones on the human voice.

Dr. Abitbol has published over 300 articles in the medical literature and produced several medical movies for which he has won film prizes. He hosts an annual international seminar for physicians and voice professionals on laser voice surgery and voice care and gives conferences to teachers and singers on voice care. A popular international presenter at scientific and professional meetings, he has received many honors, the most recent of which was the prestigious Chevalier de la Legion d'Honneur for which he was nominated by the Ministry of Health on behalf of the President of the French republic.