Publication
Otolaryngology-Head and Neck Surgery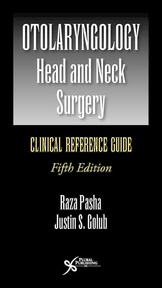 Otolaryngology-Head and Neck Surgery
Clinical Reference Guide
Fifth Edition
Edited by: Raza Pasha, Justin S. Golub
Details:

Illustrated (B/W), Softcover, 4.5 x 8" 1 lbs
ISBN13:

978-1-94488-339-3
Release Date:

07/31/2017
$119.95
Overview
The now classic "Pasha" pocket guide -- Otolaryngology-Head and Neck Surgery: Clinical Reference Guide -- returns for its fifth edition. This universally-known guidebook concisely reviews rhinology, laryngology, otology, plastic surgery, general otolaryngology, and more. All chapters focus on key pathologies, diagnostic methods, and updated treatment recommendations. Spanning the breadth of the entire field, this "high-yield" book retains a "by residents, for residents" feel, while also including expert content useful to accomplished physicians. Medical students, allied health professionals, and otolaryngologists alike will find the fifth edition a valuable resource.
The concise, outline format is useful for rapid reading during urgent clinical situations as well as a last minute refresher before rounds. The guide has proven essential for board review and maintenance of certification exams as well as a quick source for primary care providers. The fifth edition of this essential reference features numerous improvements including:
Updates of all chapters featuring the latest diagnostic and treatment information
A host of new contributing authors
Co-editing by residents and fellows to ensure high-yield, relevant content
A brand-new radiology appendix
Mnemonics to aid memorization
23 new and updated professional illustrations
Preface to the First Edition
Acknowledgments to the First Edition
Preface to the Second Edition
Acknowledgments to the Second Edition
Preface to the Third Edition
Acknowledgments to the Third Edition
Preface to the Fourth Edition
Preface to the Fifth Edition
Contributors
Common Abbreviations in Otolaryngology – Head and Neck Surgery
Chapter 1. Rhinology and Paranasal Sinuses
Matthew Kim, Qasim Husain, Justin S. Golub, Steven C. Marks, and Raza Pasha
Anatomy of the Nose and Paranasal Sinuses
Physiology of the Nose and Paranasal Sinuses
Evaluation for Nasal Obstruction
Nasal Diseases
Allergy and Rhinitis
Paranasal Sinus Disease
Sinus Surgery
Immunology
Chapter 2. Salivary Glands
Oscar Trujillo, Justin S. Golub, and Raza Pasha
Salivary Gland Anatomy and Physiology
General Salivary Gland Pathology
Benign Salivary Gland Tumors
Salivary Gland Malignancy
Parotidectomy
Chapter 3. Laryngology
Ashley P. O'Connell Ferster, Amanda Hu, James P. Dworkin, Robert J. Meleca, Robert J. Stachler, Justin S. Golub, and Raza Pasha
Laryngeal Anatomy and Physiology
The Hoarse (Dysphonic) Patient
Upper Airway Obstruction
Benign Laryngeal Pathology
Neurogenic and Other Vocal Pathologies
Chapter 4. Otolaryngologic Endocrinology
Jiahui Lin, Kenny F. Lin, Justin S. Golub, and Raza Pasha
Thyroid
Parathyroids
Chapter 5. Sleep Medicine
Raza Pasha, Sarah E. Keesecker, and Justin S. Golub
Sleep Physiology
Polysomnography (PSG)
Sleep-Disordered Breathing (SDB)
Other Sleep-Related Disorders
Chapter 6. General Otolaryngology
Mahmoud Issam Awad, Valeria Silva Merea, Robert J. Stachler, Terry Y. Shibuya, Justin S. Golub, and Raza Pasha
Esophageal and Swallowing Disorders
Oral and Oropharyngeal Benign Disorders
Odontogenic, Jaw, and Bone Pathology
Neck Masses
Neck Planes, Spaces, and Infection
Head and Neck Manifestations of Systemic Diseases
Chapter 7. Head and Neck Cancer
Richard Chan Woo Park, Vishad Nabili, George H. Yoo, Justin S. Golub, and Raza Pasha
Cancer Staging Index
Introduction to Head and Neck Cancer
Chemotherapy and Radiation Therapy
Cancer of the Neck
Oral Cancer
Oropharyngeal Cancer
Hypopharyngeal Cancer
Laryngeal Cancer
Nasopharyngeal Cancer
Nasal and Paranasal Cancer
Cutaneous Malignancies
Other Head and Neck Neoplasms
Robotic Surgery
Chapter 8. Otology and Neurotology
Theodore McRackan, Jonathan L. Hatch, Matthew L. Carlson, Syed F. Ahsan, Dennis I. Bojrab, Raza Pasha, and Justin S. Golub
Anatomy, Embryology, and Physiology of Hearing and Balance
Audiology and Hearing Devices
Approach to Hearing Loss and Tinnitus
Infections of the Ear and Temporal Bone
Noninfectious Disorders of the Ear and Temporal Bone
Vestibular Pathology
The Facial Nerve
Chapter 9. Reconstructive and Facial Plastic Surgery
Rohan R. Joshi, Qasim Husain, Richard Chan Woo Park, Richard Zoumalan, Joseph F. Goodman, Neil Tanna, Richard L. Arden, Justin S. Golub, and Raza Pasha
Fundamentals of Wound Healing
Head and Neck Reconstructive Flaps
Grafts, Implants, and Expanders
Facial Reconstruction Techniques
Facial Aesthetic Surgery
Rhinoplasty
Otoplasty
Blepharoplasty
Rhytidoplasty (Rhytidectomy, Facelift)
Forehead Lift and Brow Lift
Liposurgery
Complications of Rhytidectomy, Brow Lift, Liposurgery
Chin and Malar Augmentation
Facial Resurfacing
Fillers, Skin Substitutes, and Injections
Surgery for Alopecia
Incision/Excision Planning and Scar Revisions
Chapter 10. Pediatric Otolaryngology
Valerie Cote, Amy Dimachkieh, Jeremy David Prager, Peggy E. Kelley, Christopher R. Grindle, Tulio A. Valdez, and Justin S. Golub
The Pediatric Encounter
General Pediatric Otolaryngology and Pediatric Sleep
Pediatric Rhinology
Pediatric Laryngoesophagology
Pediatric Salivary Glands
Pediatric Otology
Pediatric Syndromes and Congenital Disorders
Pediatric Head and Neck Surgery
Pediatric Reconstructive and Facial Plastic Surgery
Pediatric Head and Neck Trauma
Chapter 11. Head and Neck Trauma
Rohan R. Joshi, Oscar Trujillo, Cody A. Koch, Timothy D. Doerr, Robert H. Mathog, and Raza Pasha
Evaluation of the Head and Neck Trauma Patient
Mandibular Fractures
Maxillary Fractures
Zygomaticomaxillary and Orbital Fractures
Frontal Sinus and Naso-Orbitoethmoid Fractures
Nasal Fractures
Temporal Bone and Otologic Trauma
Penetrating Head and Neck Trauma
Laryngeal Trauma
Soft Tissue Trauma
Appendix A. Cancer Staging Index
Appendix B. Cranial Nerves
Appendix C. Radiology
Stephanie Y. Chen, Anju Dubey, and Gul Moonis
Appendix D. Anesthesia
Raza Pasha and Justin S. Golub
Index
About The Editors
Dr. Pasha is a Board Certified Ear, Nose, and Throat-Head and Neck Surgeon with extensive training and research experience. He is a sole author of a highly rated comprehensive review book on his specialty. To receive certification from the American Board of Otolaryngology, Dr. Pasha completed an undergraduate degree, four years of medical school, and five years of specialty training. Dr. Pasha has been published in many medical journals and completed research in many institutions, including The Cleveland Clinic, Texas Medical Center, Detroit Medical Center, and Ohio State University. His has also published a review book on Ear, Nose, and Throat-Head and Neck Surgery. Dr. Pasha is a strong advocate for patient education. He believes that maximal therapeutic benefit occurs when patients understand their diagnoses and therapy.
---
Justin S. Golub, MD, MS is an Assistant Professor of Otolaryngology-Head and Neck Surgery in the Division of Otology/Neurotology/Skull Base Surgery at Columbia University Medical Center and New York-Presbyterian Hospital. He completed a fellowship in neurotology at the University of Cincinnati and a residency in otolaryngology-head and neck surgery at the University of Washington. He obtained his medical degree from Emory University School of Medicine and a master's degree in biostatistics from the Columbia University Mailman School of Public Health. He is the author of more than thirty-five peer-reviewed publications in otolaryngology and has coedited three books. Dr. Golub's research interests include the consequences of age-related hearing loss and endoscopic ear surgery.