Publication
Oral-Facial Evaluation for Speech-Language Pathologists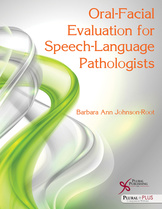 90-Day Exam Copy for Instructors
Oral-Facial Evaluation for Speech-Language Pathologists
Details:

480 pages, Color Illustrations (2 Color), Softcover, 8.5 x 11"
Included Media:

Companion Website
Illustrations:

68
ISBN13:

978-1-59756-575-2
Release Date:

07/13/2015
Overview
Oral-Facial Evaluation for Speech-Language Pathologists guides speech-language pathologists and students of speech-language pathology through the process of strategically inspecting the oral-facial region for structural and functional integrity. This manual applies principles of evidence-based practice throughout and includes a cogent review of relevant anatomy and physiology, instructions for both routine and discretionary inspection procedures, detailed clinical implications for a large number of structural and functional patterns, strategies for organizing and writing appropriate report sections, as well as implications that potentially impact plan of care.
In addition to explicit guidelines that prepare examiners to purposefully and competently perform oral-facial inspections from a generalist perspective, this manual offers detailed adaptations that facilitate evidence gathering for selected special-needs populations. These include children in birth-to-5 age groups, individuals with social and cognitive challenges, persons with sensory limitations, and older adults.
A stand-alone, comprehensive resource, this manual lends itself to both professional practice and clinical teaching, while promoting a rigorous, evidence-based model for oral-facial inspection practices within the profession of speech-language pathology. Furthermore, this manual is useful for improving efficiency, accuracy, and consistency of practice across the discipline, from novice clinician to seasoned practitioner.
Key features include:
Companion website with narrated videos that demonstrate adult and child oral-facial inspections that correspond to the manual procedures
Copy-ready response form for general use as well as separate copy-ready response forms for six select populations (i.e., preverbal children, children with limited language, preschoolers, adults with a history of neurologic episodes, and preoperative and postoperative laryngectomees)
Sixty-eight black and white illustrations
Thorough glossary of terms
Spiral, lay-flat binding suitable for frequent clinical use
Foreword written by Dr. Raymond D. Kent

Sample video from the companion website:
From the Foreword
Oral-Facial Evaluation for Speech-Language Pathologists takes several significant steps toward a systematic and reasoned OFE. The first two chapters define the basic problems and guide the reader through the routine process of the examination. Methods of the examination are clearly tied to purpose and conclusions. Subsequent chapters consider the manifold issues of OFE in relation to discretionary observations, adaptations for individuals with special needs, interpreting findings, and documenting findings. In this way, the book unfolds into an expanding coverage of the OFE that meets diverse needs in speech-language pathology. Illustrations, tabled summaries, a glossary, and companion videos make this a book that is highly informative in an inviting and supportive format.
This book consolidates clinical expertise to guide readers through an effective examination of the structural and functional integrity of a complex system in individuals with a variety of communication disorders. Author Barbara Johnson-Root has given the field of speech-language pathology an unparalleled resource in the logic and methods of the OFE. Her book is a tour de force that will be consulted repeatedly by clinicians with various levels of experience. Oral-Facial Evaluation for Speech-Language Pathologists is a milestone in the literature on clinical methods.
--Raymond D. Kent, PhD
Professor Emeritus
University of Wisconsin-Madison
Review
Henriette W. Langdon, Ed.D., F-­‐CCC-­‐SLP, Professor-CD & S San José State University, San Jose, CA (August 2015):
"An oral-­‐facial examination is necessary when conducting a speech-­‐language assessment for clients of all ages from infancy to 90+. At last one single volume is now available that provides the clinician comprehensive information on the structure and function of the speech mechanism from analysis to interpretation of what is observed. Numerous diagrams, checklists as well as a video enliven the process. Oral-­‐Facial Evaluation for Speech-­‐Language Pathologists by Barbara Ann Johnson-­‐Root is a timeless resource that can follow the student from early training in the field through his or her practice for many years."
Foreword by Raymond D. Kent, PhD
Introduction: About Oral-Facial Evaluation for Speech-Language Pathologists
Acknowledgments
Part I. Before the Procedures
Chapter 1. Getting Started
Part II. Gathering Client-Centered Evidence
Chapter 2. Instructions for Routine Oral-Facial Evaluation Procedures
Chapter 3. Instructions for Discretionary Clinical Observations
Chapter 4. Suggested Adaptations for Examinees With Special Needs
Part III. Interpreting and Managing the Evidence
Chapter 5. Interpreting the Findings
Chapter 6. Documenting the Findings
Appendix A. Recording Forms
Appendix B. Equipment and Supplies
Appendix C. Optional Rapid Review of Relevant Anatomy and Physiology
Appendix D. Summary of Relevant Cranial Nerves
Glossary
References
Index
About The Author
Barbara Ann Johnson-Root, PhD, CCC-SLP, is a professor of speech-language pathology at Ithaca College, and has taught and supervised students in higher education for more than 30 years. She presently teaches in the areas of diagnosis and appraisal, language disorders in children, clinical phonology, perspectives on deafness, and facilitating spoken-language learning in deaf and hard-of-hearing children.
Related Title

Purchasers of this book receive complimentary access to additional materials hosted on a PluralPlus companion website.
Materials:
Demonstration videos for adult and child examinees
Appendix recording forms

To access the materials, log in to the website using the URL and Access Code located inside the front cover of your copy of Oral-Facial Evaluation for Speech-Language Pathologists.