Publication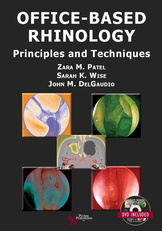 Office-Based Rhinology
Principles and Techniques
Edited by: Zara Patel, Sarah K. Wise, John M. DelGaudio
Details:

168 pages, Color Illustrations (4 Color), Hardcover, 7 x 10"
Included Media:

DVD
ISBN13:

978-1-59756-475-5
Release Date:

03/15/2013
Overview
Office-Based Rhinology conveys the principles and techniques necessary for successfully undertaking various rhinology procedures in the office setting. The procedures described will range from those commonly performed in the physician's office (e.g. nasal endoscopy and debridement) to certain procedures often performed in the operating room for which, in certain patients, an office setting would be appropriate (e.g. nasal polypectomy and drainage of mucoceles). It also covers relevant sinonasal anatomy and radiology, proper patient selection, and appropriate room setup. Its straightforward approach makes it an easy to use reference, a must-have for practicing otolaryngologists and senior level residents.
The book comes with a DVD which includes 28 surgical videos.
Reviews
Patricia A. Lotus, MD and Marvin Fried, MD, Dept of Otorhinolaryngology-Head and Neck Surgery, Albert Einstein College of Medicine, Montefiore Medical Center, The Laryngoscope (2013):
"In an ever-expanding surgical field that is constantly moving toward more office-based procedures to promote patient convenience and decreased health care costs, Office-Based Rhinology: Principles and Techniques is an outstanding addition to the current rhinology literature that is not only right on target but also right on time.

With contributions from top names in the field of rhinology from across the country, this text is organized into 15 short yet pertinently detailed chapters that begin with an overview of nasal and paranasal sinus anatomy and imaging, and progress to a more in-depth discussion of office-based procedural techniques, including proper instrumentation and room setup...[T]his text is fully comprehensive in that it also includes chapters discussing appropriate patient selection and anesthetic techniques such as nerve blocks, which are very important topics that are not always stressed during medical training.

This book is extremely well written and a very easy read. The diagrams, illustrations, and included DVD compliment and reinforce the written text quite effectively. Office-Based Rhinology: Principles and Techniques is a must-read for all current and future rhinologists who wish to stay on the cutting edge of their field, whether in academia or in private practice. Furthermore, this is an excellent text for general otolaryngologists who wish to expand their scope of in-office procedures and need some guidance on how to do so. This text will likely encourage more otolaryngologists to move certain procedures from the operating room to an office setting, and in doing so will hopefully have a positive impact on patient satisfaction and health care costs."

Naveed Kara, FRCS ORL-HNS, ENT & Audiology News (September 2014):
"The book is nicely illustrated with appropriate colour photography and radiological images, and is accompanied by a DVD containing a number of surgical procedures. Overall this is a well written text which would be particularly useful to aspiring rhinologists, and in the current of expanding our 'office-based' horizons, its publication is quite timely."
1. Introduction
2. History of Nasal Endoscopy
3. Pertinent Nasal and Sinus Anatomy for Office-Based Rhinology Procedures
4. Pertinent Radiology for Office-Based Rhinology Procedures
5. Room Setup and Equipment
6. Choosing the Appropriate Patient for Office-Based Rhinology Procedures
7. Anesthesia for Office-Based Rhinology Procedures
8. Basic nasal endoscopy
9. Basic Endoscopic Sinonasal Debridement and Biopsy
10. Treatment of Postoperative Issues Following Nasal and Sinus Surgery
11. Inferior Turbinate Reduction
12. Office-Based Evaluation and Treatment of Nasal Septal Pathology
13. Office-Based Nasal Polypectomy
14. Office-Based Drainage of Sinus Mucoceles
15. Office-Based Treatment of Epistaxis
16. Closed Reduction of Nasal Fractures
17. Office Evaluation of Epiphora
18. Closing remarks
DVD Contents:
Chapter 8

8-1 Right Maxillary Sinus View with Different Angled Scopes
8-2 Placement of Silastic Stent with Frontal Sinus
8-3 One Week Post-FEES Debridement
8-4 Two Week Post-FEES Removal of Frontal Stents
8-5 Removal of Early Synechia at Left Frontal Recess
8-6 Opening of Mature Left Frontal Sinus Ostium Stenosis
:(Example 1)
8-7 Opening of Mature Left Frontal Sinus Ostium Stenosis
:(Example 2)
8-8 Revision of Sphenoidotomy

Chapter 9-11

9-1 Injection of Local Anesthetic for Inferior Turbinate **:Reduction
9-2 Use of Coblation to Reduce the Inferior Turbinate
9-3 Contraction of Mucosal Surface Over Inferior Turbinate **:with Coblation
9-4 Use of Microdebrider to Reduce the Inferior Turbinate
10-1 Endoscopic Silver Nitrate Cauterization of the Right **:Anterior Nasal Septum
10-2 Endoscopic Drainage of a Septal Abscess
11-1 Office Mircodebrider Polypectomy
11-2 Office Coblator Polypectomy

Chapter 12

12-1 Office Drainage of Concha Bullosa Mucocele
12-2 Office Revision Frontal Sinustomoy
12-3 Office Revision Ethmoid Mucocele
12-4 Office Sphenoidotomy for Mycetoma
12-5 Office Drainage Right Ethmoid Mucocele
12-6 Office Right Maillary Antrostomy for Mycetoma

Chapter 14-15

14-1 Nasal Reduction 1
14-5 Nasal Reduction 2
15-1 Normal Left Nasolacrimal Duct Orifice
15-2 Another Normal Nasolacrimal Duct Orifice
15-3 Obstruction of Right Nasolacrimal Duct Orifice by **:Invasive Fingal Sinusitis
15-4 Nasolacrimal Duct Obstruction by a Polypoid Inferior **:Turbinate
Related Titles

225 pages, Color Illustrations (4 Color), Hardcover, 7 x 10"