Publication
Neuroscience Fundamentals for Communication Sciences and Disorders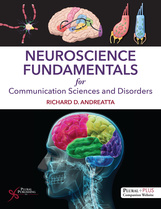 Desk Copy for Instructors
Neuroscience Fundamentals for Communication Sciences and Disorders
Details:

700 pages, Color Illustrations (4 Color), Hardcover, 8.5 x 11" 1 lbs
Included Media:

Companion Website
ISBN13:

978-1-59756-889-0
Release Date:

12/14/2018
Overview
Neuroscience Fundamentals for Communication Sciences and Disorders is a comprehensive textbook designed for undergraduate neural bases or graduate neuroscience courses in communication sciences and disorders programs (CSD). Written with a fresh user-friendly conversational style and complemented by more than 350 visually rich and beautifully drawn full-color illustrations, this book emphasizes brain and behavior relationships while also ensuring coverage of essential neuroanatomy in an integrative fashion. With a comprehensive background in neuroscience fundamentals, students will be able to better understand and apply brain-behavior relationships to make appropriate clinical assessments and treatment decisions.
Neuroscience Fundamentals for Communication Sciences and Disorders is designed to provide CSD students with a broad overview of the principles, processes, and structures underlying the workings of the human nervous system. Extending well beyond traditional neuroanatomy-based textbooks, this publication is designed to satisfy three major goals:
Provide neuroanatomical and neurophysiological detail that meets the real-world needs of the contemporary CSD student, as they move forward toward clinical practice, and into the future where advancements in the field of health and brain sciences are accelerating and contributing more and more to rehabilitation.
Provide clear, understandable explanations and intuitive material that explains how and why neuroanatomical systems, processes, and mechanisms of the nervous system operate as they do during human behavior.
Provide a depth and scope of material that will allow students to read, better understand, and appreciate a wide range of evidence-based literature related to behavior, cognition, emotion, language, and sensory perception--areas that directly impact treatment decisions.

Key Features:
An emphasis on fundamental information on neuroanatomy, neurophysiology, and functional processes using an analogy-driven and relaxed conversational writing style.
More than 350 new and beautifully illustrated full-color neuroanatomical and neurophysiological figures that work to bring the written material to life.
Content is divided into four major sections that build upon each other to foster a comprehensive understanding of the nervous system from the cellular to systems.
Three summary chapters on the neural bases of speech, language, and hearing that help integrate the basic information from earlier chapters with content specific to CSD.
Each chapter begins with an introduction and learning objectives and ends with a top ten summary list of key take-home concepts and study review questions.
Bolded key terms throughout with a comprehensive glossary of definitions.
Clinical Importance boxes highlight clinically relevant disorders and syndromes that compliment topic coverage.
Further Interest boxes highlight interesting and exciting facts about the nervous system's structure, physiology, and functionality.
A PluralPlus companion website with instructor resources such as PowerPoint lecture slides, an image bank and a sample syllabus. Student resources including flash cards and unlabeled neuroanatomy figures for practice and study.
Reviews
Daniel Furnas, PhD, Assistant Professor, Communication Sciences and Disorders, Jacksonville University (2018):
"It is more in-depth than most, if not all, the books I have considered for teaching undergraduate neuroscience for Communication Sciences and Disorders majors. …This book tackles a very difficult and dense subject using a mixture of strong, clear explanations and humor that will help students during their introduction to neuroscience. Neuroscience is often one of, if not the most daunting topics for our undergraduates, and this book makes it very digestible."

Carol Deakin, PhD, Associate Professor, Communication Sciences and Disorers, Alabama A&M University (2018):
"Andreatta has taken a different approach that is considerably less intimidating than other texts. The use of mild humor, analogies and the manner in which concepts are presented makes this an easy yet comprehensive read. I would definitely consider adopting this book. It is probably the most comprehensive and student friendly text that I have seen written for undergraduate students."

Jeremy J. Donai, AuD, PhD, Assistant Professor, Department of Communication Sciences and Disorders, West Virginia University (2018):
"Humor throughout the text adds to the readability. Neuroscience can make for dry reading, but the humor makes it lighter. The manuscript is very thorough and covers a substantial number of topics. The chapter on the ear is excellent. ...It is much better than a comparable neuroscience for CSD text that I have used in the past."

Margaret Lehman Blake, PhD, Associate Professor, Communication Sciences and Disorders, University of Houston (2018):
"This book is a great improvement over what I've used in the past and other books available. It is well-written, has good – and accurate – figures, and accurate information."

Janis M. Jarecki-Liu, PhD, Professor, Department of Communication Sciences and Disorders, Clarion University of Pennsylvania (2018):
"The primary strength of this text is in its detail and organization. A very complete, well-written text. Its scope includes explanations of the mechanisms of the brain underlying basic and skilled actions from cellular functions, anatomic structures and physiologic processes of the nervous system. With a solid background in neuroscience, students will be able to better understand brain-behavior relationships in order to make appropriate clinical assessment and treatment decisions. The relatable examples, with a touch of humor, makes the text very readable. Students should be able to relate to all analogies and this prevents the reader from getting too bogged down in detail as they attempt to understand complex concepts."

Irene M. Barrow, PhD, Professor, Department of Communication Sciences and Disorders, James Madison University (2018):
"The author is very creative and the relatable, conversational style of this book is a definite strength. The author uses well placed, vivid analogies to explain concepts that can be quite challenging for students. The overall structure and organization of the book is also a strength as it uses a logical progression of the material"
Preface
About the Illustrator: Maury Aaseng
Contributors
Reviewers
Acknowledgments
Dedication
Section 1. Neuroanatomical and Neurophysiological Foundations
Chapter 1. Introduction and Organization of Neuroscience Fundamentals in Communication Sciences and Disorders
Richard D. Andreatta
Chapter 2. The Basic Structure and Function of Neurons
Richard D. Andreatta
Chapter 3. Basics of Neural Signaling and Synaptic Function
Richard D. Andreatta
Chapter 4. Neuroanatomy of the Human Nervous System: Anatomical Nomenclature, Embryology, the Spinal Cord, and the Brainstem
Richard D. Andreatta
Chapter 5. Neuroanatomy of the Human Nervous System: The Diencephalon, Cerebrum, Cerebral Cortex, and the Infrastructure of the CNS
Richard D. Andreatta
Section 2. Sensory Systems
Chapter 6. Basics of Sensation and Perception, and the Somatosensory System
Richard D. Andreatta
Chapter 7. Auditory-Vestibular System: Inner Ear Transduction Mechanisms for Sound and Balance
Richard D. Andreatta
Chapter 8. The Visual System
Richard D. Andreatta
Chapter 9. The Chemical Senses: Olfactory and Gustatory Systems
Richard D. Andreatta and Nicole M. Etter
Section 3. Motor Systems
Chapter 10. Muscle Tissue: Structure, Mechanisms of Contraction, and the Motor Unit
Richard D. Andreatta
Chapter 11. Motor Control Systems of the CNS
Richard D. Andreatta
Chapter 12. Introduction to Motor Learning and Control Principles of Behavior
Patrick O. McKeon
Section 4. Neural Substrates of Human Communication
Chapter 13. Neural Substrate of Speech and Voice
Stephen M. Tasko
Chapter 14. Neural Substrate of Language
Jessica D. Richardson and Sarah Grace H. Dalton
Chapter 15. Neural Substrate of Hearing: Central Auditory Pathway and the Auditory Cortices
Anne D. Olson
Glossary
Index
About The Author
Richard D. Andreatta, PhD, is an associate professor in Communication Sciences & Disorders (CSD) and Rehabilitation Sciences in the College of Health Sciences at the University of Kentucky, Lexington. Dr. Andreatta received his PhD in Speech Physiology and Neural Science from Indiana University, Bloomington, and completed postdoctoral work in animal laryngeal neurophysiology at the National Institutes of Health. Dr. Andreatta serves as the director of undergraduate studies in CSD and teaches courses in the speech sciences, speech anatomy & physiology, communication neuroscience, rehabilitation neuroplasticity, and dynamic systems theory. Dr. Andreatta is a recipient of the University of Kentucky Great Teacher Award and the UK College of Health Sciences Kingston Award for Teaching Excellence. Dr. Andreatta's research interests include sensory neuroscience and psychophysics in the orofacial system, laryngeal muscle biology, and the neurophysiology of speech production. Dr. Andreatta lives in Lexington, Kentucky with his wife, three children and golden retriever.
Related Title

Purchasers of this book receive complimentary access to supplementary materials hosted on a PluralPlus companion website.

To access the materials, log in to the website using the URL located inside the front cover of your copy of Neuroscience Fundamentals for Communication Sciences and Disorders.

STUDENTS:
To access the student materials, you must register on the companion website and log in using the access code located inside the front cover of your textbook.

INSTRUCTORS:
To access the instructor materials, you must contact Plural Publishing, Inc. to be verified as an instructor and receive your access code.

Email: information@pluralpublishing.com
Tel: 866-758-7251 (toll free) or 858-492-1555