Publication
Lessac Madsen Resonant Voice Therapy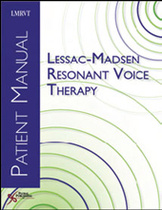 Lessac Madsen Resonant Voice Therapy
Patient Manual
Details:

84 pages, Illustrated (B/W), Softcover, 8.5 x 11"
ISBN13:

978-1-59756-310-9
Release Date:

06/01/2008
$62.95
Overview
Dr. Verdolini Abbott's Lessac-Madsen Resonant Voice Therapy provides an overview and demonstration of the Lessac-Madsen Resonant Voice Therapy, for clinicians certified in the technique. Dynamically and thoughtfully presented, this program should be on the shelf of every voice clinician working with patients with voice disorders.
Review
Cory Whelan, BA (George Washington University), Doody's Review Service (2009):
"The patient manual is especially helpful because it provides patients with specific exercises for home practice and allows them to keep track of their own progress."
About Lessac-Madsen Resonant Voice Therapy
Voice Therapy (LMRVT)
Protocol
Therapy Planning
Voice Care
Session 1-2 Home Program
Session 3-4 Home Program
Session 5-6 Home Program
Session 7-8 Home Program
Discharge Instructions
Stretches
About The Author
Katherine Verdolini Abbott is Professor of Communication Science and Disorders in the School of Health and Rehabilitation Sciences at the University of Pittsburgh.