Publication
Lessac-Madsen Resonant Voice Therapy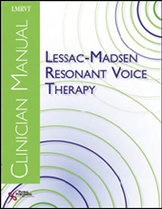 Lessac-Madsen Resonant Voice Therapy
Clinician Manual
Details:

24 pages, Illustrated (B/W), Softcover, 8.5 x 11"
ISBN13:

978-1-59756-311-6
Release Date:

06/01/2008
$62.95
Overview
Dr. Verdolini Abbott's Lessac-Madsen Resonant Voice Therapy provides an overview and demonstration of the Lessac-Madsen Resonant Voice Therapy, for clinicians certified in the technique. Dynamically and thoughtfully presented, this program should be on the shelf of every voice clinician working with patients with voice disorders.
Review
Cory Whelan, BA (George Washington University), Doody's Review Service (2009):
"The clinician manual describes how clinicians should conduct eight therapy sessions using LMRVT. It covers taking a complete case history, stretching exercises, and the core resonant voice exercises. The best part of the clinician manual is that it outlines exactly how the treatment should be carried out. It moves from stretches and simple humming to practice words and chanting. The exercises get more complex as the program advances, and the manual tells the clinician exactly in what order to proceed."
Protocol
Session 1
Session 2
Session 3
Session 4
Session 5
Session 6
Session 7
Session 8
About The Author
Katherine Verdolini Abbott is Professor of Communication Science and Disorders in the School of Health and Rehabilitation Sciences at the University of Pittsburgh.
Related Titles

84 pages, Illustrated (B/W), Softcover, 8.5 x 11"

108 pages, Illustrated (B/W), Softcover, 8.5 x 11"