Publication
Textbook of Voice Disorders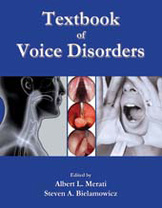 Textbook of Voice Disorders
Edited by: Albert L. Merati, Steven A. Bielamowicz
Details:

278 pages, Color Illustrations (4 Color), Softcover, 8.5 x 11"
ISBN13:

978-1-59756-137-2
Release Date:

08/01/2006
$99.95
Overview
A completely unique and refreshing approach to the teaching and learning of voice disorders is presented in this new text by Drs. Merati and Bielamowicz. The content, organization, and practical application of knowledge to solving clinical problems is so profound that in a single text, students will learn everything that is important in the highest of detail and comprehensiveness. The 19 chapters are written by a perfect mix of laryngologists, laryngeal physiologists, geneticists, voice scientists, and voice clinicians. The text includes more than 600 references and is profusely illustrated with over 100 full color illustrations. In addition to this depth and scope of content, each chapter has been uniformly designed to include key points, review questions and answers, and controversy boxes. This book is an essential learning tool for students who aspire a higher level of knowledge on voice disorders
Reviews
Barbara L. Blagnys, Norfolk and Norwich University Hospital:
"Having entire shelves of books on Voice Disorders and being given a somewhat large and heavy 'Textbook of Voice Disorders' to review, I was relieved and enthused by this book's modern team-based approach, core information, easy to read format and highly respected multi-disciplinary contributors. I have sometimes struggled to follow an author's description of anatomy and physiology of the larynx and phonation both from the written word and diagrams, but in this book these essential topics are dealt with thoroughly and in a logical format, supported by excellent anatomical diagrams and photographs leaving the reader with a feeling of real understanding of core facts without overloading. Each chapter starts with a list of key common knowledge ideas for the reader to consider, followed by 'boxes' which explore relevant controversial or development points and finally by study questions to encourage wider thinking and reading. The book covers all aspects of the diagnosis and management of voice disorders comprehensively but leaves the reader feeling challenged rather than spoon-fed. If the reader is hoping for a step-by-step approach to, for example, aspects of voice therapy, then this is not the book to buy. I would recommend this book to all medical and speech and language therapy students and clinicians working with patients with voice disorders because of its up-to-date, concise information in a highly readable format. I will find it a prominent place on my bookshelves."

John Rubin, MD, FACS, RCS, Communicating Voice, Vol. 8, #3 (2008):
"The editors' aim is for it to serve as a core textbook for graduate course work in speech language pathology, for trainees in otolaryngology and for certification maintenance by consultant ENT surgeons. I do believe that it fulfills this aim."
Foreword.
Thomas Murry, PhD.
Preface
I. Anatomy and Physiology.
Anatomy of the Larynx and Physiology of Phonation.
Suzy DuFlo, MD and Susan L. Thibeault, PhD. Physiology of Airway Regulation, Christy L. Ludlow, PhD.
II. Diagnostic Procedures in Laryngology. Videostroboscopy.
Nadine P. Connor, PhD and Diane M. Bless, PhD.
Advanced Laryngeal Imaging: Laryngeal High-Speed Digital Imaging and Kymography.
Rita Patel, PhD and Diane M. Bless, PhD.
Clinical and Instrumental Evaluation of the Voice Patient.
Claudio F. Milstein, PhD, and Douglas M. Hicks, PhD.
Laryngeal Electromyography.
Nicole Maronian, MD, and Lawrence Robinson, MD.
III. Principles of Therapy.
Laryngeal Hygiene.
Douglas M. Hicks, PhD, and Claudio F. Milstein PhD.
Speech-Language Intervention
Sarah Marx Schneider, MS, CCC-SLP, and Robert T. Sataloff, MD, DMA.
General Principles of Microlaryngeal Surgery.
Adam D. Rubin, MD, and Robert T. Sataloff, MD, DMA.
IV. Disorders of the Voice.

1. Neurologic Disorders.
2. Inflammatory and Structural Disorders

Appendices.
Index.
About The Editors
Albert L. Merati, MD is Associate Professor and Chief of the Division of Laryngology at the Department of Otolaryngology - Head and Neck Surgery at the University of Washington School of Medicine.
---
Steven A. Bielamowicz, MD is Professor of Surgery and Chief of the Division of Laryngology at The George Washington University.