Publication
Marketing in an Audiology Practice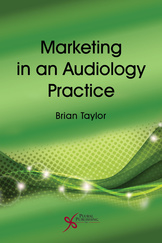 Marketing in an Audiology Practice
Edited by: Brian Taylor
Details:

392 pages, Softcover, 6 x 9" 1 lbs
ISBN13:

978-1-59756-569-1
Release Date:

03/17/2015
Overview
Marketing in an Audiology Practice provides a unique, in-depth look into all facets of marketing and is a must-have for audiologists looking to market themselves and grow their business.
This practical text strives to further the autonomy of the profession by presenting an A-to-Z approach for creating and implementing marketing plans and budgets in both for-profit and not-for-profit settings. Additionally, a key focus of this text is how to incorporate new and emerging social media tools as part of a comprehensive marketing strategy to appeal to a broader patient base.
Includes contributions from Curtis J. Alcock, Karen Ann Jacobs, Geoffrey Cooling, Robert Tysoe, and Donald W. Nielsen.
"This is not, I repeat, not, a marketing textbook. It is an audiology book that will demonstrate how marketing and branding are instrumental to the long-term sustainability of an audiology or hearing instrument dispensing practice. It is written for two audiences: graduate students who often do not get enough exposure to business-related coursework during their graduate school tenure and experienced audiologists who are looking for some material of a practical nature. Its primary intent is to support audiologists who aspire to own or operate their own practice."
--Editor, Brian Taylor, AuD
Reviews
Noelene Nielsen, Audiology Now (2015):
"…It was amazement I felt as I read this book. I was excited. This excitement was sustained as I went from one chapter to the next…Each of these contributors are known for their innovative approaches to looking at the role of audiology going forward. Curtis Alcock provides a thought provoking approach to marketing our profession and had me questioning the assumptions underlying many of the current ways used to promote our profession. He has interesting strategies to make hearing care relevant for all. The difficulty is, it involves changing our belief in how we promote our services and skills. Are we, as a profession, up to it? I think we are!…This book is worth reading by all audiologists. It's a book that is now in my library and already showing signs of overuse."

Marc Brennan, Boys Town National Research Hospital, Omaha, USA, in International Journal of Audiology ((2016)):
"This book is clearly written with the target audience to be both graduate students studying audiology and professionals interested in marketing/branding their practice. Students and audiologists who aspire to build a private practice will find this book a great resource... In chapter 6, Social Media and Digital Marketing, the author shares up to date marketing strategies using the very latest technology. This information is excellent for any practice, not just a private practice... In summary, this textbook provides an excellent introduction to the area of marketing in audiology. This book could be a supplement to a practice management course in the Doctor of Audiology program or a useful resource for those already practicing audiology for years."
Introduction
Contributors
Chapter 1. Developing a Strategy and Brand for Your Practice: Pillar-of-Community Marketing
Brian Taylor

Chapter 2. Using Marketing to Shape People's Attitudes to Hearing Care
Curtis J. Alcock

Chapter 3. A Practical Guide to a Marketing Strategy and Plan
Karen Ann Jacobs

Chapter 4. Marketing in a Modern Practice: A Real-World Perspective
Geoffrey Cooling

Chapter 5. Disease State Marketing and Interventional Audiology
Brian Taylor and Robert Tysoe

Chapter 6. Social Media and Digital Marketing
Brian Taylor

Chapter 7. Marketing University and Other Nonprofit Audiology Clinics
Donald W. Nielsen

Index
About The Editor
Brian Taylor, AuD, is the Senior Director of Clinical Affairs at Turtle Beach. He is also a clinical audiology advisor for the Fuel Medical Group. He is an adjunct professor for A.T. Still University Arizona School of Health Sciences and editor of Audiology Practices, the quarterly journal of the Academy of Doctors of Audiology.