Publication
Lessac-Madsen Resonant Voice Therapy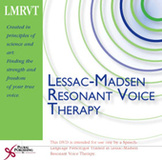 Lessac-Madsen Resonant Voice Therapy
Package
Details:

108 pages, Illustrated (B/W), Softcover, 8.5 x 11"
Included Media:

DVD, Clinician Manual, Patient Manual
ISBN13:

978-1-59756-312-3
Release Date:

06/01/2008
$199.95
Overview
Dr. Verdolini Abbott's Lessac-Madsen Resonant Voice Therapy provides an overview and demonstration of the Lessac-Madsen Resonant Voice Therapy, for clinicians certified in the technique. Dynamically and thoughtfully presented, this program should be on the shelf of every voice clinician working with patients with voice disorders.
Review
Leslie S. Kessler, MA, CCC-SLP, Owner and Director: The Voice Experience/The Language Experience (2008):
"Dr. Katherine Verdolini Abbott, a gold star researcher, is one of the elite few who have been able to marry academic expertise with clinical intuition. The result is Dr. Verdolini Abbot's Lessac-Madsen Resonant Voice Therapy (LMRVT), a voice therapy program based upon solid science, focusing on biomechanics, proprioception and the latest cognitive motor learning principles. LMRVT is the backbone of the voice therapy used by the "Voice Experience" clinicians to successfully treat our patients."
Patient Manual
About Lessac-Madsen Resonant Voice Therapy
Protocol
Therapy Planning
Voice Care
Session 1-2 Home Program
Session 3-4 Home Program
Session 5-6 Home Program
Session 7-8 Home Program
Discharge Instructions
Stretches

Clinician Manual
Protocol
Session 1
Session 2
Session 3
Session 4
Session 5
Session 6
Session 7
Session 8
About The Author
Katherine Verdolini Abbott is Professor of Communication Science and Disorders in the School of Health and Rehabilitation Sciences at the University of Pittsburgh.