Publication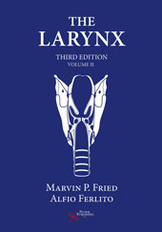 Overview
This new, landmark edition represents an amalgamation of two of the most famous and well reviewed books on the science, diagnosis, clinical management, and surgical and non-surgical treatment of laryngeal diseases and disorders.
The Larynx 3rd edition merges Ferlito's Diseases of the Larynx (2000, copublished by Arnold in the UK and OUP in the US) and Fried's The Larynx: A Multidisciplinary Approach, 2nd Edition (Mosby).
Totally revised, completely updated, and massively expanded, the new edition comprehensively covers the subject area and encompasses the talents of the world-leading international specialists drawn from every conceivable field with an interest in the larynx, among them pediatric and adult laryngologists, voice and speech pathologists, anatomists and physiologists, pathologists, radiologists, anesthesiologists, oncologists, chemotherapists, radiotherapists, and immunologists. The must-have ENT volume in every medical library, laryngologist's office and speech pathology department library.
Review
Neil Weir, Journal of Laryngology and Otology (2009):
"... The two volumes hold a wealth of information ... This splendid book is an essential reference for all ENT departments' libraries. ..."
Part I. Larynx and Deglutition

1. Disorders of the Upper Esophageal Sphincter
Keith G. Saxon, Sandra Martin, Raj K. Goyal, Jo Shapiro
2. Gastroesophageal Reflux Disease and Voice Disorder
James H. Kelly, Kevin P. Lahey
3. Diagnosis and Management of Dysphagia
Celia F. Stewart, Phillip C. Song, Andrew Blitzer
50. Evaluation and Management of Chronic Aspiration
Phillip Song, Jerome Schwartz, Andrew Blitzer

Part II. Laryngotracheal Trauma

5. Traumatic Disorders of the Pediatric Larynx
David L. Mandell, Robert F. Yellon
6. Evaluation and Management of Laryngotracheal Trauma
Simon R.A. Best, John K. Joe, Douglas A. Ross, Clarence T. Sasaki
7. Laryngeal Stenosis
Indranil Debnath, Randal C. Paniello, J. Gershon Spector

Part III. Larynx Endocrine Systems

8. Endocrine Disorders of the Larynx
Mai Thy Truong, Edward J. Damrose
9. Diseases of the Thyroid as they Affect the Larynx
Larry J. Shemen

Part IV. Benign Laryngeal Lesions

10. Nodules, Polyps, Reinke Edema, Metabolic Deposits, and Foreign Body Granulomas
Frederik G. Dikkers
11. Laryngeal Cysts, Pseudocysts, and Laryngoceles
Seth M. Cohen, J. Pieter Noordzij, C. Gaelyn Garrett, Mark S. Courey, Robert H. Ossoff

Part V. Neoplasms of the Larynx

12. Benign Neoplasms of the Larynx
Ramon A. Franco, Jr., Jeffrey N. Myers, Eugene N. Myers, E. Leon Barnes
13. Microlaryngoscopy and Endolaryngeal Microsurgery
Lucian Sulica
14. Epidemiology and Pathogenesis of Laryngeal Carcinoma
Cristina Isabel Cann, Marvin P. Fried
15. Experimental Laryngeal Carcinogenesis and Mechanism Studies
Umberto Saffiotti
16. Specific Immunologic Aspects of Laryngeal Cancer
William J. Richtsmeier
17. Molecular Biology of Laryngeal Cancer
Thomas E. Carey, Carol R. Bradford
18. Laryngeal Pathology
Margaret S. Brandwein-Gensler, Panna Mahadevia, Douglas R. Gnepp
19. The Classification and Staging of Laryngeal Cancer
Katherine C. Yung, Jay F. Piccirillo, Peter D. Lacy
20. Laryngeal Epithelial Changes: Diagnosis and Therapy
Alfio Ferlito, Patrick J. Bradley, Alessandra Rinaldo
21. Cancer of the Supraglottis
Alfio Ferlito, Richard V. Smith, Carl E. Silver, Alesandra Rinaldo
22. Surgical Treatment of Supraglottic Cancer
Carl E. Silver, Alfio Ferlito, Richard V. Smith, Alessandra Rinaldo
23. Cancer of the Glottis
Richard V. Smith, Marvin P. Fried
24. Conservation Surgery for Glottic Cancer
Dana M. Hartl, Daniel F. Brasnu, Marvin P. Fried
25. Cancer of the Subglottis
Bradley A. Schiff, Richard V. Smith
26. Cancer of the Hypopharynx
Jatin P. Shah, Jennifer M. Bocker
27. Voice Rehabilitation After Total Laryngectomy
Ranny van Weissenbruch
28. Peristomal Cancer
Alfio Ferlito, Carl E. Silver, Alessandra Rinaldo
29. Cancer of the Larynx: Treatment of the Neck
Jesus E. Medina
30. Treatment of the N0 Neck in Nonconventional Neoplasms of the Larynx
Alfio Ferlito, Alessandra Rinaldo, Kenneth O. Devaney, Vanni Mondin
31. Managing Complications of Surgical Laryngeal Intervention
Yasushi Murakami, Yasuo Hisa
32. Radiation Therapy for Laryngeal Cancer
Madhur K. Garg, Shalom Kalnicki
33. Chemotherapy in the Management of Laryngeal Cancer
Missak Haigentz Jr.
34. The Management of Recurrent Laryngeal Cancer
Richard V. Smith, Bradley A. Schiff, Marvin P. Fried
35. Prognostic Factors of Laryngeal Cancer
Alfio Ferlito, Byron J. Bailey, Alessandra Rinaldo
36. Chemoprevention of Laryngeal Cancer
Boudewijn J.M. Braakhuis, C. René Leemans
37. Secondary Neoplasms of the Larynx
Adel K. El-Naggar
38. Pregnancy and Cancer of the Larynx
Alfio Ferlito, Jan Olofsson
39. Paraneoplastic Syndromes in Patients with Cancer of the Larynx and Hypopharynx
Alfio Ferlito, Alessandra Rinaldo
40. Laryngeal Transplantation
Robert R. Lorenz, Marshall Strome
41. Psychological Issues in Laryngeal Disease and Laryngeal Surgery
Frank E. Lucente, James J. Strain, Jared Wasserman, Boris L. Bentsianov
42. Future Directions in Laryngeal Cancer Research and Therapy
Nicolas F. Sclecht, Thomas J. Belbin, Michael B. Prystowsky, Richard V. Smith

Index
About The Editors
Marvin P. Fried, MD, FACS, completed his residency at Washington University, in St. Louis, and served in the U.S. Public Health Service. He joined the faculty at Boston University, Tufts University, then Harvard Medical School, where he was promoted to professor of otology and laryngology. He later became professor of otolaryngology-head and neck surgery and university chairman at the Albert Einstein College of Medicine and Montefiore Medical Center.
---
Alfio Ferlito, MD is Director of the Department of Surgical Sciences, Professor and Chairman of the ENT Clinic at the University of Udine School of Medicine. He graduated in medicine at the University of Bologna. After two years at the University of Trieste, he worked at the ENT Department of Padua University from 1970 to 1997.

He has collaborated in writing articles, editorials, commentaries, letters to the editor, special issues, book chapters and books with 323 international experts.

He has edited a three-volume book entitled Cancer of the Larynx (CRC Press, Boca Raton, 1985) and three other books entitled Neoplasms of the Larynx (Churchill Livingstone, Edinburgh, 1993), Surgical Pathology of Laryngeal Neoplasms (Chapman and Hall, London, 1996) and Diseases of the Larynx (Arnold, London, 2000), and co-authored two books entitled Granulomas and Neoplasms of the Larynx (Churchill Livingstone, Edinburgh, 1988) and Surgery for Cancer of the Larynx and Related Structures together with Dr. Carl E. Silver (Saunders, Philadelphia, 1996). He is editor with Dr. Marvin P. Fried of The Larynx (Plural Publishing). He has been the author or co-author of 383 refereed publications in 46 medical journals and 48 chapters in various books.