Publication
Improving the Vocabulary and Oral Language Skills of Bilingual Latino Preschoolers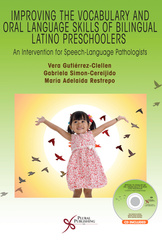 Improving the Vocabulary and Oral Language Skills of Bilingual Latino Preschoolers
An Intervention for Speech-Language Pathologists
Details:

136 pages, Illustrated (B/W), Spiral Bound, 8.5 x 11"
Included Media:

CD
ISBN13:

978-1-59756-519-6
Release Date:

09/06/2013
$79.95
Overview
Improving the Vocabulary and Oral Language Skills of Bilingual Latino Preschoolers: An Intervention for Speech-Language Pathologists, is a unique resource that offers a comprehensive vocabulary and oral language intervention program for Spanish-speaking preschool children with language disorders. The program can be used by both bilingual and monolingual speech-language pathologists working in collaboration with bilingual teachers or assistants. The manual contains lessons that correspond to preschool-level books that are commercially available in both Spanish and English, and the lessons are presented in both languages.
The accompanying CD will help both instructors implementing the program and preparing lessons, as well as students studying the English vocabulary words they encounter throughout this intensive program. This supplemental material contains review slides and color pictures with correlating vocabulary definitions in both English and Spanish- from Chapter 7, "The VOLAR Lessons"- which can easily be printed out.
The program is a nine-week intervention; each week has four lessons based on bilingual fiction and nonfiction preschool books with target vocabulary words each week. The intervention uses manipulative objects to help children experience each new word and play activities to stimulate language expression. Additionally, there are lessons every two weeks that review the vocabulary and the oral language activities practiced in the previous weeks.
VOLAR has been evaluated and follows rigorous evidence-based practice guidelines. With this much-needed manual, clinicians will be equipped to provide effective intervention.
Foreword
Acknowledgments
CHAPTER 1. Introduction
CHAPTER 2. The Language of Intervention
CHAPTER 3. The Context of the Intervention
CHAPTER 4. The Vocabulary Intervention
CHAPTER 5. The Oral Language Intervention
CHAPTER 6. What is the VOLAR Intervention like?
CHAPTER 7. VOLAR lessons
CHAPTER 8. The Training and Coaching of the VOLAR Interventionist
Index
About The Authors
Dr. Vera Gutierrez-Clellen is a bilingual speech-language pathologist, professor, and Coordinator of the Bilingual Speech-Language Pathology Certificate in the School of Speech, Language, and Hearing Sciences at San Diego State University.
---
Dr. Gabriela Simon-Cereijido is an assistant professor in the Department of Communication Disorders at California State University, Los Angeles and a certified bilingual speech-language pathologist. She has extensive experience working with Spanish-speaking children with atypical language development in both educational and research settings. Her research has been published in peer-reviewed scientific journals and presented at national and international conferences. Dr. Simon-Cereijido has taught and supervised bilingual teachers, graduate students, and speech-language pathologists at several universities.
---
Dr. M. Adelaida Restrepo is an Associate Professor in the Department of Speech and Hearing Science at Arizona State University.