Publication
Introduction to Speech Sound Disorders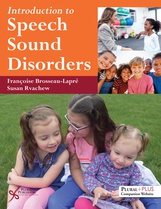 Desk Copy for Instructors
Introduction to Speech Sound Disorders
Details:

300 pages, Color Illustrations (2 Color), Softcover, 7 x 10" 1 lbs
Included Media:

Companion Website
ISBN13:

978-1-59756-803-6
Release Date:

12/15/2018
$109.95
Overview
Introduction to Speech Sound Disorders is a comprehensive textbook for undergraduate speech sound disorders courses in communication sciences and disorders programs. The text covers the major concepts and constructs currently framing the study of speech sound disorders in children, including typical and atypical phonological acquisition and clinical skills regarding assessment and intervention. The text is designed to prepare students for graduate level study of speech sound disorders and early supervised clinical practice with children. The text and associated website are intended to support new and experienced instructors as they strive to facilitate novice-level clinical competencies in their speech-language pathology students.
Key Features:
Detailed organization that provides foundational knowledge and then leads the student through the logical sequence of clinical activities.
Coherent organization that ensures that all new terms are defined and the student's understanding is enriched by repeated application in new contexts throughout.
Clear terms and explanations that reflect current research evidence in speech sound disorders.
Detailed examples, illustrations, tables and figures throughout to increase comprehension for undergraduate students.
Each chapter begins with learning objectives and ends with study questions.
Practice activities are included throughout to encourage interactive learning.
Key Point boxes encourage review of important content at the end of each section.
A PluralPlus companion website contains PowerPoint lecture slides, example course syllabi, and quizzes and exercises for students.

Introduction to Speech Sound Disorders begins with basic concepts in phonetics and phonology, covers normal phonological development, and then details assessment, interpretation and diagnosis, treatment planning, and finally the selection and implementation of an appropriate intervention. It ends with a description of input, output, and phonological treatment procedures. The text is evidence-based, and includes the most current research on speech sound disorders.
Preface
Reviewers
Chapter 1. Concepts in Phonetics and Phonology
1.1 Phonetic Concepts
1.2 Describing Articulatory Knowledge
1.3 Describing Perceptual Knowledge
1.4 Phonological Concepts
Chapter 2. Phonological Development
2.1 Speech Perception Development
2.2 Early Speech Production Development
2.3 Phonological Development
Chapter 3. Assessment
3.1 Purposes of Evaluation
3.2 Types of Measurement Tools
3.3 Planning the Assessment
3.4 Components of the Speech Assessment
3.5 Considerations for Dialect Speakers, Children Speaking English as a Second Language, and Multilingual Children
Chapter 4. Diagnosis
4.1 Classification of Speech Sound Disorders
4.2 Linguistic Classification of Speech Sound Disorders
4.3 Speech Disorders Classification System
4.4 Psycholinguistic Approach
4.5 Epidemiology of SSD
Chapter 5. Phonological Development
5.1 Deciding Whether to Provide an Intervention
5.2 Service Delivery Options
5.3 Intervention Goals
5.4 Monitoring Treatment Progress
Chapter 6. Input Oriented Approaches
6.1 Rationale for the Input Oriented Approach
6.2 Focused Stimulation
6.3 Ear Training
6.4 Dialogic Reading
Chapter 7. Output Oriented Approaches
7.1 Rationale for the Output Oriented Approach
7.2 Vocal Play
7.3 Fundamentals of the Sensory Motor Approach
7.4 Traditional Articulation Therapy
Chapter 8. Phonological Approaches
8.1 Rationale for a Phonological Approach
8.2 Word Based Phonology: Core Vocabulary Approach
8.3 Phonological Patterns: Cycles Remediation Approach
8.4 Meaningful Minimal Pairs Procedure
8.5 Metaphonological Knowledge
8.6 Conclusion
References
Index
About The Authors
Françoise Brosseau-Lapré, PhD, CCC-SLP, worked as a speech-language pathologist in the pediatric health care setting for several years before taking a position at Purdue University, where she is currently an Assistant Professor of Speech, Language, and Hearing Sciences. Her research is focused on the contribution of speech perception to speech production in phonological development and disorders, as well as cross-linguistic investigations of children with phonological disorders, with the goal to develop more effective assessment and intervention protocols for this population.
---
Susan Rvachew, PhD, S-LP(C), worked as a speech-language pathologist in pediatric health care settings for 20 years before taking a position at McGill University, where she is currently a Full Professor in the School of Communication Sciences and Disorders. Her research is focused on phonological development and disorders and the development of more effective interventions to treat phonological disorders in children and prevent reading disability in this population. She has published over 65 journal articles and book chapters describing the speech perception, speech production, phonological awareness skills, and/or spelling and reading abilities of infants, children, and adults.

Purchasers of this book receive complimentary access to supplementary materials hosted on a PluralPlus companion website.

To access the materials, log in to the website using the URL located inside the front cover of your copy of Introduction to Speech Sound Disorders.

STUDENTS:
To access the student materials, you must register on the companion website and log in using the access code located inside the front cover of your textbook.

INSTRUCTORS:
To access the instructor materials, you must contact Plural Publishing, Inc. to be verified as an instructor and receive your access code.

Email: information@pluralpublishing.com
Tel: 866-758-7251 (toll free) or 858-492-1555