Publication
Introduction to Speech Sound Disorders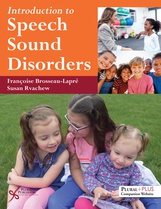 Desk Copy for Instructors
Introduction to Speech Sound Disorders
Details:

295 pages, Color Illustrations (2 Color), Softcover, 7 x 10" 1 lbs
Included Media:

Companion Website
ISBN13:

978-1-59756-803-6
Release Date:

12/17/2018
Overview
Introduction to Speech Sound Disorders is a comprehensive textbook for undergraduate speech sound disorders courses in communication sciences and disorders programs. The text covers the major concepts and constructs currently framing the study of speech sound disorders in children, including typical and atypical phonological acquisition and clinical skills regarding assessment and intervention. The text is designed to prepare students for graduate level study of speech sound disorders and early supervised clinical practice with children. The text and associated website are intended to support new and experienced instructors as they strive to facilitate novice-level clinical competencies in their speech-language pathology students.
Key Features:
Detailed organization that provides foundational knowledge and then leads the student through the logical sequence of clinical activities.
Coherent organization that ensures that all new terms are defined and the student's understanding is enriched by repeated application in new contexts throughout.
Clear terms and explanations that reflect current research evidence in speech sound disorders.
Detailed examples, illustrations, tables and figures throughout to increase comprehension for undergraduate students.
Each chapter begins with learning objectives and ends with study questions.
Practice activities are included throughout to encourage interactive learning.
Key Point boxes encourage review of important content at the end of each section.
A PluralPlus companion website contains PowerPoint lecture slides, example course syllabi, and quizzes and exercises for students.

Introduction to Speech Sound Disorders begins with basic concepts in phonetics and phonology, covers normal phonological development, and then details assessment, interpretation and diagnosis, treatment planning, and finally the selection and implementation of an appropriate intervention. It ends with a description of input, output, and phonological treatment procedures. The text is evidence-based, and includes the most current research on speech sound disorders.
Reviews
Sue Ann S. Lee, PhD, CCC-SLP, Associate Professor, Department of Speech-Language-Hearing Sciences, Texas Tech University Health Sciences Center (2018):
"I have been looking for a textbook emphasizing both input and output of speech. Typical textbooks only focus on output without considering input aspect. I am glad that the authors made this book in that way. In order to fully understand speech and treat speech sound disorders, both input and output of speech have to be addressed equally. This book will help students develop balanced understanding on how speech develops and how speech sound disorders are treated."

Christina M. Hagedorn, PhD, TSSLD, CCC-SLP, Assistant Professor, College of Staten Island and the CUNY Graduate Center, City University of New York, 1 (2018):
"The content matter is accurate, extremely relevant, and particularly up-to-date (which is of, perhaps, greatest importance in a field like ours that is making advances at such speed!). The strengths of this book include its view of speech disorders from an articulatory (anatomical/physiological) perspective that values quantitative approaches to the study of speech production (rather than one based on impressionistic phonetic transcription), its comprehensive inclusion of appropriate research from the last decade, in particular, and its inclusion of the shortcomings of the frameworks that our field currently employs. This texts serves to debunk myths related to speech acquisition and disorders (e.g., that babies are able to perceive every possible phonological contrast in world's languages at birth), providing opportunity for discussion and reconsideration of erroneous (yet pervasive) ideas."

Keri Parchman-Gonzalez, MA, CCC-SLP, Clinical Assistant Professor, Communication Sciences and Disorders, The University of Texas Rio Grande Valley (2018):
"I have reviewed and used several different speech disorder textbooks and this one is updated, current and readable. Each chapter is very thorough, detailed and has a specific focus which is excellent for beginning undergraduates. The terminology is current and reflects the latest trends in speech disorders. The detailed terms at the end of each chapter help highlight what is critical in the learning process. ...After years of teaching speech sound disorders, I have found that several textbooks are very challenging for beginning students entering the speech pathology field. I like the way the chapters flow and build from introduction to practice."

Marcella McCollum, MA, CCC-SLP, Lecturer, Communication Sciences and Disorders, San Jose Sate University (2018):
"The chapters have a great structure with learning objectives at the beginning, examples and practice throughout, key points, and reflective activities at the end."

Leisa Harmon, MS, CCC-SLP, Assistant Professor, Communication Disorders, Minot State University (2018):
"Each chapter follows a consistent format from chapter to chapter. The Key Points summaries will be beneficial to readers in organizing and understanding what has been presented. ...The practice activities are very good and will be useful as in-class and/or out-of-class assignments"

AnnMarie C. Knight, PhD, CCC-SLP, Assistant Professor, Speech-Language Pathology, Columbia College (2018):
"I find the "practice exercises" that are included in the chapters to be helpful. These allow students to better assimilate knowledge gained by reading the preceding section. The reviews at the end of the chapter are helpful for reviewing important concepts. The chapter on implementing treatment (chapter 5) was a useful addition. I liked the content in this chapter and found it to be a good segway between diagnosis and discussing different treatment approaches."

Carol Koch, EdD, CCC-SLP, Professor, Department of Communication Sciences and Disorders, Samford University (2018):
"The material is organized in a way that allows students to build knowledge. The writing is clear and straight forward. The coverage is complete. The organization of input- and output-oriented approaches is unique to this text"
Preface
Reviewers
Chapter 1. Concepts in Phonetics and Phonology
1.1 Phonetic Concepts
1.2 Describing Articulatory Knowledge
1.3 Describing Perceptual Knowledge
1.4 Phonological Concepts
Chapter 2. Phonological Development
2.1 Speech Perception Development
2.2 Early Speech Production Development
2.3 Phonological Development
Chapter 3. Assessment
3.1 Purposes of Evaluation
3.2 Types of Measurement Tools
3.3 Planning the Assessment
3.4 Components of the Speech Assessment
3.5 Considerations for Dialect Speakers, Children Speaking English as a Second Language, and Multilingual Children
Chapter 4. Diagnosis
4.1 Classification of Speech Sound Disorders
4.2 Linguistic Classification of Speech Sound Disorders
4.3 Speech Disorders Classification System
4.4 Psycholinguistic Approach
4.5 Epidemiology of SSD
Chapter 5. Treatment Planning
5.1 Deciding Whether to Provide an Intervention
5.2 Service Delivery Options
5.3 Intervention Goals
5.4 Monitoring Treatment Progress
Chapter 6. Input-Oriented Approaches
6.1 Rationale for the Input-Oriented Approach
6.2 Focused Stimulation
6.3 Ear Training
6.4 Dialogic Reading
Chapter 7. Output-Oriented Approaches
7.1 Rationale for the Output-Oriented Approach
7.2 Vocal Play
7.3 Fundamentals of the Sensorimotor Approach
7.4 Traditional Articulation Therapy
Chapter 8. Phonological Approaches
8.1 Rationale for a Phonological Approach
8.2 Word-Based Phonology: Core Vocabulary Approach
8.3 Phonological Patterns: Cycles Remediation Approach
8.4 Meaningful Minimal Pairs Procedure
8.5 Metaphonological Knowledge
8.6 Conclusion
References
Index
About The Authors
Françoise Brosseau-Lapré, PhD, CCC-SLP, worked as a speech-language pathologist in the pediatric health care setting for several years before taking a position at Purdue University, where she is currently an Assistant Professor of Speech, Language, and Hearing Sciences. Her research is focused on the contribution of speech perception to speech production in phonological development and disorders, as well as cross-linguistic investigations of children with phonological disorders, with the goal to develop more effective assessment and intervention protocols for this population.
---
Susan Rvachew, PhD, S-LP(C), ASHA Fellow, worked as a speech-language pathologist in pediatric health care settings for 20 years before taking a position at McGill University, where she is currently a Full Professor in the School of Communication Sciences and Disorders. Her research is focused on phonological development and disorders and the development of more effective interventions to treat phonological disorders in children and prevent reading disability in this population. She has published over 80 articles and chapters describing the speech perception, speech production, and emergent literacy skills of infants, children, and adults.

Purchasers of this book receive complimentary access to supplementary materials hosted on a PluralPlus companion website.

To access the materials, log in to the website using the URL located inside the front cover of your copy of Introduction to Speech Sound Disorders.

STUDENTS:
To access the student materials, you must register on the companion website and log in using the access code located inside the front cover of your textbook.

INSTRUCTORS:
To access the instructor materials, you must contact Plural Publishing, Inc. to be verified as an instructor and receive your access code.

Email: information@pluralpublishing.com
Tel: 866-758-7251 (toll free) or 858-492-1555