Publication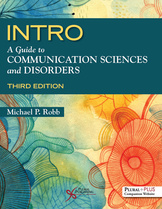 Desk Copy for Instructors
INTRO
A Guide to Communication Sciences and Disorders
Third Edition
Details:

374 pages, Color Illustrations (4 Color), Softcover, 8.5 x 11" 1 lbs
Included Media:

Companion Website
ISBN13:

978-1-94488-366-9
Release Date:

12/06/2018
Overview
INTRO: A Guide to Communication Sciences and Disorders, Third Edition is designed for the undergraduate student with an interest in entering the field of communication sciences and disorders. INTRO is an introduction to the professions of speech-language pathology and audiology and the underlying discipline on which they are based, communication sciences and disorders. This text provides essential information concerning a wide range of communication disorders found in children and adults.
Key Features:
A strong international focus with coverage of country-specific incidence and prevalence of various communication disorders.
Each chapter begins with learning objectives and ends with study questions to review key concepts.
Bolded key terms and a comprehensive glossary improve retention of the material.
The text includes real-life examples in the form of video links to help reinforce the information in the text.

New to the Third Edition:
A reorganized chapter on communication disorders and the professions for greater flow of information (Chapter 1).
A NEW chapter on alternative and augmentative communication (Chapter 10).
Thoroughly updated chapters on audition (Chapters 12 and 13).
A PluralPlus companion website with PowerPoint lecture slides and a sample syllabi for instructors, as well as practice quizzes and additional web resources for students.

INTRO is beautifully illustrated and written in an engaging, yet straightforward approach, with an overview of the formative history, as well as current theories and research provided for each disorder. The sole authorship of the book ensures a uniform writing style, which is often missing from introductory texts. The book holds worldwide appeal and is written for an international audience. For some, this book may serve as a springboard for the pursuit of a career in audiology and speech-language pathology; nevertheless, every reader will acquire an appreciation of the gift of communication.
Reviews
-Breanna I. Krueger, PhD, CCC-SLP, Assistant Professor, Communication Disorders, University of Wyoming (2018):
"The reorganization of the chapters and the updated information—particularly the AAC chapter—will be greatly beneficial. ...I appreciate the consistent focus throughout the chapters. I think the historical background of each chapter is exactly the kind of information that brings in students in terms of engagement."

Angela D. Haendel, MS, CCC-SLP, Assistant Professor, Concordia University Wisconsin (2018):
"The color photos are eye catching and are beneficial for undergraduate students. Too much text on a page can be overwhelming for these eager young learners. The internet resources are great for the students. They are learning what internet-based resources are reputable, so this is helpful. The links to the video examples is something that sets this text apart from the other intro books."

Jane Bickford, BAppSc (SpPath), PhD, CPSP, Lecturer, Speech Pathology, Flinders University, South Australia, Australia (2018):
"The tone of the writing and presentation of the material is appropriate and well-conceived. It is an excellent foundational text, but it also offers some important contextual information for the more experienced clinician who may want to an overview of a specific area of practice or obtain a historical perspective of their profession."
Foreword by John H. Saxman, PhD
Preface
Reviewers
Section 1. Background to Communication Sciences and Disorders
Chapter 1. Communication Disorders and the Professions
Chapter 2. Anatomy of Speech and Hearing
Section 2. Developmental Communication Disorders
Chapter 3. Child Language Disorders
Chapter 4. Child Phonological Disorders
Chapter 5. Fluency Disorders
Chapter 6. Cleft Lip and Palate
Section 3. Acquired and Genetic Communication Disorders
Chapter 7. Voice Disorders
Chapter 8. Neurogenic Communication Disorders
Chapter 9. Dysphagia
Chapter 10. Augmentative and Alternative Communication
Chapter 11. Genetics and Syndromes
Section 4. Audition
Chapter 12. Hearing Disorders
Chapter 13. Auditory Rehabilitation
Glossary
Index
About The Author
Michael P. Robb, PhD, received his BS degree in speech pathology and audiology from Western Michigan University, and MS and PhD degrees in speech-language pathology from Syracuse University (New York). He has worked as a speech-language pathologist at the Meyer Children's Rehabilitation Institute in Omaha, Nebraska (now known as the Munroe-Meyer Institute for Genetics and Rehabilitation). Since obtaining his PhD, he has held faculty posts at the University of Hawaii, the University of Connecticut, the University of Canterbury in Christchurch, New Zealand, and most recently at the Pennsylvania State University. His specialty is experimental phonetics, with particular interest in aspects of speech motor control related to early speech acquisition, stuttering, and English as a Second Language. Professor Robb has been an active researcher since 1985. Over his career, he has presented more than 100 conference papers and published over 100 refereed journal articles. He holds the Certificate of Clinical Competency in speech-language pathology from the American Speech-Language-Hearing Association (ASHA) and was recognised as an ASHA Fellow in 2009. He is a member of the New Zealand Speech-Language Therapists Association (NZSTA) and served on the NZSTA Executive Board. He is the editor-in-chief of the Folia Phoniatrica et Logopaedica, which is the official publication of the International Association of Logopedics and Phoniatrics. Professor Robb has been recognized for his teaching excellence and has taught "Intro" throughout his career to students in the United States and New Zealand.

Purchasers of this book receive complimentary access to supplementary materials hosted on a PluralPlus companion website.

To access the materials, log in to the website using the URL located inside the front cover of your copy of INTRO.

STUDENTS:
To access the student materials, you must register on the companion website and log in using the access code located inside the front cover of your textbook.

INSTRUCTORS:
To access the instructor materials, you must contact Plural Publishing, Inc. to be verified as an instructor and receive your access code.

Email: information@pluralpublishing.com
Tel: 866-758-7251 (toll free) or 858-492-1555