Publication
Implantable Hearing Devices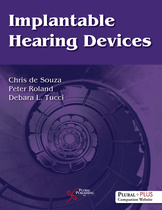 90-Day Exam Copy for Instructors
Implantable Hearing Devices
Edited by: Chris de Souza, Peter Roland, Debara L. Tucci
Details:

260 pages, Color Illustrations (4 Color), Hardcover, 8.5 x 11" 1 lbs
Included Media:

Companion Website
ISBN13:

978-1-59756-855-5
Release Date:

05/23/2017
Overview
Implantable Hearing Devices is written for ear, nose, and throat surgeons in training who must know about implantable hearing devices as they advance in otologic surgery. It is also a resource for otologic surgeons desiring to know more about the devices available.
The technology is evolving rapidly along with the criteria for candidacy, and this text covers the entire spectrum of implantable hearing devices that are available, including but not limited to cochlear implants. Complex issues are presented in an easy to understand format by a host of internationally well-respected authors.
Many practitioners have to refer to multiple resources for answers to their questions because the discipline is changing so rapidly. Implantable Hearing Devices is a clear, concise, but comprehensive book that offers answers to the universal problems that otologic surgeons face.
Key Features:
4 Bonus Chapters with photos and videos on a companion website
Full-color
Written by renowned editors and contributors
Review
Gauri Mankekar, MD, PhD and Moises Arriaga, MD, MBA, FACS, Otology & Neurotology, Volume 38, Issue 10 (December 2017):
""Implantable Hearing Devices is a comprehensive treatise on cochlear implants, auditory brain stem implants, and other middle ear implants from their humble beginnings to the sophisticated avatars available today. The preface offers a glimpse of the enormity of the project undertaken by the editors and touches on the financial aspect of implantation. A veritable Who's Who from the field of Neurotology has authored the various chapters sharing their experiences. . . . The highlights of the book are the chapters on hearing preservation and electroacoustic hearing, revision cochlear implant surgery, cochlear implants in single sided deafness and auditory brain stem implants which include comprehensive and updated information on the topics.""
Preface
Contributors
Part I. Cochlear Implants
Chapter 1. History of the Cochlear Implant: An International Perspective
Matthew Gordon Crowson
Chapter 2. The House Clinic Perspective: Chronological History of the Cochlear Implant
Kevin A. Peng and Derald E. Brackmann
Chapter 3. Cochlear Implants in Children: Current Guidelines and Expanding Criteria
Robert J. Yawn, Jacob B. Hunter, and David S. Haynes
Chapter 4. Cochlear Implantation in Adults
Chris de Souza and Rosemarie de Souza
Chapter 5. Bilateral Cochlear Implantation
J. Mueller, Rosemarie de Souza, and Chris de Souza
Chapter 6. Cochlear Implantation of Inner Ear Malformations
Aniruddha Patki and Debara L. Tucci
Chapter 7. Cochlear Implant Surgery: The Traditional Approach and Its Alternatives
Peter Roland and Peter R. Sabatini
Chapter 8. Revision Cochlear Implant Surgery
Peter Roland
Chapter 9. Music Perception, Reading, and Language Outcomes of Cochlear Implants
Chris de Souza and Rosemarie de Souza
Chapter 10. Hearing Preservation and Electro Plus Acoustic Hearing
Peter Roland
Chapter 11. Rehabilitation in Cochlear Implantation
Vahishtai Daboo
Chapter 12. Principles of CI Imaging
Józef Mierzwiński, Michael David Puricelli, Malgorzata Burzyńska-Makuch, Arnaldo L. Rivera, and Andrew J. Fishman
Chapter 13. Radiological Imaging of the Temporal Bone for Implantable Hearing Devices
Sanjay J. Vaid, Neelam Vaid, and Yogeshwari Deshmukh
Chapter 14. Cochlear Implants in Single-Sided Deafness
David R. Friedmann and J. Thomas Roland, Jr.
Chapter 15. Auditory Brainstem Implants
Mohan Kameswaran and Kiran Natarajan
Part II. Middle Ear Implants
Chapter 16. Osseointegrated Hearing Devices
Aniruddha Patki and David M. Kaylie
Chapter 17. BONEBRIDGE – A New Transcutaneous Bone Conduction Hearing Implant: Design and Development
Hamid R. Mojallal and Geoffrey R. Ball
Chapter 18. Vibrant Soundbridge
Ingo Todt
Chapter 19. The Envoy Esteem Implantable Hearing Aid System
Sam J. Marzo
Chapter 20. The Ototronix MAXUM System
Jacob B. Hunter, Stanley Pelosi, Matthew L. Carlson, and Michael E. Glasscock, III
Chapter 21. Establishing Hearing Implant Programs in Low Resource Settings: Practical and Economic Considerations
Susan D. Emmett, Deborah Pinder, Deborah G. Bervinchak, Solaiman Juman, and Howard W. Francis
Index

Plus, there are four additional chapters online:
1) Step by Step Cochlear Impantation Excluding Implant Fixation and Elecgtrode Insertion
2) Revision and Cochlear Re-Implanatation After Severe Head Trauma (Swing Impact to the Implant Area)
3) Step by Step Cochlear Implantation with Electrode Insertion
4) Optimization of Cochlear Implantation in Children
About The Editors
Chris de Souza MS, DORL, DNB, FACS, FRCS trained at the University of Minnesota with Dr. Michael Paparella, and completed his externship in otology and neurotology with Dr. Michael Glasscock and Dr. C. Gary Jackson at Baptist Hospital in Nashville, Tennessee. He furthered his training in India and was given the gold medal in the DORL exam from the College of Physicians and Surgeons in Mumbai, India. In 1995, Dr. de Souza was the second person in the world to be awarded the Orbit Silver Medal for his work on the nose, paranasal sinuses, and skull base. He was appointed visiting assistant professor of Otorhinolaryngology-Head and Neck Surgery at the State University of New York, Brooklyn and also at the Louisiana State University Health Science Center, Shreveport, where he has conducted temporal bone surgery workshops. He has held these appointments for the past 16 years. Dr. de Souza has published extensively in internationally peer-reviewed journals and several of his publications are considered landmark papers. He has published 18 postgraduate ENT medical textbooks in the United States, Germany, and India. Currently, he is editor-in-chief of the International Journal of Head and Neck Surgery. Dr. de Souza's current clinical appointments include senior ENT consultant at Lilavati Hospital, Tata Memorial Hospital, Holy Family Hospital, and the Holy Spirit Hospital in Mumbai, India, and he is also the coordinator for implantable hearing devices in children and adults at Holy Family Hospital.
---
Peter Roland, MD, is the Medical Director of the Dallas Cochlear Implant Program. He has worked with adults and children seeking cochlear implantation since 1986. Dr. Roland has performed hundreds of CI surgeries and is respected internationally for his cochlear implant expertise. At the University of Texas Southwestern Medical Center in Dallas, he is Professor and Chairman of the Department of Otolaryngology/Head and Neck Surgery, and holds the Arthur E. Meyerhoff Chair in Otolaryngology/Head and Neck Surgery.
---
Debara L. Tucci, MD, MS, MBA, is Professor of Otolaryngology - Head and Neck Surgery, and Director of the Cochlear Implant Program at Duke University, where she has practiced in the subspecialty of Neurotology since 1993. As an NIH-funded investigator, her research interests include cochlear implantation, central auditory system plasticity, and hearing healthcare policy and access to care. She has worked in international settings to help colleagues in-country improve hearing health care, and has served in leadership positions for several national and international societies in Otolaryngology and Otology/Neurotology.

Purchasers of this book receive complimentary access to supplementary materials hosted on a PluralPlus companion website.

Materials:


To access the materials, log in to the website using the URL and Access Code located inside the front cover of your copy of Implantable Hearing Devices.