Publication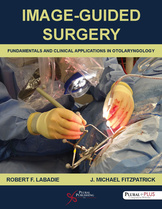 Image-Guided Surgery
Fundamentals and Clinical Applications in Otolaryngology
Details:

232 pages, Color Illustrations (4 Color), Hardcover, 7 x 10"
Included Media:

Companion Website
ISBN13:

978-1-59756-719-0
Release Date:

05/02/2016
Overview
Image-guided surgery (IGS) is the term used for surgical procedures in which the surgeon employs tracked surgical instruments with preoperative or intraoperative images in order to navigate during the procedure. It is part of the wider field of computer-assisted surgery. In the field of otolaryngology, IGS is primarily used by rhinologists during sinus surgery and by skull-base surgeons often in conjunction with neurosurgeons. While widely utilized, surgeons' understanding of the technology is often inadequate to appreciate its strengths and weaknesses.
Image-Guided Surgery: Fundamentals and Clinical Applications in Otolaryngology was written to overcome this knowledge gap to educate practicing surgeons as well as provide an introduction to the field for engineers. Coauthored by a practicing otolaryngologist with a doctorate in bioengineering and a computer scientist with a doctorate in physics whose career has focused on error analysis in IGS, the book includes chapters on history, CT and MRI, tracking, registration, error analysis, evidence-based practices, FDA-cleared IGS systems, and future applications, as well as more than 90 full-color figures.
The book also comes with a complimentary access to a PluralPlus companion website with videos and animations.
Sample video from the companion website:
Reviews
Mark Wax, MD, Oregon Health and Science University (2016):
"It taught me a lot about a highly complex subject that, to be honest, I thought would be way out of my league. At the end of each chapter I was able to say, "Wow, now I understand that!" Even better was that I was able to impart this knowledge to others, demonstrating that the learning was active."

Sanford Archer, MD, University of Kentucky (2016):
"I found it very well-written and exhaustive in its analysis... The chapters are well-defined and flow appropriately for the topic, maintaining their focus throughout."

Marvin P. Fried, MD, FACS and Wayne D. Hsueh, MD, Department of Otorhinolaryngology – Head and Neck Surgery, Montefiore Medical Center, Albert Einstein School of Medicine, Bronx, NY USA (June 2016):
"This collaboration between Dr. Labadie and Dr. Fitzpatrick uniquely represents the perspective of image-guidance systems from the surgical standpoint while understanding the basic theory behind it. This book is useful for both surgeons and certainly engineers. Each chapter can be read on its own however when taken as a whole the book provides a thorough understanding of image-guided surgery. With IGS becoming ever prevalent in otorhinolaryngology, the understanding and use of IGS is increasingly relevant. This book is an important step as we push the limits of skull base surgery and neurotolgy in our field."

AJNRblog (October 26, 2016):
"Image-Guided Surgery: Fundamentals and Clinical Applications in Otolaryngology by Robert Labadie and Michael Fitzpatrick is a unique book. The focus is on ear, nose, and throat procedures, while the discussion and scientific reviews are comprehensive of the IGS field. This work is a highly comprehensive review appropriate for the neuroradiology audience as well as for otolaryngologists and anyone who wants be educated in this burgeoning technology. The authors make good use of figures to illustrate both straightforward and complex issues. Assertions are appropriately referenced with the current literature. Particularly useful are the highlighted text boxes, bolded text, and summary sections for take-home pearls. I enjoyed reading this book and recommend it to practicing physicians and trainees in radiology, otolaryngology, neurosurgery, and related specialties. Though it is of appropriate length (read: "not too long"), it does take some effort to get through some of the meat of the text, especially the technical portions incorporating mathematical equations to support the analysis. As the authors note, however, basic understanding of algebra can get you through it if you take the time. Also, appropriately, they emphasize the various forms of error inherent to IGS, as misinterpreting accuracy statistics can lead to inappropriate application of the technology. Insightful discussions about the future of IGS and a comparison of currently available systems complete the text."

Martin J. Citardi, MD, Department of Otorhinolaryngology-Head & Neck Surgery, McGovern Medical School, University of Texas Health Science Center at Houston, Head & Neck, 39:1933 (2017):
"Image Guided Surgery is both well-written and well-illustrated. The subject matter is technically complex, but the authors provide clear explanations that clinicians should be able to understand. The illustrations demonstrate the concepts described in the text well. The concepts that make IGS feasible will not change, and it is likely that the chapters dedicated to these topics will remain relevant for many years. . . . Overall, Image-Guided Surgery is an excellent reference for anyone with interest in IGS for otolaryngologic procedures. Trainees and novice surgeons will find the explanations of IGS useful, and experienced surgeons will develop a greater understanding of this critical technology by reading the book. Labadie and Fitzpatrick should be congratulated for a book that is a major contribution for otorhinolaryngology."

Rick Chandra, MD, Professor of Otolaryngology and Chief of Rhinology, Sinus & Skull Base Surgery, Vanderbilt University (March 2016):
"Both the advances in radiologic imaging and the advent of stereotactic image guided surgical navigation have been sentinel events in the progress of endoscopic sinonasal and skull base surgery. This important text nicely chronicles the evolution of these modalities in it's introductory sections. The discussion then progresses to describe the mechanics of currently available navigational strategies, as well as practical clinical applications. The text is written concisely, yet comprehensively, and utilizes a tone and language ideal for the practicing surgeon to understand and apply this vital technology."
Introduction
Acknowledgments
Chapter 1. Brief History of Image-Guided Surgery
Chapter 2. CT and MRI
Chapter 3. Tracking Systems
Chapter 4. Registration
Chapter 5. Error Analysis
Chapter 6. Best Practices for Use of IGS
Chapter 7. Surgical Systems
Chapter 8. What Does the Future Hold?
Index
About The Authors
Robert F. Labadie, MD, PhD, a native of Pittsburgh, Pennsylvania, earned his bachelor of science in mechanical engineering from the University of Notre Dame, his doctor of medicine and a doctorate in bioengineering from the University of Pittsburgh, and completed his residency training at UNC-Chapel Hill. He joined the faculty at Vanderbilt University Medical Center in 2001 and completed a master's of management in health care in 2013.
---
J. Michael Fitzpatrick, PhD, is professor emeritus of computer science, electrical engineering, computer engineering, radiology, and neurosurgery at Vanderbilt University, where he has served as a member of the faculty since 1982. He is an SPIE fellow and an IEEE fellow, an advisory-board member of the Journal of Medical Imaging, and served for four years as chair of the Image Processing Conference at the annual SPIE International Medical Imaging Symposium.
Purchasers of this book receive complimentary access to supplementary materials hosted on a PluralPlus companion website.
Materials:
Interactive slides
Figures with accompanying audio

To access the materials, log in to the website using the URL and Access Code located inside the front cover of your copy of Image-Guided Surgery: Fundamentals and Clinical Applications in Otolaryngology.