Publication
Improving Educational Outcomes of Vulnerable Children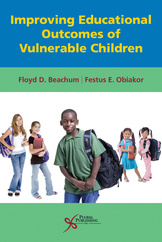 90-Day Exam Copy for Instructors
Improving Educational Outcomes of Vulnerable Children
Details:

287 pages, Illustrated (B/W), Softcover, 6 x 9"
ISBN13:

978-1-59756-982-8
Release Date:

11/01/2017
Overview
Improving Educational Outcomes of Vulnerable Children seeks to examine the plight of vulnerable students in America's educational system. Scholars and practitioners will benefit from this in-depth and unique resource for working with diverse populations of students.
The term "vulnerable" is the current construct used to address students who are at-risk of dropping out of school or of being mislabeled because of myriad social-economic, structural, educational, cultural, racial, linguistic, and societal burdens that impinge upon their learning and survival in school environments. These populations can include students in urban areas, students with "special" needs, and/or at-risk students who are disenfranchised, disadvantaged, and disillusioned.
While the term "vulnerable" is used most often, authors also address students who are oppressed. In such cases, the authors explore power relations, contexts, and situations that place students in positions of powerlessness.
A few of the topics discussed include students with special needs, the scholar identity of black males, parent perspectives, teacher preparation, and using technology in the classroom.
A diverse group of contributors offer their expertise in this distinctive text. Authors include scholars and practitioners from fields such as educational leadership, special education, teacher education, educational technology, and educational psychology.
Key Features
Explores the diversity of students in today's classrooms: culturally, linguistically, and racially different students; students in urban areas; students with "special" needs; and/or at-risk students who are disenfranchised, disadvantaged, and disillusioned.
Details multiple strategies for teacher preparation and mentoring
Discusses methods for effective parent-teacher collaboration
Chapter 1. "Realize That They Don't Know": An Exploratory Study
Floyd D. Beachum, Festus E. Obiakor, & Gina Gullo
Chapter 2. Social Class and Poverty's Impact on Vulnerable Children
Raji Swaminathan
Chapter 3. Nurturing the Scholar Identity of Black Males: Disrupting the Myth of Black Male Inferiority
Ramon B. Goings and Larry J. Walker
Chapter 4. Students with Special Needs: Making them Visible in Today's Classrooms
Tachelle Banks
Chapter 5. Parent Perspectives of Educational Vulnerability in Students with Autism
David E. DeMatthews and Becca Gregory
Chapter 6. The Perpetuation of Vulnerability through the School Racial Discipline Gap
Gina L. Gullo
Chpater 7. Providing Vulnerable Students with Well-Prepared Teachers: An On-Site Mentoring Approach
Phyllis F. Reggio, Roberto C. Trigosso, and Carlos McCray
Chapter 8. "At Risk" Children and Teacher Preparation
Chance W. Lewis, Dante Bryant, Amber C. Bryant, Nakeshia N. Williams, and Derrick Robinson
Chapter 9. Psychological Approaches to Working with Vulnerable Children
Christopher T. H. Liang and Louis A. Rivera
Chapter 10. Using Technology to Work with Vulnerable Children
Sunday O. Obi
Chapter 11. Serving Parents to Save At-Risk Children
Tong T. Xiong and Mateba Harris
About The Authors
Dr. Floyd D. Beachum is the Bennett Professor of Urban School Leadership at Lehigh University where he is also an Associate Professor and Program Director for Educational Leadership in the College of Education. He received his doctorate in Leadership Studies from Bowling Green State University with an emphasis in Educational Administration. Dr. Beachum has a total of 22 years in education (K-12 and higher education) as a substitute teacher, student teacher, classroom teacher, and lead teacher for social studies. His research interests include: leadership in urban education, moral and ethical leadership, and social justice issues K-12 schools. He has authored several peer-reviewed articles on these topics in many journals. In addition, his most recent books include, School Leadership in a Diverse Society: Helping Schools Prepare all Students for Success (2014), and Educational Leadership and Music: Lessons for Tomorrow's School Leaders (2017).
---
Festus E. Obiakor, PhD., is the Chief Executive Manager, Sunny Educational Consulting, Shorewood, Wisconsin. He has served as Department Head and Professor at Valdosta State University, Valdosta, Georgia and The City College of New York, New York. A teacher, scholar, leader, and consultant, he has served as Distinguished Visiting Professor at a variety of universities. He is the author of more than 150 publications, including books, articles, and commentaries; and he has presented papers at many national and international conferences. He serves on the editorial boards of reputable nationally and internationally refereed journals, including Multicultural Learning and Teaching (MLT) in which he serves as Executive Editor. Dr. Obiakor is a leader who has been involved in many landmark scholarly works in the fields of general and special education, with particular focus on African Americans and other culturally and linguistically diverse (CLD) learners. He continues to prescribe multidimensional methods of assessment, teaching, and intervention for these individuals. Based on this premise, Dr. Obiakor created the Comprehensive Support Model (CSM), an intervention model that values the collaborative, consultative, and cooperative energies of students, families, teachers/service providers, communities, and government agencies.
Related Titles



360 pages, Illustrated (B/W), Softcover, 6 x 9"