Publication
Home|
Educating Latino Preschool Children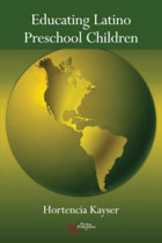 Instructors: click here to request your 90 Day Exam Copy of this book.
07/01/2008
Educating Latino Preschool Children
Details
232 pages, Illustrated (B/W), Softcover, 6 x 9"
ISBN10: 1-59756-121-5
ISBN13: 978-1-59756-121-1
$59.95
Overview
This text is the authorís thoughtful and effective response to preschool educatorsí and speech language pathologistsí frustrations in meeting the needs of the Hispanic family. It will be a positive contribution to our understanding of Hispanic families and their children. This text is primarily a literature review, but the majority of people who know Hortencia Kayser, know that she has stories of families that have succeeded through the efforts of practicing bilingual and monolingual clinicians. Evidence based practice is the key-phrase for the profession, but the experiences of clinicians in the field are important examples and contributions to our knowledge of how clinicians can best serve Hispanic clients. The chapters are reader-friendly, with subheadings, valuable tables, photos, side glossaries, brief summaries, resources for further reading and brief case studies as exemplars.
Audience
Primary Subject:
Speech and Language Pathology / Multicultural Issues
Secondary Subject:
Pediatrics
Audience Level:
Professional
Demographics
Hispanic Preschoolers in the U.S., Puerto Rico, and Mexico.
Preschool Education
U.S., Puerto Rico, Mexico, and Latin America.
Child Development, Communication Disorders and Health Disparities among Hispanic preschoolers in the U.S.
Hispanic Family and Child Socializations.
Hispanic Beliefs about Disabilities and Play.
Screening Growth and Development, Speech and Language, and Cognition in the Spanish-English Speaking Preschooler.
Psychological Assessment of Preschoolers.
The Assessment Process and Review of Assessment Instruments.
Phonology.
Morphology.
Syntax.
Semantics.
Pragmatics.
Phonological Awareness.
Emergent Literacy.
Dynamic Assessment.
Response to Intervention.
Preschool Curricula in the United States and Making it Friendly to Hispanic Preschoolers and Families.
Treatment and Alternative Programs for the Hispanic Preschooler with a Communication Disorder.
Parent Programs for Childrenís Emergent and Early Literacy.
Parent Programs in Speech and Language Development.
A Needs Assessment in Research.
About The Author
Hortencia Kayser, Ph.D. is Professor in the Department of Communication Sciences & Disorders at Saint Louis University, St. Louis, MO.