Publication
Hear and Listen! Talk and Sing!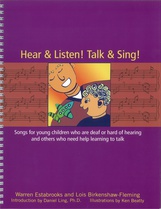 Hear and Listen! Talk and Sing!
Songs for Young Children Who Are Deaf or Hard of Hearing and Others Who Need Help Learning to Talk
Details:

127 pages, Illustrated (B/W), Spiral Bound, 8.5 x 11"
Included Media:

CD
ISBN13:

978-0-88200-218-7
Release Date:

2006
$89.95
"Learning to Listen" (Auditory-Verbal Theme Song)
Speech and Song: An Introduction by Daniel Ling, PhD
Auditory-Verbal Therapy
The Lesson Plan - Background
A Sample Lesson for Very Young Children
About the Songs
I Hear That
I Hear That!
Hello Songs
Hi!
Hello!
We Say Hello
Good Day Song
The Mirror
Transportation
The Airplane
I Hear the Bus
The Train
The Car
Wheels
Wheels Go Round
Wheels on the Bus
The Ambulance
The Boat
Things That Go Round
The Windmill
The Spinning Top
Animals
The Dog
Bingo
Wow!
The Snake
Kitty Cat
Animal Talk
The Rabbit
Monkey in a Tree
The Birds
The Dinosaur Walk
The Farm
The Farm
The Farm Visit
Old MacDonald Had a Farm
The Rooster
Big Black Crow
Mr. (Mrs.) Owl
Six Little Ducks
Clip, Clop, Clip, Clop
The Weather
Sunny Days
I Like to Sing
Raindrops
Puddles
I Hear Thunder
In Autumn
Autumn Leaves
Snowman
Snow (or Leaves)
Goodbye Winter
Babies
Baby Doll
Sh! Someone's Sleeping
Rock the Baby
People
The Cowboy (Cowgirl)
Funny Little Clown
Songs for Everyday
Pick Me Up
No, No!
Clap, Clap, Clap Your Hands
Walk and Stop!
River Road
Ouch!
Dig, Dig
Food
Yummy Yummy
Mmmm - Good
Ten Fat Sausages
Telling Time
The Clock
High Sounds, Low Sounds - Sounds Going Up, Sounds Going Down
The Slide
Small and Tall
Up, Down
My Blue Yo-Yo
Back and Forth
Pop Up!
Ball Activities
Bouncing the Ball
The Ball
Bubbles and Balloons
Bubbles
Bubbles in the Air
Balloons
Holidays
Holiday Time
Thanksgiving
Pumpkins
Halloween
My Dreidel
Hanukkah
Santa Claus
Santa Claus Is Coming
In My Hand
Valentines
I Have a Valentine
I Have Some Easter Eggs
Other Musical and Listening Activities
Other Songs That Young Children Enjoy
Appendix A. The Principles of Auditory-Verbal Practice
Appendix B. The Hear & Listen! Talk & Sing! Sounds and Songs
Appendix C. Speech Information Available at 250, 500, 1000, 2000, 4000 Hz
Appendix D. The "Hand Clue" in Auditory-Verbal Therapy at NYGH
References
Bibliography
Alphabetical Listing of Songs
About The Authors
Warren Estabrooks, M.Ed., Dip. Ed. Deaf, LSLS Cert. AVT, is President and CEO of WE Listen International Inc., a global consulting company in Toronto, Canada. He and his team provide professional education, training, and development in Auditory-Verbal Therapy for practitioners who work with children with hearing loss and their families around the world.
---
-