Publication
Head Injury Recovery in Real Life Bundle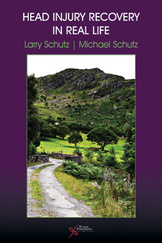 Head Injury Recovery in Real Life Bundle
Details:

1,175 pages, Illustrated (B/W), Softcover, 6 x 9"
Release Date:

02/01/2010
$59.95
Overview
Bundle price cannot be combined with other discounts.
Head Injury Recovery in Real Life, now available in bundles of five, combines a thorough review of scientific and clinical background information about recovery from traumatic brain injury with a set of autobiographical accounts of 12 of the 18 best long-term recoveries from a population of 1800 discharged patients at an advanced cognitive rehabilitation program.
The chapters describe what these patients had to overcome and how they did so. The recoveries are remarkable for the seriousness of the brain damage and the sustained demonstration of advanced executive and cognitive skills shown during the recovery. Brief sketches of 15 unsuccessful recoveries are also included to provide a counterpoint. Long-term recovery is poorly understood by stakeholders of all kinds, including researchers, medical practitioners, family members, and survivors. A rich understanding of successful recoveries helps members of each of these groups to more effectively examine or achieve recovery, while providing vivid and cogent guidance for students in the rehabilitation professions—speech-language pathology, occupational therapy, physical therapy, psychology, rehabilitation counseling, nursing, and physical medicine and rehabilitation.
Introduction

How we learned what we know about recovery
How recovery works—in the clinic and in real life
Recovery depends on how severe the injury is
Recovery depends on what kind of person got the injury
The mental functions that recover over time
The mental functions that do not recover: The lasting deficits
Functioning in real life: The lasting ability limitations
The opportunity to participate in a normal life
Adaptation to the injury
Accelerated recovery in the unreal world of the clinic
Why recovery can be studied properly only in real life
Fifteen sketches of failed recovery

Great recoveries as individual efforts

Reggie, high school/college student
Riley, construction subcontractor/speech-language pathology student
Hillary, graduate student/wellness instructor/middle school teacher
Deloris, school media/computer specialist
Stephanie, business executive
Faith, community programs manager
Rachel, psychotherapist
Abdullah, attorney at law

Great recoveries as partnerships with family

Brooke (high school/college/graduate student) and **Charlotte (her mother)
Tom (construction worker) and Dawn (his wife)
Jomo (high-technology department director) and Wengari (his wife)
Ernie (factory designer/manager and business owner) and **Helga (his wife)
Brief sketches of three more great recoveries
Lessons of the 30 recoveries
About The Authors
Larry E. Schutz, PhD, has conducted and supervised head injury rehabilitation for 29 years, treating over 5,000 clients. He is currently the neuropsychologist of the Transitional Living Center at Casa Colina Hospital in Southern California, one of the largest neurorehabilitation programs in the world. Previously he designed 11 head injury programs in New Jersey and Florida. He was awarded the first full-time, APA-approved neuropsychological internship in neurorehabilitation at the Palo Alto VA Medical Center and completed advanced study with Yigal Gross, Ph.D., one of the pioneers of the field. Dr. Schutz's areas of publication include neuropsychological assessment methods, rehabilitation research methods, therapy techniques, theories of treatment, and rehabilitation outcomes. He is one of a handful of neuropsychologists who have been awarded the diplomate in rehabilitation of the American Board of Professional Psychology and selected as a fellow of the National Academy of Neuropsychology. Dr. Schutz is also the founder and chair of the board of directors of GiveBack, Inc., a non-profit organization providing free recovery assistance to survivors.
---
Michael Schutz graduated from the prestigious School of Journalism at the University of Florida. He is currently studying computer science at the University of Central Florida. His involvement with traumatic brain injury began when he founded and edited The BIRC Times, a newsletter for inpatients with head injuries. He currently serves as the webmaster of GiveBack, Inc., a non-profit organization providing free recovery assistance to survivors of traumatic brain injury.
Related Titles