Publication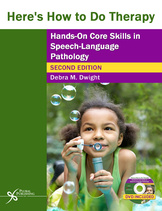 90-Day Exam Copy for Instructors
Here's How to Do Therapy
Hands-On Core Skills in Speech-Language Pathology
Second Edition
Details:

400 pages, Illustrated (B/W), Softcover, 8.5 x 11"
Included Media:

DVD
ISBN13:

978-1-59756-565-3
Release Date:

09/30/2014
$92.95
Overview
The best-selling Here's How to Do Therapy: Hands-on Core Skills in Speech-Language Pathology is back in a newly revised second edition. Unique in design and content, this text and accompanying DVD provide a logical and manageable approach to therapy and help students and practitioners enhance their clinical skills through guided practice of key concepts.
Twenty-eight fundamental therapeutic skills are presented in a "workshop format" using organizers, definitions/demonstrations, think-out-loud questions, prompts for practice, post-organizers, and more. This second edition also includes an all new chapter that examines the concept of "critical incidents" in learning speech-language therapy and details 18 classroom activities for clinical supervisors and instructors.
The 80-minute DVD significantly enhances the tutorial aspect of this text by presenting visual demonstrations of core therapeutic skills. One-to-three-minute vignettes give students real-life examples of implementing these skills and two extended DVD sessions demonstrate the basics of language-based therapy, highlighting articulation and language intervention.
Here's How to Do Therapy, Second Edition, is an ideal reference for providing effective therapy for both clinical practicum and management courses, as well as for clinicians engaged in SLP intervention.
Here is a video clip from the DVD:

REVIEWS OF THE BEST SELLING FIRST EDITION

"An excellent tool. . . I wish it would have been available when I was a beginning clinician. . . and it is even good reading for a seasoned clinician!" --Mandie Harris, Oklahoma State University
"The book has helped the undergraduate student better grasp the concept of beginning therapy in the general setting. The book is exquisitely plotted out in steps to take before one begins actual therapy. It is a wonderful resource for beginning Speech-Language Pathology students. This book helps guide students by giving explicit examples of what to say and how to react to certain surprises in the therapy session. Dr. Dwight also gives excellent guide with the vignettes." --Allison Spitznagel, University of West Georgia

"Dr. Debra Dwight's book is a very useful resource for the student Speech-Language Pathologist. It focuses on different therapy techniques and provides workshops so that the student can try his/her hand at different techniques. As a student, I have never used a textbook that provides so much detail and so many opportunities for application in and outside the classroom. I found the book to be practical and easy to read, and I know that I will frequently refer to it once I begin working as a Speech-Language Pathologist. I would recommend this book to any student who is interested in the field of Speech-Language Pathology." --Sarah M. Payne, University of West Georgia

"As a Speech Language Therapy major, Here's How to Do Therapy gave me the "how" of therapy. Through an easy read, all aspects of speech therapy are covered—from interpersonal communication skills, to actual therapy sessions complete with data collection and time management methods. In addition, I found the written and DVD examples to be far superior to the typical clinical teaching method of observing live therapy sessions. Here's How to Do Therapy is a great resource to have for the beginning and experienced therapist. It is a book that will remain on my therapist bookshelf for many years to come." --Dana D. Pell, University of West Georgia
Review
Christine Maul, PhD, CCC-SLP, Assistant Professor, Department of Communicative Disorders and Deaf Studies, California State University, Fresno (2014):
"I was looking for a good textbook that clearly explains evidence-based treatment methods and as well as the affective components of therapy. Dr. Dwight's new edition textbook certainly fits the bill. The DVD demonstrating the techniques is a real plus!"
Preface

PART I
Chapter 1 Introduction: Here's How to Use this Text
Chapter 2 Basic Considerations for the Therapeutic Process
Chapter 3 Foundations for the Therapeutic Process: Overview
Chapter 4 Learning Theories Related to Speech-Language Intervention
Chapter 5 Developmental Domains and Special Classifications Related to the Therapeutic Process: An Overview
Chapter 6 Hands-On Core Skills: The Speech-Language Pathologist as Facilitator of Positive Communication Change
Chapter 7 Basic Structure Within the Therapeutic Process
Chapter 8 Peripheral Speech-Language Therapy Management Issues

PART II
Chapter 9 Guided Practice in Language-Based Therapy
Chapter 10 Guided Practice in Articulation Therapy
Chapter 11 Guided Practice for Voice Therapy
Chapter 12 Guided Practice for Resonance Therapy
Chapter 13 Guided Practice for Fluency Therapy
Appendix
Glossary
Index
About The Author
Debra Dwight is an Alabama native and received a bachelor's degree in Speech Therapy and a master's degree in Early Childhood Education from the University of South Alabama, Mobile. Her master's and doctoral degrees in Speech-Language Pathology were received from the University of Alabama, Tuscaloosa, where Debra developed an interest in clinical teaching. Although she worked as a college/ university faculty member in different positions over the past ten years, Debra describes herself as a clinical practitioner due to her constant desire to impact the quality of service delivery in the speech-language profession. She has worked as a speech-language pathologist in public schools, as a university clinical supervisor, as director of a pre-K special needs program, and as a college instructor, and assistant professor. She currently serves as Director of Speech-Language Pathology Programs at University of West Georgia, Carrollton.

Her desire to improve the quality of services provided by speech-language professionals led Dr. Dwight to develop a practical method for teaching basic, hands-on, core skills to university students majoring in Speech-Language Pathology. Drawing from three decades of combined academic, clinical, and supervisory experiences, she developed the text, Here's How to do Therapy: Hands-On Core Skills in Speech-Language Pathology, a practical guide for all Speech-Language Pathology professionals.

The DVD significantly enhances the tutorial aspect of this text by presenting visual demonstrations of core therapeutic skills. One-to three-minute vignettes give students real-life examples of implementing these skills and two extended DVD sessions demonstrate the basics of language-based therapy, highlighting articulation and language intervention.

Here is a video clip from the DVD: