Publication
Here's How to Do Accent Modification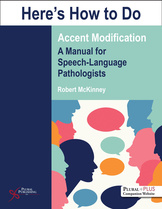 90-Day Exam Copy for Instructors
Here's How to Do Accent Modification
A Manual for Speech-Language Pathologists
Details:

210 pages, Illustrated (B/W), Softcover, 8.5 x 11" 1 lbs
Included Media:

Companion Website
ISBN13:

978-1-63550-007-3
Release Date:

03/15/2019
$69.95
Overview
Here's How to Do Accent Modification: A Manual for Speech-Language Pathologists is designed for speech-language pathologists (SLPs) working with clients on accent modification in American English. A growing number of non-native speakers are interested in improving their communication skills and SLPs need preparation to work with this clientele. The text provides copious advice and many diverse techniques for teaching accent modification, from the level of basic sounds to the level of discourse.
The text emphasizes realistic goal setting, so that clients focus on becoming effective communicators as opposed to sounding exactly like native speakers. The objective is a balance between clear and natural speech. Many SLPs favor intelligibility over naturalness because of their backgrounds working with speech delayed children, but with non-native speakers this often leads to unnatural speech and listeners focus on how something is said as opposed to what is said.
Here's How to Do Accent Modification is uniquely geared toward the skills and backgrounds of SLPs working with clients in a one-on-one setting, but is also an excellent introductory text for any English as a Second Language (ESL) teacher. Robert McKinney brings this unique perspective as a speech-language pathologist with degrees in both Communication Disorders and Teaching English as a Second Language.
Also included with the text are numerous practical activities and worksheets for working with clients. A PluralPlus companion website presents the worksheets in a downloadable format along with audio files and video clips to demonstrate working with non-native speakers.
Introduction
Chapter 1. Accents
Our Accents
Effective Communication
Awareness, Training, and Counseling
Our Role
References
Chapter 2. Accent Modification
Who Provides Accent Modification?
Where SLPs Practice Accent Modification
How Does Accent Modification Work?
Who Are Our Clients?
Does Accent Modification Work?
References
Chapter 3. Assessment
Overview
Segmental Assessment
Intelligibility Assessment
Suprasegmental Assessments
Assessing Pragmatics
Evaluating Through Listening/Writing
Evaluating Language
Assessment Packages
Final Thoughts
References
Appendices
Chapter 4. Segmentals Overview
Working with Sounds
Principles of Segmental Training
Generalization
Target Selection
References
Appendices
Chapter 5. Suprasegmentals Overview
Patterns of Speech
Rate
Intonation
References
Appendices
Chapter 6. Consonants
Working with Consonants
Problematic Phonemes
Allophones
References
Appendices
Chapter 7. Vowels
Introduction to Vowels
References
Appendices
Chapter 8. Syllables and Stress
The Syllable
Syllables and Endings
Lexical Stress
References
Appendices
Chapter 9. Prosody
Phrasal Stress
Emphasis
Phrasing
References
Appendices
Chapter 10. Connected Speech
Overview of Connected Speech
Linking Consonants
Linking Vowels
Putting It All Together
References
Appendices
Chapter 11. Getting Started
Getting More Training
Additional Resources
University Clinics
In Their Own Words
References
Appendices
Index
About The Author
Robert (Bob) McKinney, M.A., CCC-SLP, is the lead Speech-Language Pathologist at the Sweetwater Union High School District, where he heads the district's Culturally/Linguistically Diverse Assessment team. At San Diego State University, he supervises graduate students in the Accent and Communication Training Program and teaches undergraduate Phonetics. He had a 26-year career as a TESOL (Teaching English to Speakers of Other Languages) instructor, teaching and conducting teacher training in six countries, including 17 years at UCSD's English Language Institute. He holds an M.A. in Communicative Disorders, an M.A. in Education/TESOL, and an M.A. in International Relations. He speaks six languages and has worked with clients from more than 80 countries. Bob is active in the California Speech-Language Hearing Association and has served on its board of directors.

Purchasers of this book receive complimentary access to supplementary materials hosted on a PluralPlus companion website.

To access the materials, log in to the website using the URL and Access Code located inside the front cover of your copy of Here's How to Do Accent Modification.