Publication
Hearing Aid Dispensing Training Manual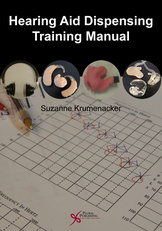 Hearing Aid Dispensing Training Manual
Details:

176 pages, Illustrated (B/W), Softcover, 7 x 10"
ISBN13:

978-1-59756-537-0
Release Date:

10/24/2013
Overview
The comprehensive, easy-to-use Hearing Aid Dispensing Training Manual is designed for individuals pursuing a career in hearing health care and is a useful study resource for the state practical licensing examination. With a focus on areas of competency for the practical sections of the examination, the manual not only prepares individuals for the exam, but also for day-to-day operations in the professional environment.
The training manual covers the four main competencies of most state practical examinations: audiometric testing, impression taking, hearing aid fitting, and hearing aid troubleshooting. The competency modules are divided into chapters related to the concept of the module. Objectives and vocabulary open the chapter to help guide the reader, and a "Putting It All Together" section at the end of the chapter ties together the concepts of the module with practical activities—allowing the individual to perform the competency as they would for their state licensing examination.
Review
Elizabeth Humphrey & Patti Johnstone, Department of Audiology & Speech Pathology, University of Tennessee Health Science Center, Knoxville, International Journal of Audiology (November 2014):
"[T]his manual outlines the step-by-step procedures that one must follow and perform to obtain a hearing-aid dispensing license, particularly in North America.... [A]lthough this text is not meant to serve as a comprehensive audiologic, amplification, or rehabilitation manual, the author interjects best practice techniques and references for the reader who desires more knowledge.

The manner in which the material is presented allows the reader to sit down at an audiometer with this manual at his/her side and practice basic skills that will be assessed during a typical hearing-aid dispensing exam. By following the step-by-step outline at the end of each section, the reader will be equipped to use the equipment properly in an appropriate manner, inspect the ear or hearing aid, perform the given test or procedure, be aware of FDA red flags for referral, and be aware of what to say to those who are being evaluated.

The manual can be used in lieu of an instructor. It is a practical tutorial and reference tool. Audiology students who would like to have a review for preparing for the practical portion of a HA examination could benefit from using this manual."
Preface
Introduction
Acknowledgements

Module 1. Audiometric Assessment

Chapter 1. Hearing Loss
Chapter 2. Audiogram Interpretation
Chapter 3. FDA Red Flags
Chapter 4. Otoscopic Inspection
Chapter 5. Testing Equipment
Chapter 6. Testing Procedures
Chapter 7. Concepts of Masking
Module 1. Putting It All Together

Module 2. Ear Impressions

Chapter 8. Otoscopic Inspection for Impression
Chapter 9. Ear Impression Preparation
Chapter 10. After the Impression
Module 2. Putting It All Together

Module 3. Hearing Instrument Fitting and Orientation

Chapter 11. Delivering a Behind-the-Ear Hearing Aid
Chapter 12. Earmolds
Chapter 13. Delivering an In-the-Ear Hearing Aid
Module 3. Putting It All Together

Module 4. Hearing Instrument Care and Follow-up

Chapter 14. Replacing Earmold Tubing
Chapter 15. Routine Follow-Up Service
Chapter 16. Troubleshooting
Module 4. Putting It All Together

Appendices
Recommended Reading Material
Index
About The Author
Suzanne Krumenacker, AuD is a licensed Clinical and Dispensing Audiologist. She has worked on the manufacturing side of Audiology as a Manager, Staff Audiologist and Trainer for NuEar and Starkey Hearing Technologies for over 15 years.