Publication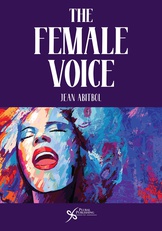 The Female Voice
Details:

300 pages, B/W With Color Insert, Softcover, 7 x 10"
ISBN13:

978-1-59756-936-1
Release Date:

12/15/2018
$79.95
Overview
The Female Voice follows the passage of the voice from fetus to new born, from infancy to childhood and puberty, from the adult female to menopause and the aging voice. The connectivity between mind, body, and hormones creates a voice for everyone more unique than a fingerprint and is an emotional amplifier that can impact the female voice more than the male voice.
This text includes all that you wanted to know about the female voice, but never dared to ask. The right answers will be found in The Female Voice, based on today's current science.

Does voice have a sex? Is it sexual or hormonal?
Why does puberty change less in women than men?
Why does a woman's voice change during her menstrual cycle?
Could we avoid or prevent the aging voice in women?
What is the importance of diet, hygiene, and exercise?
About The Author
Jean Abitbol, MD is Ancien Chef de Clinique at the Faculty of Medicine of Paris. An otorhinolaryngologist, he specializes in phoniatrics and voice surgery. Based on his clinical experience and research, he has published extensively on voice medicine and is recognized internationally for his contributions to voice surgery and care of the professional voice.

A lifelong student of the intricacies of the human voice, Dr. Abitbol practices otolaryngology, phoniatry, and laser voice surgery in Paris, where he is Ancien Chef de Clinique at the University of Paris. His interest in the human voice led him to develop innovative diagnostic and therapeutic techniques, including vocal dynamic exploration, a method that allows physicians to look at the vocal folds speaking or singing and, more recently, the use of three-dimensional imaging of the larynx. His research has centered on the effects of hormones on the human voice.

Dr. Abitbol has published over 300 articles in the medical literature and produced several medical movies for which he has won film prizes. He hosts an annual international seminar for physicians and voice professionals on laser voice surgery and voice care and gives conferences to teachers and singers on voice care. A popular international presenter at scientific and professional meetings, he has received many honors, the most recent of which was the prestigious Chevalier de la Legion d'Honneur for which he was nominated by the Ministry of Health on behalf of the President of the French republic.