Publication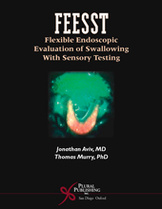 FEESST
Flexible Endoscopic Evaluation of Swallowing with Sensory Testing
Details:

144 pages, Color Illustrations (4 Color), Hardcover, 7 x 10"
ISBN13:

978-1-59756-000-9
Release Date:

05/01/2005
$179.95
Overview
Completely new book on an innovative new approach to assessment and treatment of swallowing disorders
Caters for the increasing team approach in swallowing of laryngologist, gastroenterologist, pulmonologist and speech pathologist
Profusely illustrated with and black and white photos
Features practical coverage of the use of instrumentation as well as case examples
Authors are extremely well-known and are traveling the world with courses demonstrating this new technique.

FEESST enables Otolaryngologists, gastroenterologists, and pulmonologists to raise the level of care for their patients with swallowing problems. This is an essential text for all physicians, clinicians and speech pathologists that treat swallowing disorders. For the first time this new examination allows direct assessment of both the motor and sensory aspects of the swallow, enabling physicians to precisely guide the dietary and behavioral management of patients to decrease the risk of aspiration pneumonia. The authors provide readers with a science behind the instrumentation, the protocols for its use, and detailed case studies demonstrating its value in evaluating and managing diverse groups including: Patients with a history of reflux; Recent stroke patients experiencing difficulty swallowing, throat clearing, or choking during meals; Patients with a difficulty related to an underlying diagnosis of Parkinson's Disease; cerebral palsy, multiple sclerosis, ALS, or dementia; Patients with a history of upper respiratory infections, unexplained fevers, aspiration pneumonia, or asthma; Patients who complain about trouble swallowing liquid, food, or medications; Patients receiving nutrition via G-tube or NGT who are candidates for improved function and ability to tolerate oral feedings; Patients with a Tracheotomy.
Review
The Journal of Laryngology & Otology, Ltd.:
"For those working in the areas of comprehensive dysphagia diagnosis and management, this book is an essential reference. It is compact and easy to read, with a logical format that provides the reader with an initial thorough refresher of endoscopic anatomy and swallowing physiology. The chapter on the FEESST technique details clearly the procedure and sensory testing method with evaluation of bolus consistency, compensatory and swallowing treatment strategies. Throughout the book excellent quality photographs illustrate key points and the numerous case studies used to illustrate the FEESST directed, decision-making process reflect the most common referral groups presenting with dysphagia. The use of FEESST with stroke patients, the elderly and to predict laryngeal penetration and aspiration is particularly useful and the dysphagia treatment algorithms effectively clarify the management issues. The current developments in Transnasal Oesophagoscopy are detailed, with useful indications for when to use TNO, Sensory Testing and FEESST. This book should have a prominent place on the departmental bookcase and will contribute significantly to future developments in our dysphagia service. As a quick reference it will be invaluable but for detailed understanding it will be equally useful to specialists and those developing skills in endoscopic swallow management."
Foreword by Philip O. Katz, M.D.
Preface
List of Commonly Appearing Abbreviations
Chapter I. Introduction to Swallowing

Why FEESST?
Structure of the Voice and Swallowing Center
Importance of Dysphagia
Endoscopic Anatomy
Swallowing Physiology
Summary
References

Chapter II. FEESST Technique

Instrumentation
Examination of the Nose, Pharynx, and Larynx
Method
Summary
References

Chapter III. FEESST Applications and Outcomes

Laryngeal Sensory Testing in the Elderly
Laryngeal Sensory Testing in Stroke Patients with Dysphagia
Using FEESST to Predict Laryngeal Penetration and Aspiration
Outdomes: FEESST Versus Modified Barium Swallow (MBS)
Summary
References

Chapter IV. Sensory Testing Alone

Site of Lesion Testing
Acid Reflux Disease
Summary
References

Chapter V. Transnasal Esophagoscopy (TNE): What to Do When the Sensory Test and/or FEESST Results Cannot Explain the Etiology of the Patient's Dysphagia

Introduction
Development and Applications of TNE
Indications for TNE
Technique of TNE
Algorithm for When to Use TNE, Sensory Testing, and FEESST
What to Look for During TNE
Summary
References

Chapter VI. FEESST Safety

Introduction
Research on FEESST Safety
FEESST Safety and Dysphagia Etiologies
FEESST Safety and Possible Complications
Summary
References

Chapter VII. Coding

Flexible Endoscopic Evaluation of Swallowing with Sensory Testing (FEESST), Sensory Testing, and Fiberoptic Endoscopic Evaluation of Swallowing (FEES)
Transnasal Esophagoscopy (TNE)
Panendoscopy (Laryngeal with Biopsy and Esophagoscopy with or Without Biopsy)
Summary
References

Chapter VIII. Cases

Case 1: Parkinson's Disease
Case 2: Vascular Malformation
Case 3: Neuralgia
Case 4: Stroke
Case 5: Laryngopharygeal Reflux (LPR)
Case 6: Dysphagia Following Open-Heart Surgery
Summary
References

Index
About The Authors
Dr. Aviv is Professor of Otolaryngology-Head and Neck Surgery and the Director of the Division of Laryngology at the College of Physicians and Surgeons, Columbia University. He is the inventor and developer of the endoscopic air-pulse laryngeal sensory testing technology known as FEESST. He is President-elect of the American Broncho-Esophageal Association, President of the New York Laryngological Society, and former Chairman of the Speech, Voice and Swallowing Committee of the American Academy of Otolaryngology/Head and Neck Surgery.
---
Thomas Murry, PhD, is Professor of the Department of Otolaryngology-Head and Neck Surgery at Loma Linda University Health and Co-director of the Voice and Swallowing Center, Loma Linda University. Dr. Murry has distinguished himself as an educator, scientist, and clinician in the areas of swallowing and voice disorders. He received the Honors of the American Speech-Language and Hearing Association, the association's highest honor in 2010.