Publication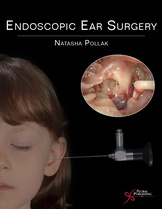 Endoscopic Ear Surgery
Edited by: Natasha Pollak
Details:

200 pages, Color Illustrations (4 Color), Hardcover, 8.5 x 11"
Illustrations:

202
ISBN13:

978-1-59756-504-2
Release Date:

03/31/2014
Overview
Endoscopic techniques have encouraged the development of minimally invasive procedures and have revolutionized many surgical specialties. Otology is no exception.
Endoscopic Ear Surgery explores the emerging role of endoscopy in the evolution of otologic surgery and details both basic and advanced endoscopic ear surgery techniques. Rich with color images, this text addresses commonly encountered difficulties in chronic ear surgery and explains how endoscope-assisted surgical techniques can help. The use of endoscopes has given rise to the concept of "functional endoscopic ear surgery," which helps reduce cholesteatoma recurrence rates while allowing less invasive, more physiologic surgical approaches.
Key features include:

Principles of endoscopic ear surgery, endoscopic lateral skull base surgery, office-based endoscopic otology, and cochlear endoscopy;
Evolving concepts in middle ear physiology and ventilation routes;
Tips and pearls on basic and advanced endoscopic ear surgery techniques by veteran surgeons who have helped define the field; and
Hybrid microscopic-endoscopic surgical techniques.

Endoscopic Ear Surgery is the definitive resource for temporal bone surgeons and skull base surgeons who would like to acquire or fine tune their endoscopic ear surgery skills.
From the Foreword:
"Endoscopic Ear Surgery provides a current and comprehensive discussion of the widening range of surgical procedures that can be accomplished through endoscopically based, minimally invasive techniques. Natasha Pollak has gathered an international panel of experienced endoscopic ear surgeons who present detailed information about the role of endoscopic approaches in a wide range of otologic and neurotologic procedures. These authors offer practical information about the broad role of endoscopic surgery for the ear and the logistics of performing endoscopic procedures in both the operating room and office settings. They present compelling discussions of not only endoscopic approaches to the middle ear and mastoid, but also the expansion of these techniques to the lateral skull base, the posterior fossa, and the cochlea. Through comprehensive narratives, detailed graphics, and careful photographic illustrations, Endoscopic Ear Surgery provides both the novice otolaryngologist and the experienced otologist/neurotologist and neurosurgeon with a complete and thorough presentation of these cutting-edge techniques.
Textbooks rarely capture the excitement and momentum of an evolving field in quite the way that this present publication is able to accomplish. Dr. Pollak and her contributors are to be congratulated for this outstanding work, which will provide a benchmark in its field for years to come. I highly recommend Endoscopic Ear Surgery, and I am confident that you will find it both practical and useful."
John H. Krouse, MD, PhD
Professor and Chairman
Department of Otolaryngology-Head and Neck Surgery
Associate Dean, Graduate Medical Education
Temple University School of Medicine
Philadelphia, Pennsylvania
Reviews
Liam M Flood, FRCS, FRCSI, The Journal of Laryngology & Otology, (2014) (2014):
""The art of this book is to (very convincingly) demonstrate applications and indications for endoscopic ear surgery and to consider future developments. ... The content is of course superbly illustrated and the layout does make "cherry picking" one's favourite topics easy. The description of the instrumentation and operating room set up I found thought provoking and, as a result, I detect the "Wind of Change" locally. ...Three chapters on CSOM will surely have the greatest relevance for our readers and there is excellent coverage of retraction pockets, sinus tympani cholesteatoma and the "Second Look" managed endoscopically. Later chapters range from "Office based" minor surgery to posterior fossa surgery. The latter is a lengthy chapter and the photography is superbly reproduced. ...This is an excellent book, tackling something a bit "different" and which should influence clinical practice.""

Emma Stapleton, ST8, Otolaryngology, Doncaster Royal Infirmary, ENT & audiology news (March/April 2015):
"... The colour photographs in this 171 page hardback book are of high quality. The chapters cover different aspects of the use of the endoscope, each giving interesting insights to the authors' personal practices, which, whilst not always evidence-based, are certainly thought-provoking and clearly illustrated. There are handy tips for the use of the endoscope in second look surgery and the management of retraction pockets; a lengthy chapter on posterior fossa surgery, and some interesting uses of the laser in both office-based and theatre-based procedures.

In addition to clear descriptions of operative methods, the book helpfully describes handling of the otoendoscope and operating room set-up, removing any mystery from the technique. For this reason, the book ... would be a useful purchase for any otolaryngologist keen to develop their practice..."
Foreword by John H. Krouse, MD, PhD
Foreword by Michael M. Paparella, MD
Acknowledgements
Contributors

Principles of Endoscopic Ear Surgery
Natasha Pollak
Endoscopic Anatomy of the Middle Ear
Glenn Isaacson
Instrumentation and Operating Room Setup
Natasha Pollak
Fat Graft Myringoplasty
Jean-Marc Thomassin and Badi Aldosari
Middle Ear Exploration and Tympanoplasty
Hamed Sajjadi
Management of Chronic Otitis Media and Cholesteatoma
Jean-Marc Thomassin and Badi Aldosari
Management of the Mastoid System in Chronic Ear Disease
Hamed Sajjadi
Endoscopic Ear Procedures in the Office
Herbert Silverstein and George Poulos
The Endoscope-Assisted Minimally Invasive Retrosigmoid Approach
Jacques Magnan, Bhavin Parikh, and Hidemi Miyazaki
Cochlear Endoscopy
Lüder A. Kahrs and Robert Labadie
The Future of Minimally Invasive Ear Surgery
Natasha Pollak

Appendix A. CPT Codes for Common Otologic Procedures
Index
About The Editor
Natasha Pollak, MD, is an assistant professor of otolaryngology and vice-chair for quality and outcomes in the Department of Otolaryngology-Head and Neck Surgery at Temple University School of Medicine in Philadelphia, Pennsylvania.