Publication
Scholarship of Teaching and Learning in Speech-Language Pathology and Audiology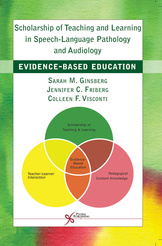 Scholarship of Teaching and Learning in Speech-Language Pathology and Audiology
Evidence-Based Education
Details:

272 pages, Illustrated (B/W), Softcover, 6 x 9"
ISBN13:

978-1-59756-429-8
Release Date:

10/05/2011
Overview
This educational text is based on the premise that university faculty preparing students in communication disorder disciplines need to rely on the evidence-base of literature regarding effective teaching in much the same way that they are expected to rely on evidence-based practice as clinicians. By sharing what evidence-based education (EBE) methods are available, authors seek to increase the efficacy of clinical education in a variety of fields and at the same time, provide valuable insights to these faculty members as to how they can contribute to the growing body of evidence regarding teaching, often referred to as the scholarship of teaching and learning (SOTL). This text is a valuable resource for faculty and doctoral students teaching in communication sciences and disorders programs. The book introduces those in higher education to the concepts key to SOTL, how to use SOTL for professional development to improve learning outcomes, and how to begin engaging in SOTL. Coverage highlights how instructors can make use of existing SOTL research to improve teaching through the use of specific, evidence-based education strategies described in depth using specific classroom application vignettes.
Foreword by L. Dee Fink, PhD
Foreword by Elizabeth McCrea, PhD
Chapter 1: Good Teaching, Scholarly Teaching, and Scholarship of Teaching
Fundamental Scholarship of Teaching and Learning Concepts
Dual Professions
Professional Educator Continuing Education
A Framework of Educator Development
Developing as Professional Educators: Working Toward Each Level
Chapter 2: EBP in Clinical Practice versus EBE in Classroom Teaching
Evidence-Based Practice as the Foundation for Clinical Service Delivery
Evidence-Based Education as the Foundation for Classroom Teaching
Linking to Levels of Evidence in EBP to EBE
Why do we need EBE?
Where do I Find the Evidence?
Now What do I do?
Chapter 3: The "Learner Centered-Active Learning" Paradigm
Bloom's Taxonomy
Learner-Centered Instruction
Concluding Thoughts
Chapter 4: Before You Teach: Course Design and Preparation
Backward Design
Evidence for Backward Design
Applying Backward Design: A Practice Example
Creating Significant Learning
Evidence for Creating Significant Learning
Application of Fink's Creating Significant Learning
Concluding Remarks
Chapter 5: Communication in the Classroom
Instructional Communication Competence
Immediacy and Clarity
Teacher Transparency
Social Presence
Chapter 6: Engaging the Learner
Collaborative Learning Techniques
Problem-Based Learning
Academic Service Learning
Technology for Engaged Learning
Chapter 7: Assessing Student Learning
Overview of Assessment
Assessment Approaches
Tools for Assessment
Chapter 8: Moving Forward Toward SOTL
Why We Need to Support Good, Scholarly Teaching and SOTL
Mechanisms of Support for Professional Development Toward SOTL
Teachers Researching Teaching: Action Research for SOTL
Ethical Considerations and SOTL
Dissemination of SOTL Work
Chapter 9: SOTL as Part of Your Research Agenda
Planning Your SOTL Research Agenda
The Value of SOTL on Your Campus?
What Can Be Done?
Final Thoughts
Index
About The Authors
Sarah M. Ginsberg, EdD, CCC-SLP is Program Coordinator and Associate Professor of Speech-Language Pathology at Eastern Michigan University. She has been Coordinator of ASHA's Division 10: Issues in Higher Education for the past three years. She has also served on the ASHA V.P. for Academic Affairs Coordinating Committee and as Topic Chair for Academic and Educational Issues for the 2010 ASHA Annual Convention. She will serve as Topic Chair for the first ever Scholarship of Teaching and Learning (SOTL) strand at the 2011 ASHA Annual Convention. She is Co-Director of the annual conference, SOTL Academy. Sarah also works as a Faculty Consultant at the Eastern Michigan University Faculty Development Center, supporting improved teaching and learning, as well as providing support programs for faculty engaging in SOTL work for the first time. Her area of research focuses on the role of communication in higher education teaching effectiveness and the intersection between university teaching support programs and SOTL. Her work has appeared in the Journal of Effective Teaching, To Improve the Academy (in press) and Journal of Scholarship of Teaching and Learning.
---
Jennifer C. Friberg, EdD, CC-SLP/BRS-CL is an Assistant Professor of Communication Sciences and Disorders at Illinois State University. She is currently Associate Coordinator of ASHA's Division 10: Issues in Higher Education and has served on the steering committee for this special interest group for two years. She also served as a member of the 2010 ASHA Academic and Educational Issues Convention Committee. Her specific areas of research in the area of Scholarship of Teaching and Learning (SOTL) focus on integrating technology to increase student learning, promoting active learning in classroom settings, and best practices in online learning. She has presented her SOTL research at numerous state, regional and national conferences over the last five years.
---
Colleen F. Visconti, PhD, CCC-SLP is Chair of the Department of Communication Arts and Sciences, Associate Professor of Communication Disorders, and Director of the Baldwin-Wallace Speech Clinic at Baldwin-Wallace College. She served as the Associate Coordinator of ASHA's Division 10: Issues in Higher Education for two years (2008 and 2009) and has been a member of the steering committee for the past three years. She served as a committee member for the 2010 ASHA Academic and Educational Issues Convention Committee. She is the President of the Ohio Speech-Language-Hearing Association. Her research focuses on student engagement, problem-based learning, the use of technology in the classroom, clinical training for undergraduate students, and evidence-based practice for functionally nonverbal children. She has presented at state, regional and national conventions/conferences and her work has appeared in Hearsay and Perspectives on Issues in Higher Education.
Related Title

331 pages, Illustrated (B/W), Softcover, 6 x 9"